Garmin zumo 340LM motorbike sat nav features a bright 4.3-inch glove-friendly touchscreen colour display. Garmin zumo 340LM features Bluetooth, Lane Assist with Junction View.
The zumo 340LM is preloaded with Western Europe mapping, and what's more as the zumo 340 is a 'LM' (Lifetime Maps) model it includes FREE access to new street-level road maps for the life of the product. When a new map is available you can download it to the zumo 340 via your PC.
The zumo 340LM also features speed limit indicator and you can download the latest speed camera database for a fee. You can also receive turn by turn navigation via bluetooth in your helmet.

Garmin zumo 340LM has been discontinued.
The Garmin zumo 340LM has been replaced by the zumo 345LM.(pictured below).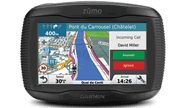 Accessories are available for your Garmin zumo 340. Likewise you can buy new maps.
For the latest range of motorcycle sat navs click here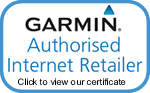 The Garmin zumo 340LM includes 4.3-inch displays, is waterproof and rugged, has lane assist and PhotoReal Junction View, Bluetooth for navigation and road speed limits and speed camera database. The mapping on the 340LM is Western Europe and these maps can be updated as often as a new map is released for the lifetime of the device.
If you want full European mapping on a Garmin zumo then we recommend buy the Garmin zumo 390LM instead. Plus, if you want to use the Garmin tyre pressure monitor accessory with your zumo you will need to buy the zumo 390LM or zumo 590LM models.
The Garmin zumo 340LM features an advanced navigation engine with a faster, more intuitive interface. The navigation features you'll get include:
‣The easy-to-use search bar and quick type address entry which shows you only the letters possible to make a valid address
‣Speed limit indicator and safety camera alerts provided by specialists, Cyclops
‣Exit Services - know what you'll find when you exit the highway
‣With TracBack you can ride wherever the road takes you, then navigate along that same route back to where you started
‣Lane assist with junction view, realistically displays road signs and guides you to the correct lane, making unfamiliar junctions and exits easy to navigate.
Plus ride with the latest maps available with Garmin nuMaps Guarantee. Simply register your new Garmin zumo 340LM within 90 days of first using your sat-nav to see if a free map update is available. See map coverage below for more details.
Rugged and Waterproof
Rugged and waterproof to IPX,Garmin zumo 340LM is built tough for bikers - by bikers. The GPS systems have been tested on rutted-out roads, cobblestone streets, in heavy rain and glaring sunshine and the result was always the same - zumo kept on navigating.
Cyclops Speed Camera Alerts

The Garmin zumo 340LM, like all Garmin sat nav's, gets its speed camera data from the Cyclops speed camera database. The database provides advanced alerts to fixed, average speed, mobile, variable, temporary roadwork, red light and red light speed cameras. As you approach a camera, your device sounds an alert. Subscription charges apply. Click here to read more about the Cyclops speed trap database.
---
Cardo Scala Rider motorcycle headsets at ActiveGPS.co.uk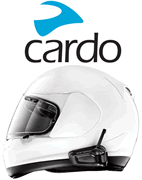 Cardo Scala Rider headsets are available to pair with your Garmin zumo 340. The benefits of buying and using a Scala Rider headset with your Gamrin zumo 340 are three-fold; 1. you can listen to sat nav voice turn-by-turn instructions, 2. listen to music and 3. communicate with other motorcyclists whilst riding (using the intercom when within range and mobile phone when out of range).
We sell the latest 2019 range of Cardo Scala Rider headsets including the PACKTALK, SMARTPACK and SMARTH ranges.
View all Cardo Scala Rider headsets
---
Garmin zumo 340LM Features
‣Highly visible, sunlight-readable 4.3-inch glove-friendly touchscreen display
‣FREE lifetime street-level here mapping for the UK, Ireland and Western Europe
‣Turn-by-turn directions with spoken street names
‣Lane assist with junction view
‣Preview what you'll find at upcoming motorway exits (Exit Services)
‣Advanced motorbike route planning software and trip logs
‣Faster routing and map displays, more intuitive destination searches
‣Rugged, vibration-dampening mount and hardware
‣With a Bluetooth enabled helmet or headset (sold separately), you can get clear, turn-by-turn spoken directions
‣Look up addresses and points of interest
‣Easy-to-use search bar
‣See and select businesses on the map - no need to page through menus
‣Speed limit indicator
‣Waterproof to IPX7; built tough with fuel-resistant plastics
‣Service History Log to record bike maintenance
‣Multimedia player: listen to music and audiobooks
‣High-sensitivity GPS with HotFix
‣Built-in Cyclops speed camera database (includes fixed camera locations and mobile hot-spots)
‣1 year manufacturers guarantee
---
Installation
Garmin zumo 340LM series is secured to your motorcycles handlebar using the supplied RAM mount and Garmin motorcycle mounting bracket.
Map Coverage

The Garmin zumo 340LM is preloaded with City Navigator NT for the UK, Ireland and Western Europe provided by here. These maps can be updated FREE for the life of the product, when you register your zumo 390LM with Garmin UK.
here maps provide high quality detailed street level maps, which in addition to street information include features such as route calculation, Points of Interest (POI), Estimated Time of Arrival, and more.
Further Garmin zumo 340LM series maps are available on SD card which insert directly into the Garmin zumo GPS system. Available Garmin zumo 340LM maps include North America, Australia and New Zealand, Middle East and Southeast Asia. Click here to view Garmin zumo 340LM maps.
What's in the box? (when purchased from ActiveGPS.co.uk)
‣Garmin zumo 340LM
‣Preloaded City Navigator NT Western Europe
‣Motorcycle mount with power cable and mounting hardware
‣USB cable
‣Quick Start Manual
---

Garmin zumo 340LM Accessories
The zumo 340LM includes all the accessories you need to get you up and running on your bike. However, if you'd like to use the motorbike navigator in a car/van too, you'll need to buy some extra accessories. Additional and spare parts are also available including a hard carrying case, RAM mount kit and motorcycle power cable.
View the full range of zumo 340 accessories
---
Garmin zumo 340LM Maps
The zumo 340LM is preloaded with street-level road maps for Western Europe. You can however, buy maps for all of Europe and Eastern Europe, or if you want to take your bike navigation device further afield, we may have the map that you need. Garmin zumo maps available include: USA, Canada and Mexico, Australia and New Zealand, Morocco and Southern Africa.
View the full range of zumo 340 maps
---
Garmin zumo 340LM Technical Specification
‣Technology: GPS / Bluetooth
‣Display: 4.3-inch (480 x 272 pixels), WQVGA TFT landscape display with white backlight and touchscreen
‣Waterproof: yes (IPX7)
‣Battery: removable, rechargeable lithium-ion
‣Battery Life: up to 7 hours depending on usage and settings
‣Installation: Plug and Play
‣Power: 12 volt, Motorcycle Power Cable.
‣Dimensions: Width - 130mm, Height - 94mm, Depth - 30mm
‣Weight: 270g
‣Headphone jack/audio line-out: Yes
‣Guarantee: 1-year
‣Garmin zumo 340LM manual

Manual requires Adobe Acrobat Reader
Download a free copy here
This product is a sophisticated electronic device which requires that you read, understand, and act upon the information given in the instruction manual (usually available via the above 'manual' link). You will need internet access and, in accordance with the manufacturers' recommendations, regularly seek out and accept all firmware or software updates offered by the manufacturer. All GPS devices need to 'see' the satellites in the sky. Therefore you will need to know that your vehicle does not have glass that will block or impede the GPS signal.
---
Garmin zumo 340LM Questions and Answers
Question: I have a Garmin Zumo 340 LM and require a mounting bracket to fit 1.25in/ 32mm approx. dia handlebars or to suit a different mounting point on a Harley Davidson.
Answer: The only motorcycle mounting bracket we sell is this one, we do not know the handlebar diameters the mount will attach with.
To complete the mount of your Garmin zumo 340LM on your motorbike you will also require to already have or purchase the following two accessories:
1. Garmin zumo 340LM motorcycle mount bracket
2. Garmin zumo 340LM motorcycle power cable
All Garmin zumo 340 accessories can be seen and purchased online here.
---
Question: I have a Garmin Zumo 340LM, does the Garmin GTM 36 charge the device through the usb port as well as offer traffic updates? If I connect a usb charger to the Zumo it goes into 'PC' mode and does not display mapping. 
Answer: The GTM 36 Traffic Receiver (pictured right) is designed for in-car use via a 12-volt cigarette lighter socket. When connected to a vehicle the GTM 36 will provide traffic, power and charging to your Garmin zumo 340LM.
When connected via a standard USB cable, as you've found out, it will presume you are completing a download or an update and will not provide navigation (PC mode). It will however provide a 'trickle' charge from your PC to your Garmin zumo 340LM.
---
Question: I have a Garmin Zumo 340LM. Is there a way I can connect this onto a Garmin Zumo 660 cradle already installed on my bike e.g. conversion face plate for the cradle or a way of utilising the existing cabling? 
Answer: Sorry, there is no conversion kit. The zumo 660 and zumo 340 use completely different mounts/cradles. They are also powered in completely different ways. Therefore the only way to mount and charge your zumo 340LM will be to buy and use the following genuine Garmin zumo 340 parts:
1. Garmin zumo 340LM Motorcycle Power Cable
2. Garmin zumo 340LM Motorcycle Mounting Bracket
You may be able to use the existing RAM mount kit, otherwise to complete the assembly, you will also need to buy the RAM motorcycle mount kit.
View all accessories for the Garmin zumo 340LM.
---
Question: I have a Garmin LM340 motorcycle sat nav. Can you supply a new battery for it?
Answer: Garmin have never made zumo 300 series battery available as an accessory.
---
Question: I have the garmin zumo 340 motorbike satnav and it works great on the bike mount. However when I try to use the unit in my car "plugged into the lighter point" it refuses to work. Comes on but doesnot go to satnav mode. If I unplug it in the car it will work on its own battery...but battery of course eventually goes flat
Any comments / suggestions...do I need a new/special car connection cable?
Answer: Are you using the correct and genuine parts as manufactured by Garmin?
1. Garmin zumo 340, 345, 350, 390 and 395 Vehicle Power Cable
2. Garmin zumo 340, 345, 350, 390 and 395 Suction Cup Mount:
If you are, then I would recommend that you speak directly with Garmin UK on 0808 238 0000.
If you are not, then I would recommend you purchase 'genuine' Garmin accessories, these can be viewed and purchased online here.
---
Question: I have a garmin zumo 340lm mounted for motorcycle use and want to use it in the car. What adapters and leads do I need please?
Answer: You will need two items to power and mount your zumo 340 in a car:
Garmin zumo 340LM Vehicle Power Cable
Garmin zumo 340LM Suction Cup Mount
You could also receive traffic information by purchasing a GTM 36 traffic/power cable (instead of the standard vehicle power cable mentioned above).
---
Question: Please can you confirm that I need a micro usb cable to connect my Zumo 340lm to a computer?
Answer: Garmin zumo 340LM accessories can be found here. The Garmin zumo 340LM requires a Mini USB Cable and NOT a micro usb cable. Please see the 13th accessory down the page.
---
Question: How long does it take to re-charge the battery from zero to full charge on the Garmin Zumo 340LM motorcycle Sat Nav?
Answer: It will depend from what source you are charging the Garmin zumo 340 battery, e.g. USB cable connected to a PC will be slower than charging directly from the mains.
For a full charge, Garmin recommend charging overnight from the mains using the genuine Garmin zumo 340LM AC Adapter and USB Cable Kit.
---
Question: I'm wanting to mount my motorcycle Garmin zumo 340 in the car; my mount cradle attaches to a 1 inch 'RAM' ball but unsure if this product GARPFM has the same 1 inch ball or is it the smaller 5/8" (16mm) ball.
Answer: Part number GARPFM is designed to work in conjunction with part number GZ3SCM.
GARPRM: Garmin zumo Portable Friction Mount
GZ3SCM: Garmin zumo 340lm Suction Cup Mount
To power/charge in car you will also need GZ3VPC: Garmin zumo 340lm Vehicle Power Cable
Do you have a question about the Garmin zumo 345LM? Submit your question via our contact page.
---
Why buy from us?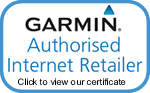 We are official Authorised Internet Retailers for Garmin. We sell genuine Garmin products, accessories and maps. We purchase from assigned Garmin UK distributors. We do not buy on the grey market and we do not sell counterfeit products. You can rest assured that by purchasing from ActiveGPS you will receive the full support of Garmin.
Page updated: 31st December 2018