Not sure which sat nav or GPS model you have? Simply e-mail us, or use the online form on our contact us page and provide us with the unit's model, part and serial number normally located on the underside of your GPS system. We'll then reply with the relevant webpage of available maps for you to browse.
We only sell authentic Garmin maps that's why all of our genuine Garmin lines carry the logo to the left. Further to this we are also a Garmin Authorised Internet Retailer. So when you buy from ActiveGPS you can be rest assured that you will receive exactly what Garmin intended you to use with your Garmin sat nav or GPS based device.
---
Cardo Scala Rider motorcycle headsets at ActiveGPS.co.uk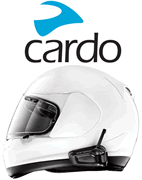 Cardo Scala Rider headsets are available to use on your motorcycle for multiple purposes. The benefits of buying and using a Scala Rider headset are three-fold; 1. you can listen to sat nav voice turn-by-turn instructions, 2. listen to music and 3. communicate with other motorcyclists whilst riding (using the intercom when within range and mobile phone when out of range).
We sell the latest 2019 range of Cardo Scala Rider headsets including the PACKTALK, SMARTPACK and SMARTH ranges.
View all Cardo Scala Rider headsets
---
Why buy from us?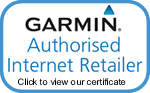 We are official Authorised Internet Retailers for Garmin. We sell genuine Garmin products, accessories and maps. We purchase from assigned Garmin UK distributors. We do not buy on the grey market and we do not sell counterfeit products. You can rest assured that by purchasing from ActiveGPS you will receive the full support of Garmin.
Page last updated: 29th October 2018