Marine GPS Handhelds and Chartplotter Buying Guide
So you're looking to buy a GPS device to take to coastal waters around (or part of) the UK or another country?
The first consideration is what kind of GPS chartploter you'd like to buy - handheld or standalone chartplotter.
---
Handheld devices
Handheld GPS systems by their very nature provide you with essential information in the palm of your hand. Devices like the GPS 73 (greyscale display) and the GPSMAP 78/78s (colour display) both provide you with your speed, distance and bearing from you last plotted waypoint. What's more these devices are waterproof and designed to actually float on water!
The entry-level GPS 72H is limited to only being able to display statistical data about your nautical route. Whereas the GPSMAP 78 and 78s (78s model includes 3-axis electronic compass and barometric altimeter) can in addition be loaded with digital marine charts - named Garmin BlueChart.
If the sound of digital marine charts is appealing then the GPSMAP 78 or 78s UK Marine Bundles is the unit to buy! These special bundle packs brings together the 2.6-inch handheld device and the large UK and Ireland g2 BlueChart marine chart, saving you a substantial sum of money, when buying the two separately.
---
Standalone Chartplotter devices
A dedicated marine chartplotter device are designed for life at sea. All of the dedicated chartplotter models (with the exception of the GPS 158i) include preloaded Garmin BlueChart g2 UK and Ireland enabling you take straight to water with marine cartography, tidal stations, currents, depth contours, IALA symbols, 3-D map perspective "over the bow" fishing charts and more.
The latest chartplotters are the GPSMAP 1222, GPSMAP 1022, GPSMAP 922 and GPSMAP 722 which feature 12, 10, 9 and 7 inch screen respectively. Fishfinders are built-in. These newer models also WiFi connectivity as well as radar compaible.
With a transducer (sold separately) you can use ClearVu and SideVu to see below your boat and to the side of your boat underwater, if you buy the XSV model (GPSMAP 1222 and 1022) or XS model (GPSMAP 922 and 722).
Some standalone chartplotters also have the ability to add sonar and some include a sonar. Sonar helps to measure the depth of water and can also be used as a fish finder. If you'd like to add this feature then you'll need to be looking at model numbers ending with an 's' such as the 451s and 750s. Where the 's' stands for sounder. The models ending in DV (Garmin Down Vu) also provide a view below the water. Please note however that the sounders sonar capabilities will not work without buying/adding a transducer. There are three types of transducer which are transom (for outboard powerered motor boats), in-hull (for single skin fibre glass boats) and through-hull (for wooden and steel boats). If you are unclear what transducer to buy, please see our online guide and online form for us to recommend which transducer to buy.
Pictured below, transom mounted transducer, thru-hull transducer and in-hull transducer.
All chartplotters offer NMEA connectivity so you can connect your chartplotter to the boat and receive data such as fuel gauge, VHF and autopilot, etc. on the device.
---
Garmin Marine Charts
Once you've decided which model to buy, you may (depending on model and your requirements) wish to purchase additonal marine charts.
Garmin marine charts are called BlueChart g2 and BlueChart g2 Vision and provide the same marine cartography charts, the difference is g2 Vision version offers additional information such as auto guidance and aerial photos of ports and marinas. To read more about either version please see BlueChart g2 charts and BlueChart g2 Vision charts. Please note: g2 Vision features such as aerial photos aren't compatible on all Garmin handheld GPS units, please see the compatibility below.
---
Garmin BlueChart Compatibility
BlueChart g2 maps are compatible with the following Garmin handhelds and marine ChartPlotters:
Garmin Montana range, Oregon range, Dakota 20, eTrex 20/30, Vista HCx/Legend HCx, GPSMAP 60Cx/CSx, 62s/62sc/62st/62stc, 76Cx/CSx, 78/78s, nuvi 550, echoMAP 50s/70s, GPSMAP 400, 500, 600, 700, 4000, 5000, 6000 and 7000 series.
---
BlueChart g2 Vision maps are compatible with the following Garmin marine ChartPlotters:
Garmin GPSMAP 400, 500, 600, 700, 4000, 5000, 6000 and 7000 series.
Garmin Montana range, Oregon range, Dakota 20, eTrex 20/30, Vista HCx/Legend HCx, GPSMAP 60Cx/CSx, 62s/62sc/62st/62stc, 76Cx/CSx, 78/78s, nuvi 550, echoMAP 50s/70s can also read g2 Vision charts but only for the chart data and not the g2 Vision features.
---
Do you own an older Garmin marine chartplotter or GPS device? Looking for accessories?
As well as the latest marine chartplotters and GPS devices and their accessories (see above), we also sell a vast selection of genuine parts for Garmin marine units that have since been discontinued. Among the many systems we sell original parts for the:
Garmin echoMAP series, namely the Garmin echoMAP 42dv, Garmin echoMAP 43dv, Garmin echoMAP 44dv, Garmin echoMAP 45dv, Garmin echoMAP 50dv, Garmin echoMAP 50s, Garmin echoMAP 52dv, Garmin echoMAP 53dv, Garmin echoMAP 54dv, Garmin echoMAP 55dv, Garmin echoMAP 70dv, Garmin echoMAP 70s, Garmin echoMAP 72sv, Garmin echoMAP 75sv, Garmin echoMAP 92sv and Garmin echoMAP 95sv.
Garmin echoMAP CHIRP series, namely the Garmin echoMAP CHIRP 52dv, Garmin echoMAP CHIRP 53dv, Garmin echoMAP CHIRP 54dv, Garmin echoMAP CHIRP 55dv, Garmin echoMAP CHIRP 75dv, Garmin echoMAP CHIRP 75sv and Garmin echoMAP CHIRP 95sv.
Garmin GPS series, namely the Garmin GPSMAP 158/158i, Garmin GPS 60, Garmin GPS 73.
Garmin GPSMAP series, namely the Garmin GPSMAP 420/420s, Garmin GPSMAP 451/451s, Garmin GPSMAP 521/521s, Garmin GPSMAP 527/527s, Garmin GPSMAP 547/547s, Garmin GPSMAP 551/551s, Garmin GPSMAP 556/556s, Garmin GPSMAP 557/557s, Garmin GPSMAP 620, Garmin GPSMAP 640, Garmin GPSMAP 720/720s, Garmin GPSMAP 721/721s, Garmin GPSMAP 740/740s, Garmin GPSMAP 7407/7407xs, Garmin GPSMAP 741/741s, Garmin GPSMAP 750/750s and Garmin GPSMAP 751/751s.
---
Why buy from us?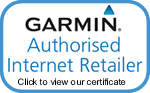 We are official Authorised Internet Retailers for Garmin. We sell genuine Garmin products, accessories and maps. We purchase from assigned Garmin UK distributors. We do not buy on the grey market and we do not sell counterfeit products. You can rest assured that by purchasing from ActiveGPS you will receive the full support of Garmin.
Page last updated: 5th February 2019