Add or replace the traffic capabilities of your compatible Garmin nuvi or zumo automotive sat nav by buying the GTM 36 FM Traffic Receiver from ActiveGPS.
The two in one GTM 36 FM Traffic Receiver with vehicle power cable provides power to your sat nav whilst at the same time advising you of traffic jams, congestion and roadwork's that lie in the road ahead.
To use simply plug the GTM 36's cigarette lighter adaptor into your in-car socket and connect the other end to your sat nav.
The GTM 36 includes FREE lifetime UK and Europe subscription to the Traffic Message Channel (TMC) which relies on broadcasts over the FM Radio Data System (RDS) all without any on-going subscription costs.
Compatibility: Compatible with selected Garmin nuvi and zumo models, to view the full compatibility list click here.
Garmin GTM 36 FM Traffic Receiver and Power Cable - £54.99
Garmin GTM 36 FM Traffic Receiver
Receive live traffic updates and routing around congestion saving you time and money waiting in traffic jams with the GTM 36 FM Traffic Receiver.
The GTM 36 is designed for in-car use and includes a cigarette lighter connection on one end. This pushes into your vehicles cigarette lighter power outlet and also powers your Garmin sat nav too.
Once connected to your compatible Garmin nuvi or zumo series sat nav, the GTM 36's internal FM antenna receives the regular RDS (Radio Data System) signal and relays relevant traffic information to the screen of your sat nav, thus giving you advance warning and enabling you to simply re-route around the congestion. If the FM signal is weak simply plug in the external antenna which is included with every GTM 36 purchased from ActiveGPS. If you lose this external antenna or need another one for a second vehicle you can buy the antenna here.
The GTM 36 that we sell includes lifetime traffic data subscription services for the UK and Europe. If you plan to use your Garmin sat nav and the GTM 36 in North America (USA and Canada), then you will need to buy a separate traffic subscription from Garmin for use in those countries. A subscription to an additional world region will then be linked to the serial number of your GTM 36 - you do NOT need to purchase a second GTM 36.
Please note: If you just require a vehicle power cable to power your Garmin WITHOUT traffic information please find your Garmin model accessory page and simply buy the vehicle power cable only. Find your model here.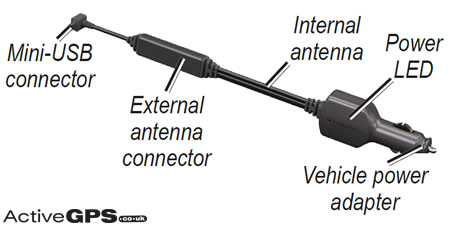 Pictured above: The GTM 36 FM Traffic Receiver includes vehicle power cable with internal FM antenna all built into the one cable. A separate and genuine Garmin external antenna is also included - pictured right.
Beware other sellers who may be selling the GTM 36 bundled with a non UK subscription. The GTM 36 is available in other world territories BUT with a different lifetime subscription. Buy the wrong GTM 36 and you could be faced with buying a separate subscription for the UK from Garmin (at approximately £35.00). ActiveGPS can guarantee that you won't face this problem as we ONLY sell the correct genuine UK and Europe GTM 36 with nothing else to pay for that region.
---
Key Features
‣TMC FM-band RDS traffic receiver
‣Includes UK and European coverage
‣Includes vehicle power cable
‣Provides real-time traffic information
‣View real-time traffic build up
‣No separate traffic subscription required
‣Lifetime traffic data - no monthly or yearly renewal fees
‣No Bluetooth or GPRS connection required
‣Genuine Garmin Accessory
---
What's in the box?
‣GTM 36 FM Traffic Receiver with vehicle power cable
‣External antenna with suction cups
‣Instruction manual
---
What is the GTM 36 FM Traffic Receiver compatible with?
The genuine Garmin GTM 36 is compatible with the following Garmin automotive products:
Garmin Camper 760, dezl 560, 570, 580, 760, 770, 780, dezlCam, dezlCam 785, Drive 51, 61, DriveAssist 50, 51, DriveLuxe 50, 51, DriveSmart 50, 51, 60, 61, 70, fleet 660, 670, 770, 780, 790, nuvi 54, 205, 215, 245, 255, 265, 270, 275, 465, 550, 1200, 1210, 1240, 1300, 1310, 1340, 1350, 1370, 1390, 1410, 1440, 1450, 1490, 2200, 2240, 2300, 2310, 2340, 2350, 2360, 2407, 2408, 2440, 2508, 2415, 2417, 2445, 2447, 2455, 2460, 2467, 2475, 2495, 2497, 2507, 2508, 2515, 2517, 2518, 2545, 2547, 2548, 2557, 2559, 2567, 2569, 2577, 2585, 2589, 2595, 2597, 2598, 2599, 2659, 2699, 2797, 2799, 3490, 3540, 3590, 3597, 3598, 3710, 3760, 3790, nuviCam, zumo 220, 340, 345, 350, 390, 395.
Please note: Many Garmin nuvi models end in T e.g. nuvi 3760T, the T stands for Traffic which was how the sat nav was originally supplied - with a GTM traffic receiver.
Therefore when assessing whether the GTM 36 is compatible with your Garmin sat nav, please just look at the model number minus the letter(s) at the end. For example the nuvi 2445, 2445T, 2445LT and 2445LMT are effectively covered above by 'nuvi 2445'. For futher help please contact us with your specific Garmin model number and we'll confirm whether the GTM 36 is compatible.
However, if you don't want the expense of the GTM 36 and you don't need the traffic information, Garmin do make an in car charger specifically for your nuvi or zumo but which doesn't have the inbuilt traffic receiver. This is approximately £35.00 cheaper - but you will lose the traffic facility.
---
Not the accessory you were looking for?
Was it another Garmin accessory, part or map update? If it was click the following links to view all the Garmin accessories or maps.
Alternatively if you have a question about the GTM 36 FM Traffic Receiver our contact page is the place to go to ask us a question.
---
Garmin GTM 36 FM Traffic Receiver Questions and Answers
Question: I've bought a GTM 36 and it doesn't work with my Garmin satnav. I think the satnav is faulty.
Answer: It may be that you need to perform a free software update via Garmin Express at the garmin.com website. If you've purchased from ActiveGPS, we include the following note with the purchase:
GARMIN GTM 36 - Important Product Returns Guidance
Consumer Contracts (Information, Cancellation & Additional Charges) Regulations 2013.
Thank you for your purchase of this Traffic Messaging/Power Cable which has been supplied for use with your Garmin device. If you are unsure whether you need this GTM 36 for your Garmin please supply the serial number of your Garmin GPS and we will confirm compatibility. Products are not supplied for the purpose of testing a faulty satnav. If you think that you may already need to return this purchase please read the following before opening/use:
The Consumer Contracts Regulations allows us to make a deduction from the reimbursement for loss of value of any goods supplied, if the loss is the result of unnecessary handling by you. You must handle the product, including the Garmin outer box and seal, no more than you might in a shop. If a product is returned in perfect condition suitable for reselling then we will have no hesitation in reimbursing you. Ask yourself, 'would I have accepted this product if I had received it in the condition in which I am returning it?' To ensure that you receive a full reimbursement we recommend that you return the goods in the same condition as they were received.
If the barrel of the cigarette lighter adapter, which is supplied protected by a plastic sleeve, is returned scratched or marked (from insertion into a vehicle cigarette lighter), or there are any other visible signs that the cable has been used, or it is marked or cut, we will not accept the return of this product and it will be returned to you at your expense (£9.99 shipping and handling to be paid by you prior to return). Similarly, if the outer Garmin box, the seal or booklets are returned creased, torn or marked we may not accept the return of this product. We respectfully suggest that you carefully open the bottom of the box. If you uncoil the cable, and it is therefore not returned factory coiled as received, it will no longer have the appearance of a brand new product. If a coiled cable is the only discrepancy we will make a deduction of £14.99 from any refund.
If goods are returned in an unacceptable condition, including the outer Garmin box, they will be returned to you at your expense (£9.99 shipping and handling to be paid by you prior to return). We record the serial number of each GTM 36 cable before despatch. Please do not return any goods until we have issued a returns number.
---
Question: I have a Garmin Nuvi 2517 and had been using smartphone link for my traffic, I recently changed phones to a Windows 10 which does not support smartphone therefore I purchased a GTM 36 traffic cable online but this has come from Australia, will I be able to receive traffic information with this device as I had a subscription for traffic when I bought the device from Argos.
Answer: As we didn't sell you the cable we can't give you a definitive answer. However, what I can say is that Garmin supply GTM 36 traffic cables for different world regions, e.g. a GTM 36 supplied by Garmin UK will only provide traffic information in Europe.
It is highly probable therefore that the cable from Australia, will not include traffic subscription for the UK/Europe. We know of cases on eBay where customers have been caught out buying GTM 36 for different world regions.
The GTM 36 that we sell will definitely provide UK/Europe traffic services.
Do you have a question about the Garmin GTM 36? Submit your question via our contact page.
---
Why buy from us?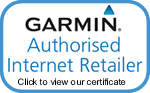 We are official Authorised Internet Retailers for Garmin. We sell genuine Garmin products, accessories and maps. We purchase from assigned Garmin UK distributors. We do not buy on the grey market and we do not sell counterfeit products. You can rest assured that by purchasing from ActiveGPS you will receive the full support of Garmin.
This page was last updated on: 23rd July 2018