Garmin zumo 390LM motorbike sat nav features a bright 4.3-inch glove-friendly touchscreen colour display. Garmin zumo 390LM all feature Bluetooth, Lane Assist with Junction View.
The zumo 390LM preloaded with full European mapping, and what's more as the zumo 390 is a 'LM' (Lifetime Maps) model it includes FREE access to new street-level road maps for the life of the product. When a new map is available you can download it to the zumo 390 via your PC.
In addition the zumo 390LM can also be mounted in a car with the provided car mount and cigarette lighter adaptor. The zumo 390 is the most advanced model as it connects to your phone via bluetooth, has a curvy road feature and is ANT+ compatible for interoperability between devices such as tyre pressure valves.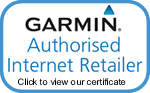 The Garmin zumo 390LM system includes a 4.3-inch displays, is waterproof and rugged, has lane assist and PhotoReal Junction View, Bluetooth for navigation and road speed limits and speed camera database. The mapping on the 390LM is full European and these maps can be updated as often as a new map is released for the lifetime of the device.
The zumo 390LM also features these extra features:
‣Bluetooth (Phone and Navigation)
‣Curvy roads setting
‣ANT+ Compatible
‣Also includes Car Mounting Kit
Garmin zumo 390LM series features an advanced navigation engine with a faster, more intuitive interface. The navigation features you'll get include:
‣The easy-to-use search bar and quick type address entry which shows you only the letters possible to make a valid address
‣Speed limit indicator and safety camera alerts provided by specialists, Cyclops
‣Exit Services - know what you'll find when you exit the highway
‣With TracBack you can ride wherever the road takes you, then navigate along that same route back to where you started
‣Lane assist with junction view, realistically displays road signs and guides you to the correct lane, making unfamiliar junctions and exits easy to navigate.
Rugged and Waterproof
Rugged and waterproof to IPX,Garmin zumo 390LM is built tough for bikers - by bikers. The GPS systems have been tested on rutted-out roads, cobblestone streets, in heavy rain and glaring sunshine and the result was always the same - zumo kept on navigating.
Cyclops Speed Camera Alerts

The Garmin zumo 390LM, like all Garmin sat nav's, gets its speed camera data from the Cyclops speed camera database. The database provides advanced alerts to fixed, average speed, mobile, variable, temporary roadwork, red light and red light speed cameras. As you approach a camera, your device sounds an alert. Subscription charges apply. Click here to read more about the Cyclops speed trap database.
---
Cardo Scala Rider motorcycle headsets at ActiveGPS.co.uk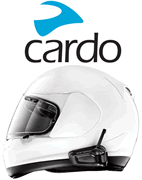 Cardo Scala Rider headsets are available to pair with your Garmin zumo 390. The benefits of buying and using a Scala Rider headset with your Garmin zumo 390 are three-fold; 1. you can listen to sat nav voice turn-by-turn instructions, 2. listen to music and 3. communicate with other motorcyclists whilst riding (using the intercom when within range and mobile phone when out of range).
We sell the latest 2019 range of Cardo Scala Rider headsets including the PACKTALK, SMARTPACK and SMARTH ranges.
View all Cardo Scala Rider headsets
---
Garmin zumo 390LM Features
‣Highly visible, sunlight-readable 4.3-inch glove-friendly touchscreen display
‣FREE lifetime street-level here mapping for the UK, Ireland, Western and Eastern Europe
‣Turn-by-turn directions with spoken street names
‣Lane assist with junction view
‣Preview what you'll find at upcoming motorway exits (Exit Services)
‣Advanced motorbike route planning software and trip logs
‣Faster routing and map displays, more intuitive destination searches
‣Rugged, vibration-dampening mount and hardware
‣With a Bluetooth enabled helmet or headset (sold separately), you can get clear, turn-by-turn spoken directions
‣Bluetooth connection to phone
‣Curvy roads setting
‣ANT+ compatible
‣Look up addresses and points of interest
‣Easy-to-use search bar
‣See and select businesses on the map – no need to page through menus
‣Speed limit indicator
‣Waterproof to IPX7; built tough with fuel-resistant plastics
‣Service History Log to record bike maintenance
‣Multimedia player: listen to music and audiobooks
‣High-sensitivity GPS with HotFix
‣Built-in Cyclops speed camera database (includes fixed camera locations and mobile hot-spots)
‣1 year manufacturers guarantee
---
Installation
Garmin zumo 390LM series is secured to your motorcycles handlebar using the supplied handlebar mount and Garmin motorcycle mounting bracket. In addition the Garmin zumo 390LM also comes complete with automotive suction mount and vehicle power cable, enabling you to install and use the Garmin zumo sat nav in your car as well as your motorcycle.
Map Coverage

The Garmin zumo 390LM both feature full maps of Europe which include City Navigator NT for UK, Ireland, Western and Eastern Europe. These maps can be updated FREE for the life of the product, when you register your zumo 390LM with Garmin UK.
Further Garmin zumo 390LM series maps are available on SD card which insert directly into the Garmin zumo GPS system. Available Garmin zumo 390LM series maps include North America, Australia and New Zealand, Middle East and Southeast Asia. Click here to view Garmin zumo 390LM series maps.
What's in the box? (when purchased from ActiveGPS.co.uk)
‣Garmin zumo 390LM
‣Preloaded City Navigator NT Europe
‣Motorcycle mount with power cable and mounting hardware
‣Automotive suction cup mount
‣Automotive power cable
‣USB cable
‣Quick Start Manual
---

Garmin zumo 390LM Accessories
The zumo 390LM includes all the accessories you need to get you up and running, not only on your motorbike, but also in your car/van too. However, if you'd like to take advantage of the zumo 390 ANT+ connectivity, you might like to consider buying some tyre pressure monitor caps. Many additional parts are also available including a hard carrying case, handlebar mount kit and motorcycle power cable.
View the full range of zumo 390 accessories
---
Garmin zumo 390LM Maps
The Garmin zumo 390LM is preloaded with street-level road maps for all of Europe. If however, you want to take the zumo 390LM further afield, we may have the map that you need. Garmin zumo maps available include: USA, Canada and Mexico, Australia and New Zealand, Morocco and Southern Africa.
View the full range of zumo 390 maps
---
Garmin zumo 390LM Technical Specification
‣Technology: GPS / Bluetooth
‣Display: 4.3-inch (480 x 272 pixels), WQVGA TFT landscape display with white backlight and touchscreen
‣Waterproof: yes (IPX7)
‣Battery: removable, rechargeable lithium-ion
‣Battery Life: up to 7 hours depending on usagse and settings
‣Installation: Plug and Play
‣Power: 12 volt, Motorcycle Power Cable.
‣Dimensions: Width - 130mm, Height - 94mm, Depth - 30mm
‣Weight: 270g
‣ANT+ compatible: Yes
‣Headphone jack/audio line-out: Yes
‣Guarantee: 1-year
‣Garmin zumo 390LM manual

Manual requires Adobe Acrobat Reader
Download a free copy here
This product is a sophisticated electronic device which requires that you read, understand, and act upon the information given in the instruction manual (usually available via the above 'manual' link). You will need internet access and, in accordance with the manufacturers' recommendations, regularly seek out and accept all firmware or software updates offered by the manufacturer. All GPS devices need to 'see' the satellites in the sky. Therefore you will need to know that your vehicle does not have glass that will block or impede the GPS signal.
---
Garmin zumo 390LM Questions and Answers
Question: I have a Garmin zumo 390LM. Do you sell a complete 2nd bike mounting kit with all the mounting hardware and power supply so I can easily switch the GPS to my second bike?
Answer: Yes we do sell a Garmin zumo 390LM complete second bike mounting kit.
It comprises of three parts that you will need to buy, these are:
1. Garmin zumo Handlebar Mount Kit
2. Garmin zumo 390LM Motorcycle Mount
3. Garmin zumo 390LM Motorcycle Power Cable
You can also view all Garmin zumo 390LM accessories.
---
Question: I wish to use the zumo 390lm on two bikes. I would fit power lead to both, but will the cradle plug into either lead or is cradle permanently fixed in which case I would need two cradles also?
Answer: To mount the zumo 390LM onto a motorbike requires three accessories:
1. Garmin zumo 390LM Motorcycle Power Cable
2. Garmin zumo 390LM Motorcycle Mounting Bracket
3. Garmin zumo 390LM Handlebar Mount Kit
While the Motorcycle Power Cable isn't supplied with a permanent connection to the Motorcycle Mounting Bracket, there is very tiny small screw (to secure the cable to the back of the mount) which would be very fiddly to undo and redo each time you change the mount over - plus it would take quite a time to remove the associated handlebar mount from bike to bike. So we would recommend that you buy the above accessories twice over.
You can view and buy all available and compatible accessories for the zumo 390LM here.
Do you have a question about the Garmin zumo 390? Submit your question via our contact page.
---
Why buy from us?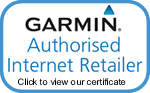 We are official Authorised Internet Retailers for Garmin. We sell genuine Garmin products, accessories and maps. We purchase from assigned Garmin UK distributors. We do not buy on the grey market and we do not sell counterfeit products. You can rest assured that by purchasing from ActiveGPS you will receive the full support of Garmin.
Page updated: 10th June 2019