The Garmin GPSMAP 64 is a handheld GPS device which is ideal for walking, hiking, biking and more. The GPSMAP 64 has a 2.6-inch colour screen and has a GPS and GLONASS receiver for superior satellite connectivity. It comes preloaded with UK and Ireland topographical mapping and a worldwide shaded relief basemap.
You can power the GPSMAP device using either a power pack or AA batteries for a battery life of up to 16 hours.
You can add additional mapping to this GPSMAP 64 for recreational use, driving, use on water and more. It is also perfect for paperless geocaching as it will record location, terrain, difficulty, hints and descriptions.
Garmin GPSMAP 64 has been discontinued
The equivalent and replacement model is the GPSMAP 66s.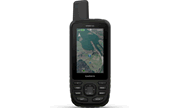 You can however still buy accessories and maps for the GPSMAP 64.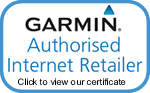 Garmin GPSMAP 64 is a slim, lightweight handheld GPS device built to navigate you along walks, over rough terrain, on your bike ride and more. It has a 2.6-inch sunlight readable colour screen and has a GPS and GLONASS receiver with a quad helix antenna for quick acquisition of satellites and it will maintain its GPS fix. The GPSMAP 64 will even maintain its GPS connection in thick woods, deep valleys and when amongst tall buildings.
The GPSMAP 64 is part of the Garmin GPSMAP 64-series and includes the following premium features:
‣Topographical maps of UK and Ireland Light version
‣Internal 3.5GB memory
If you are looking for full topographical maps of Europe you will need to buy the GPSMAP 64st instead. Also, if you are looking for a handheld with a barometric altimeter and 3-axis compass you will need to buy either the GPSMAP 64s or 64st, as the GPSMAP 64 doesn't provide either.
It is preloaded with topographical maps of UK and Ireland light version and also a worldwide base map with shaded relief. You also get turn-by-turn navigation along trails and paths whereby routes are calculated tailored to the leisure or sport activity.
It has been built to be used in many conditions including when wearing gloves, cold and wet environments, etc.. It has a button interface for quick, easy control and has been built to be rugged and waterproof to IPX7 standards. The GPSMAP 64 can be powered with either the battery pack or AA batteries and has a battery life of 16 hours.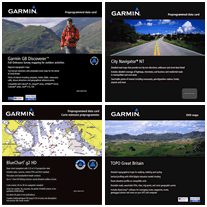 There is also a microSD card slot that is used to add further mapping capabilities to the device. There is also 3.5GB of internal memory to store information. Mapping you may want to add to the GPSMAP 64 include Topographical maps for navigating countryside, hills and mountains and GB Discoverer ordnance survey 1:25k or 1:50k are for walking, hiking and biking. Furthermore marine maps are perfect for use on the water and City Navigator maps are available for navigating you on road. You can also get Garmin Custom Maps which convert both paper and electronic maps for use on your device.
The GPSMAP 64 is perfect for geocaching and many other activities including walking, hiking and biking adventures as it allows you to record information about geocaches such as location, terrain, difficulty, hints, descriptions. It thus supports paperless geocaching and correspondingly can store 250,000 preloaded caches, hints and descriptions. You can also store waypoints, tracks and routes off the beaten track. There is also a TrackBack feature that enables you to navigate back where you came from.
The GPSMAP 64 also offers further functionality. You can display and enter coordinates in British Grid format like the grid used on Ordnance Survey maps. Topographical maps can be viewed in 2D or 3D on a computer and it will show contour lines and elevation profiles. What's more BaseCamp software enables you to organise maps, waypoints, routes and tracks on your computer before you set off on your journey. Then you can also share with friends, family and fellow explorers your routes and waypoints using Garmin Adventures.
Handheld/Outdoor FAQs
Do you have a question about the Garmin GPSMAP 64 or other handheld GPS related question that's not been answered on this webpage? Please see our handheld and Outdoor GPS FAQs page for questions from other customers.Plus if the answer to your question isn't featured, use the online form to ask us for the answer. Alternatively please telephone 01733 777623 Monday to Friday (9:30am-5:00pm) to speak to one of our sales team. For further information online please see the Garmin GPSMAP comparison table.
---
Garmin GPSMAP 64 Features
‣Slim, lightweight
‣Full Topographical UK and Ireland mapping (light version
‣Bright 2.6-inch sunlight readable colour display (160 x 240 pixels)
‣Worldwide built-in basemap with shaded relief
‣High-sensitivity, GLONASS-enabled GPS receiver
‣Rugged, waterproof (IEC 60529 IPX7)
‣3.5GB internal memory
‣Supports paperless geocaching; store waypoints, routes, tracks, hints and descriptions
‣TrackBack feature
‣Up to 16 hours of battery life, battery type: 2 AA batteries (not included) or NiMH
‣USB and NMEA 0183 compatible
‣1 year guarantee
---
Map Coverage
Garmin GPSMAP 64 is preloaded with a worldwide basemap with shaded relief and topographic maps for UK and Ireland. Please note: Additional maps can be loaded to the GPSMAP 64. The GPSMAP 64 features a SD/microSD Card slot, an easy way to add new maps and mapping updates.
What's in the box? (when purchased from ActiveGPS.co.uk)
‣GPSMAP 64
‣Preloaded "TOPO UK & Ireland Light" map
‣Lanyard
‣USB cable
‣Documentation
---

Garmin GPSMAP 64 Accessories
Looking for accessories and spares for the Garmin GPSMAP 62? Many parts are available including a slip case, retractable lanyard, handlebar mount and battery charger kit.
View all Garmin GPSMAP 64 accessories
---
Garmin GPSMAP 64Maps
Garmin GPSMAP 64 is preloaded with a Worldwide basemap with shaded relief. However, a number of other maps supplied on SD/microSD Card are also compatible including street-level road maps - perfect for cycling of using your GPSMAP 64 in a car, 1:50k and 1:25k Ordnance Survey maps - ideal for hiking and walking the countryside of Great Britain and marine BlueCharts - ideal if you want to navigate the waters around the UK, Europe or further afield.
View all Garmin GPSMAP 64 maps
---
Garmin GPSMAP 64 Questions and Answers
Question: On reading the information before I ordered the latest Garmin TOPO Great Britain PRO map.This micro sd card was suitable for my garmin gps map 64 handheld device. The sd card received is 4 x the size the sd card slot in my device...it is not 'micro'. At this price I need to return it ASAP and please can I have the correct micro card. 
Answer: The Garmin TOPO Great Britain PRO map you purchased like all Garmin preprogrammed SD card mapping that we sell is supplied on both SD card and microSD card. You will find the microSD card that your GPSMAP 64 requires inside the "4 x the size" SD card adaptor you are referring to (please see diagram to the right).
The reason that Garmin supplies their SD card mapping range in this way is that some older Garmin devices require a full size SD card, while later models e.g. GPSMAP 64 require a microSD card.
For further help with installing and loading Garmin SD/microSD Cards please see the Garmin map installation tips page.
Do you have a question about the Garmin GPSMAP 64? Submit your question via our contact page.
---
Garmin GPSMAP 64 Technical Specification
‣Technology: GPS
‣Display: transflective, 65-K colour TFT (160 x 240 pixels)
‣Touchscreen: No
‣Battery: 2 AA batteries (not included) or (optional) NiMH battery pack
‣Waypoints/favourites/locations: 5,000
‣Routes: 200
‣Track Log: 10,000 points, 200 saved tracks
‣Basemap: Worldwide
‣Built-in memory: 8GB
‣Accepts data cards: Yes
‣Waterproof: Yes, IPX7
‣Dimensions: Width - 61mm, Height - 160mm, Depth - 36mm
‣Weight: 260.1grams
‣Guarantee: 1-year
‣Garmin GPSMAP 64 manual

Manual requires Adobe Acrobat Reader
Download a free copy here
This product is a sophisticated electronic device which requires that you read, understand, and act upon the information given in the instruction manual (usually available via the above 'manual' link). You will need internet access and, in accordance with the manufacturers' recommendations, regularly seek out and accept all firmware or software updates offered by the manufacturer. All GPS devices need to 'see' the satellites in the sky. Therefore you will need to know that your vehicle does not have glass that will block or impede the GPS signal.
---
Why buy from us?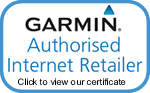 We are official Authorised Internet Retailers for Garmin. We sell genuine Garmin products, accessories and maps. We purchase from assigned Garmin UK distributors. We do not buy on the grey market and we do not sell counterfeit products. You can rest assured that by purchasing from ActiveGPS you will receive the full support of Garmin.
Page updated: 15th March 2019