City Navigator maps provide street-level detail for your Garmin sat nav or GPS system. City Navigator map updates are supplied on plug and play micro/SD cards.
TOPO maps provide topographical rich maps for Garmin GPS handheld devices. Countries available include Great Britain, France, Italy, Spain and Switzerland. TOPO maps are supplied on preprogrammed micro/SD cards.
Discoverer maps provide OS rich map data at a scale of 1:50k or 1:25k. These maps are perfect for an outdoor adventure. Pre-loaded on micro/SD cards.
Cycle maps provides bike-specific maps for both on-road and off-road navigation and can provide round-trip options based on a set distance. Pre-loaded on micro/SD cards.
BlueChart maps provide BlueChart marine charts for Garmin Chartplotters and other Garmin marine GPS products. BlueCharts are pre-loaded on micro/SD cards.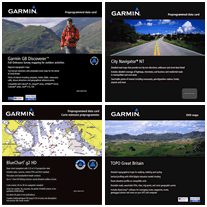 We only sell authentic Garmin maps - that's why all of our genuine Garmin lines carry the logo to the left. Further to this we are also a Garmin Authorised Internet Retailer. So when you buy from us you can be assured that you will receive exactly what Garmin intended you to use with your Garmin GPS or sat nav.
All of the maps available from ActiveGPS are genuine and most are on microSD/SD card (some, such as France IGN Topo are DVD and micro/SD card). We offer FREE UK delivery on all orders of £40 or more, plus next working day and guaranteed Saturday delivery options. We also deliver right around the world, please see the delivery options.
Please Note: your device may require the latest software update. For further tips and help with installing and loading Garmin SD/microSD Cards click here. Plus you may wish to find or ask a question via our frequently asked questions page.
Want a Garmin accessory too? See Garmin accessories to find the right one.
Garmin map types explained
Whichever Garmin device you have (or intend to buy) and whatever your purpose for using it - Garmin offer a comprehensive range of different maps.
The four types and there main purpose are:
‣Garmin City Navigator NT Maps - provides road maps, right down to street-level detail (though coverage differs from map to map) ideal for using on the road either in a vehicle or cycling on-road. Compatible with Garmin nuvi, StreetPilot, zumo, Oregon, Montana and a number of other models. Click here to view.
‣Garmin GB Discoverer Maps - provides Ordnance Survey (OS) maps in the palm of your hand ideal for hiking, orienteering, geocaching and more. Compatible with Garmin Montana, Monterra, Oregon, Edge 800/810 and a number of other models. Click here to view.
‣Garmin TOPO Maps - provides topographical maps including contours and elevaion ideal for hiking, etc and for Garmin models which aren't compatible with the GB Discoverer maps. Compatible with Garmin eTrex, Dakota, Oregon and a number of other models. Click here to view.
‣Garmin BlueChart Maps - provides marine charts ideal for use on the waters around the UK and Europe. Compatible with Garmin marine chartplotters, GPSMAP, nuvi 620 and some handheld units like the GPSMAP 78s. Click here to view. BlueCharts are made to order within a few hours of purchase and, in accordance with the Consumer Contract Regulations, cannot be cancelled or returned for refund.
Please note: If your Garmin Marine device takes the earlier datacard we regret that these updates are no longer available from Garmin.
---
Not sure which sat nav or GPS model you have? Simply e-mail us, or use the online form on our contact us page and provide us with the unit's model, part and serial number normally located on the underside of your GPS system. We'll then reply with the relevant webpage of available maps for you to browse.
Please note: The images above are for illustration only and Garmin maps may NOT be available for all models shown.
---
Why buy from us?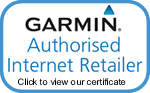 We are official Authorised Internet Retailers for Garmin. We sell genuine Garmin products, accessories and maps. We purchase from assigned Garmin UK distributors. We do not buy on the grey market and we do not sell counterfeit products. You can rest assured that by purchasing from ActiveGPS you will receive the full support of Garmin.
Page last updated: 29th October 2018