Garmin Transducer Selection Form
Please complete the online form below and we will email you with a link to compatible transducer(s) that you can buy from ActiveGPS, to use with your compatible Garmin device.
---
Garmin Transducer Buyer's Guide
Garmin Transducers are compatible with selected Garmin Fishfinder models and all Garmin chartplotters that include a sounder e.g. echoMAP 75sv.
If you are new to buying a transducer, the video below (which is prepared by Garmin USA) is worth watching. Beyond the video (further down this webpage), we look at the different ways you can mount a transducer on your boat and beyond that we explain the different types of sonar. Finally, we look at the different BlueChart marine charts that you can add to your device.
---
Transducer Mounting Options
There are three main ways in which a transducer can be mounted onto your boat, these are:
1. In-Hull Mount
This option sees the transducer installed inside a boats hull against the bottom and sends its signal directly through the hull of the boat.
In-Hull Mount Pros
‣No need to drill through the boat; no drag
‣Boat can be trailered without damaging the transducer
‣No exposure to marine growth
‣Can be installed and serviced while the boat is in the water
‣Give great high-speed performance as long as water flow below the transducer is "clean" (no turbulence)
‣Work with any engine type: inboard, outboard, and I/O when installed over solid fiberglass
‣Perform well on both power and sailboats
In-Hull Mount Cons
‣Not recommended for metal, wood and cored fiberglass hulls
‣Lose signal by transmitting through hull
Examples of Garmin In-Hull Mount transducers are the Airmar P79, GT8HW-IN and GT15M-IH.
---
2. Transom Mount
A transom mount is designed to be attached to the back (transom) of a boat hull.
Transom Mount Pros
‣Good for trailered boats, out of the way of the rollers
‣Easy-to-install and remove - especially if a kick-up bracket is used
‣Good performance at boat speeds below 30 knots (34 mph)
‣Can be used with any hull material
Transom Mount Cons
‣Will not work on a boat with an inboard engine due to the turbulence forward of the sensor
‣Not recommended for sailboats because of excessive heeling
‣Will not work on stepped hull
Examples of a Garmin Transom Mount transducer are the Airmar P66, Plastic Transom Mount, Garmin GT20-TM and Garmin GT23M-TM.
---
3. Thru-Hull Mount
This option sees the transducer installed in a hole drilled thru the hull.
Thru-hull transducers come in two styles:
1. Flush mounts sit flush or nearly flush with the boat hull and are recommended for smaller boats with a minimum deadrise angle.
2. External mounts extend beyond the hull surface and usually require a fairing to aim the sound beam vertically and are for larger un-trailered boats.
Thru-Hull Pros
‣Work with any engine type: inboard, outboard or I/O
‣Work for power and sailboats
‣There are thru-hull transducers for every hull material
Thru-Hull Cons
‣Do not use plastic thru-hull housings in a wooden boat. Wood swells as it absorbs water, so it may crack the housing.
‣Do not use bronze thru-hull housings in aluminum and stainless steel boats. The interaction between the metal hull and the bronze transducer, especially in the presence of salt water, will corrode the metal hull and/or the bronze housing.
Example of Garmin Thru-Hull transducesr include the Garmin GT23M-TH, Garmin GT41-THP, Garmin Airmar P319 and Garmin Airmar B60.
---
In addition to the these mounting options, you may also like to consider trolling motor mount, pocket mounted and kayak in-hull. Pictured below, transom mounted transducer, thru-hull transducer and in-hull transducer.
Deadrise Angle
IMPORTANT: To help ensure that you buy the right transducer, your boats deadrise angle is also needed to be known. The deadrise angle is the angle between the horizontal line of the water and your boat's hull - please see diagram below. When buying a transducer we need to know whether the angle is between 0-7 degrees, 8-15 degrees or 16-24 degrees.
---
Different Types of Sonar
Below we look at five of the different types of sonar that Garmin transducers and compatible Garmin fishfinders and chartplotters ultise. Please note: not all methods are compatible with all Garmin marine devices.
Traditional HD-ID Sonar
Traditional sonar that is available on Garmin fishfinders. HD-ID sonar transmits two frequencies, generally either 77/200 kHz or 50/200 kHz. Standard sonar sends a single frequency at a time. Since the only feedback is from this one single frequency, there is little information to work with, limiting the clarity and resolution available with stadard sonar.
CHIRP Sonar
CHIRP sonar transmits a continuous sweep of frequencies ranging from low to high and within a long duration pulse. The equivalent sound energy is hundreds of times greater, resulting in more energy on target. This provides huge advantages in detail, resolution and accuracy at much greater depths. The word CHIRP is an acronym for Compressed High-Intensity Radiated Pulse.
Panoptix
The most unique and innovative sonar on the water. With Panoptix PS30 down and Panaoptix PS31 forward transducers, you can see fish in the water column in 3-D. You can also see your bait cast into the water and watch it as you reel it in. You can see fish swimming in front of or below your boat and all in real-time. Panoptix PS30/PS31 is only compatible with the Garmin GPSMAP 7400 series, GPSMAP 8000/8500 series, GPSMAP 751/820/1020 series chartplotters.
DownVu Scanning Sonar
This high-frequency sonar gives you a clearer picture of what's below your boat, by producing a more detailed representation of objects, structure and fish. DownVu with CHIRP technology takes it one step further, producing an ultra-clear page with even more detail. DownVu scanning sonar is built into Garmin echoMAP combos, and DownVu scanning sonar with CHIRP technology is built into Garmin GPSMAP combos.
SideVu Scanning Sonar
SideVu shows you what is happening to the sides of your boat. An excellent way of finding structures and fish. SideVu with CHIRP technology provides an even more detailed and higher resolution image of what is beneath the surface. SideVu scanning sonar is built into Garmin echoMAP sv combos, and SideVu scanning sonar with CHIRP technology is built into Garmin GPSMAP combos.
---
Garmin BlueChart Marine Charts
By adding either a Garmin BlueChart g2 HD or BlueChart g2 Vision HD marine chart on SD/microSD Card to your compatible Garmin chartplotter will provide the most detailed digital marine data on the screen of your device.
The majority of Garmin Chartplotters (like the GPSMAP 7404xsv pictured below) have the ability to display a split-screen, one side of the screen displays information from your transducer, while the other side of the screen displays your current position in the centre of a marine BlueChart.
Garmin BlueChart g2 Vision HD marine charts are available in three different sizes, these are: Small, Regular and Large coverage. Please see the sample charts below, which all include the Thames Estuary: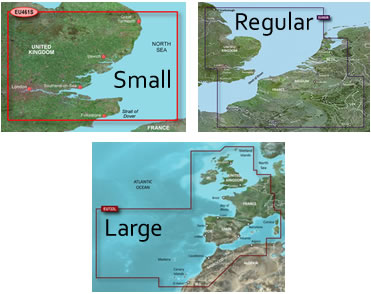 The larger the chart coverage the more area is covered without the need to change or buy additional charts. We suggest buying the chart(s) that provide the coverage for your sailing, fishing or yachting needs.
Charts are available to buy from ActiveGPS for the waters around the UK, Western Europe and Mediterranean coasts. Find your Garmin BlueChart map here.
---
Why buy from us?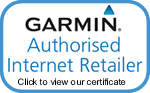 We are official Internet Retailers of Garmin products and we sell genuine Garmin accessories and maps. We purchase from the Garmin UK distributor. We do not buy on the grey market and we do not sell counterfeit products. You can rest assured that by purchasing from ActiveGPS you will receive the full support of Garmin.
Page last updated: 13th August 2018