Garmin GPSMAP 7407 is a Chartplotter and Fishfinder with 7-inch multi-touch windscreen display and comes preloaded with worldwide base map. There are two SD Card slots so that you can add additional maps to the device.
There is a high-sensitivity internal 10Hx GPS/GLONASS that will update your position and heading 10 times per second. Using Wi-Fi you can also connect with a smartphone or tablet. There are two models: 7407 and 7407xsv. Only the 4707xsv features a Sonar though you will need to buy a transducer separately.
Garmin GPSMAP 7407 with Worldwide Basemap - £1065.99
Garmin GPSMAP 7407xsv with Worldwide Basemap - £1175.99
DELIVERY: Please note: These items weigh in excess of 2Kg and may attract a higher delivery charge. Royal Mail 1pm, 9am, Saturday delivery and International Signed For may not be available with this product. At our option we may use a courier and delivery could take two days or more. If you require urgent delivery please e-mail before placing your order.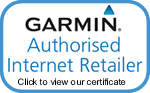 The Garmin GPSMAP 7407 is a 7-inch multi-touch widescreen display Chartplotter and Fishfinder which is ideal for both sailors and fishermen. It is preloaded with a worldwide basemap and you can add additional mapping such as BlueChart g2 and g2 Vision maps using the two SD card slots. The GPSMAP 7407 features a high-sensitivity internal 10Hx GPS/GLONASS which will update your GPS position and heading 10 times per second resulting in a very clear representation of your current journey.
The are two models of the GPSMAP 7407 that you can choose to buy. These are the GPSMAP 7407 and the GPSMAP 7407xsv. The 7407xsv model additionally has a Sonar for fishing and bottom tracking purposes. It features a dual-channel 1kW CHIRP and offers views below the water both below your boat and to sides of your boat. These views are named by Garmin as DownVu and SideVu. The capabilities of this Sonar are so great that you can see on your display small and closely spaced fish a fishing depths down to 1,500 metres. The maximum depth capacity is 5,000 ft at 1kW (this is dependent on water bottom type and water conditions). Please note that the transducer is sold separately.
To find the perfect transducer to partner your GPSMAP 7407xsv and your boat please complete our online form here. Pictured below, transom mounted transducer, thru-hull transducer and in-hull transducer.
This Garmin Chartplotter is also Wi-Fi and ANT+ enabled. With the feature Garmin Helm you can control your Chartplotter from a smartphone or tablet. In fact, if you are using an iPhone or an iPad you can also record screen information from your GPSMAP 7407 Chartplotter/Fishfinder. You can also plan your route on your iPhone or iPad and transfer the data wirelessly to your Chartplotter making planning more comfortable and separate from using your Chartplotter for every journey planning activity. There is also FUSION-Link which connects to your entertainment System/Audio System direct to a compatible chartplotter.
The Garmin GPSMAP 7407 can be synced with a marine network and NMEA 2000 which enables it to offer you radar, autopilot instruments, multiple screens, FUSION-Link, remote sonar modules, digital switching, thermal cameras, GRID rotary knob, joystick and keypad control. You can also share with other GPSMAP compatible Garmin devices information such as radar, GSD 24, GSD 26 sonar modules, supplemental maps, user data, waypoints, routes and tracks. It also supports connectivity using NMEA 0183.
Sailing features include laylines, enhanced wind rose, heading and course-over-ground lines, true wind data fields and tide/current/time slider. Plus gauge displays provide coverage of true and apparent wind angle, set and drift, true or apparent wind speed, horizontal and vertical graphs and data bar with customisable data fields.
The 7407 Chartplotter is compatible with gWind Transducers. The benefit of gWind, gWind Wireless and gWind Race transducers are that they include twin-fin technology and 3-bladed propeller. This will connect to NMEA 2000 and compatible Garmin Chartplotters via the GND 10 black box bridge.
Upgrade the mapping on your GPSMAP 4707 Chartplotter
The GPSMAP 7407 come as standard with a worldwide basemap. Additional Bluecharts e.g. France, Iberia are also available on SD/microSD Card.
The very best charts are BlueChart g2 Vision SD cards. These premium charts include: MarinerEye - keep an eye on 3D information above the waterline, FishEye - provides 3D information below the waterline. Furthermore high-resolution aerial images help you to identify where you should be traveling when you are unfamiliar with the layout of the waterways. There is an Auto Guidance feature that provides a route you can follow which avoids shallow water, buoys and other obstacles.
You can save up to 5,000 waypoints and 100 routes to your Chartplotters' memory. The GPSMAP 7407 is waterproof to IPX7 standards and will also record water temperature in a log and graph.
Garmin GPSMAP 7407 Features
‣7-inch multi-touch WVGA screen Chartplotter
‣Fishfinder via sonar(with the GPSMAP 7407xsv)
‣Preloaded Garmin worldwide basemap
‣Built-in 10Hx GPS/GLONASS updates your position and heading 10 times per second for fluid display of your movements
‣Sonar features only with GPSMAP 7407xsv: DownVu and SideVu for views below the boat and also an underwater view to the sides of your boat
‣Maximum depth for Sonar use (7407xsv only): 5,000 ft at 1kW
‣Waterproof to IPX7
‣Wi-Fi and ANT+. Connect and control the GPSMAP 7407 with a smartphone and tablet. Also plan your route on your iPhone or iPad and transfer to your compatible chart plotter.
‣SD card slot allows upgrade to BlueChart g2 HD / g2 Vision HD cartography
‣1 Year manufacturers guarantee
Sounder functions
‣Sounder output: up to 500 W (RMS) HD-ID/4,000 peak-to-peak
‣Depth: In freshwater: 2,300 ft @ 77kHz In saltwater: 1,100 ft @ 77kHz
‣Sonar recording. Playback using HomePort Software.
‣Graphic logging of water temperature
‣Alarm for fish size, shallow and deep water
‣A-scope (real time window)
‣White line
‣2x, 4x and bottom-locked zoom
‣Adjustable keel calibration
‣Split-screen zoom for a close-up view of fish and the bottom
---
Installation
Flush, Flat and Bail mounting options enable you to mount the GPSMAP 7407 device against most flat surfaces in your boat.
Chart Coverage
Garmin GPSMAP 7407 marine chartplotters are preloaded with a worldwide basemap.
What's in the box? (when purchased from ActiveGPS.co.uk)
‣Garmin GPSMAP 7407 with worldwide basemap
‣Power/data cable
‣NMEA 2000® drop cable
‣T-connector
‣Bail mount with knobs
‣Flush mount kit
‣Protective cover
‣Product documentationl
---

Garmin GPSMAP 7407 Accessories
Looking for Garmin GPSMAP 7407 or GPSMAP 740xsv accessories? Accessories available to purchase include protective cover, bail mount with knobs and flush mount kit. If you'd like to add a transducer to your GPSMAP 7407xsv please see Garmin transducer page.
View all Garmin GPSMAP 7407 accessories
---
Garmin GPSMAP 7407 Charts
Add Garmin BlueChart g2 HD and g2 Vision HD marine charts to your Garmin GPSMAP 7407/7407xsv, view the different charts you can buy from ActiveGPS here.
View all Garmin GPSMAP 7407 BlueCharts
---
Garmin GPSMAP 7407 Technical Specification
‣Technology: GPS Chartlotter, Fishfinder
‣Display: 7-inch multi-touch WVGA display (800 x 480 pixels)
‣Battery: None
‣Waypoints/favourites/locations: 5,000
‣Routes: 100
‣Track Log: 50,000 points, 50 saved tracks
‣Basemap: None. Preloaded with worldwide basemap.
‣NMEA input/output: NMEA 2000 and NMEA 0183 compatible
‣Built-in memory: None (cannot load maps to internal memory)
‣SD card slot: Yes, 2
‣Garmin radar compatible: Yes
‣Garmin sonar compatible: Yes
‣Waterproof: Yes, IPX7
‣Dimensions: Width - 222mm, Height - 142mm, Depth - 61mm
‣Weight: 1.13kg
‣Guarantee: 1-year
‣Garmin GPSMAP 7407 manual

Manual requires Adobe Acrobat Reader
Download a free copy here
This product is a sophisticated electronic device which requires that you read, understand, and act upon the information given in the instruction manual (usually available via the above 'manual' link). You will need internet access and, in accordance with the manufacturers' recommendations, regularly seek out and accept all firmware or software updates offered by the manufacturer. All GPS devices need to 'see' the satellites in the sky. Therefore you will need to know that your vehicle does not have glass that will block or impede the GPS signal.
---
Why buy from us?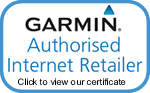 We are official Authorised Internet Retailers for Garmin. We sell genuine Garmin products, accessories and maps. We purchase from assigned Garmin UK distributors. We do not buy on the grey market and we do not sell counterfeit products. You can rest assured that by purchasing from ActiveGPS you will receive the full support of Garmin.
Page updated: 21st January 2019