This heavy duty 7-inch cover fits the Garmin GPSMAP 751 and GPSMAP 751xs chartplotter head unit snugly and protects the screen from getting scratched and guards against the harsh marine environment when not in use. More Details
Garmin GPSMAP 751 gasket kit enables you to flush mount your GPSMAP 751 or 751xs chartplotter. Flush mount kit includes hardware, installation instructions and a template. More Details
Replacement trim for the Garmin GPSMAP 751 and 751xs chartplotter. Simply snap this trim bezel in place and replace the trim surrounding your GPSMAP 751/751xs.
Surface mount your Garmin GPSMAP 751 chartplotter using this genuine Garmin bail mount with knobs. To help achieve the best viewing angle of your GPSMAP 751 or GPSMAP 751xs 7-inch display the mount also tilts for optimum viewing. More Details
Add a second mounting station for your 7-inch Garmin GPSMAP 751 or GPSMAP 751xs chartplotter on your boat with this second mounting station. The kit also includes a wiring harness to power the GPSMAP 751 and ability to connect to an optional NMEA 0183 network. More Details
Power and connect your Garmin GPSMAP 751 or 751xs chartplotter with this 8-pin 3 Amp power/data cable. Use with NMEA 0183 devices and a lamp or horn for visible or audible alerts. More Details
If you are wanting to use your Garmin GPSMAP 751/751xs on a boat, you will need this remote marine GA 38 GPS/GLONASS antenna to receive GPS/GLONASS signal. Comes with 10metre (32feet) antenna cable. The kit also includes surface, pole and under-deck (for the underside of fiberglass decks) mounting brackets. More Details
The highly accurate GPS 19x HVS position receiver/antenna provides up to 10Hz update rates for position, velocity and time data. It offers high-sensitivity reception and enhanced position acquisition to the Garmin family of marine multifunctional displays (MFD), instrument display and autopilots. More Details
Adding a Transducer to your GPSMAP 751xs
Garmin transducers are fully compatible with the Garmin GPSMAP 751xs and will provide you with a live 'view' beneath your boat. We stock the very latest Garmin transducers which can provide you with an image of not only what lies directly below but towards the front or sides of your boat with features such as SideVu, DownVu and RealVu 3D Forward.
To learn more about Garmin transducers please see our Garmin Transducer Buyer's Guide, the page also features an online form, which after completing we will email you a link to compatible transducers that are all fully compatible with your Garmin GPSMAP 751xs and the boat in which you will use both nautical devices on.
Find your compatible transducer here.
Pictured below, transom mounted transducer, thru-hull transducer and in-hull transducer.
---
Adding a Garmin BlueChart to your GPSMAP 751/751xs
By adding either a Garmin BlueChart g3 or g3 Vision marine chart on SD/microSD card to your Garmin GPSMAP 751/751xs chartplotter will provide the detailed digital marine charts on the screen of your device.
Garmin BlueChart g3 Vision marine charts are available in three different sizes, these are: Small, Regular and Large coverage. Please see the sample charts below, which all include the Thames Estuary: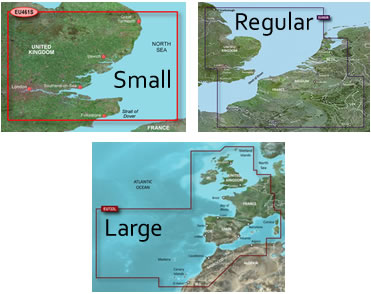 The larger the chart coverage the more area is covered without the need to change or buy additional charts. We suggest buying the chart(s) that provide the coverage for your sailing, fishing or yachting needs.
Charts are available to buy from ActiveGPS for the waters around the UK, Western Europe, Mediterranean and North American coasts. Find your Garmin BlueChart.
---
Why buy from us?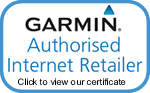 We are official Authorised Internet Retailers for Garmin. We sell genuine Garmin products, accessories and maps. We purchase from assigned Garmin UK distributors. We do not buy on the grey market and we do not sell counterfeit products. You can rest assured that by purchasing from ActiveGPS you will receive the full support of Garmin.
Page last updated: 24th May 2019