If you are looking to explore throughout Scotland, then the GB Discoverer Scotland 1:50 000 scale map is the perfect map to use with your compatible Garmin system.
Using map data from the Ordnance Survey OS Landranger map range, these maps provide on-screen rescalable and routable maps, where you'll be able to explore trails, paths, roads and rights of way all with OS 1:50 000 scale map detail. The map comes preloaded on a SD/microSD Card, which then inserts into your Garmin device.
The Scotland GB Discoverer map includes the Inner Hebrides, Shetland, Orkney, The Outer Hebrides, Dumfries & Galloway and Skye.
Garmin part number: 010-C1035-00
Compatibility: Compatible with Garmin Dakota 20, eTrex 20/25/30/35, Edge 800/810/1000, Edge Touring/Touring Plus, GPSMAP 62s/62st/62stc, 64/64s/64st, 66s/66st, 78/78s/78sc, 276Cx, Rino 650/650t/655t/750t/755t, Monterra, Colorado range, Montana range, nuvi 500 range, Oregon range. View the full list of compatible Garmin products here or scroll down to 'What is the map compatible with?'.
Please note: This is mapping software only - you need to already own (or purchase) one of the above Garmin devices.
Garmin GB Discoverer 1:50k Maps of Scotland microSD/SD card has been discontinued.
Scotland is now only available within either the Garmin TOPO GB 1:50K map or the Garmin TOPO GB 1:25K map both of which come supplied on pre-programmed SD/microSD card. Please see either map version page for full details and list of compatible Garmin models e.g. Garmin Montana 680t.
Scotland OS Landranger
Explore and navigate all of Scotland with confidence using this genuine Garmin GB Discoverer map which comes supplied on SD card.
Simply insert the microSD/SD card into your compatible Garmin unit and you are ready to walk, hike, ride or hack all of Scotland with an OS map at a scale of 1:50k.
The Scotland GB Discoverer map covers the entire country including the Inner Hebrides, Shetland, Orkney, The Outer Hebrides, Dumfries & Galloway and Skye as shown in the UK map to the right.
---
What the Scotland map provides
When inserted into a compatible Garmin device the GB Discoverer all of Scotland maps provide Ordnance Survey (OS) maps at a scale of 1:50 000 for the entire country of Scotland. The map data is the same as the scale found in the OS Landranger map series (same as the OS pink cover paper maps). Rather than having folding paper maps to deal with, OS map are all on your Garmin's screen and in the palm of your hand. Click here to read more about Garmin GB Discoverer map series.
Pictured left: The Garmin Montana 680 with on-screen OS Landranger 1:50 000.
Please note: Display may differ from unit to unit. Garmin GPS device sold separately.
---
Key Features
‣1:50 000 Ordnance Survey Landranger maps for all of Scotland
‣NAVTEQ streetmaps for the whole of Great Britain
‣Includes terrain contours, topo elevations, summits, paths and routable roads
‣Designed for walking, trekking, cycling and includes turn-by-turn directions with preloaded Great Britain road maps
‣Full topographic Ordnance Survey mapping
‣Points of interest including campsites, hotels, B&Bs, restaurants, cafe, leisure attractions and geographical reference points
‣Genuine Garmin map
---
GB Discoverer OS Landranger screen shots
Please note: The images above are screen shots from various GB Discoverer maps and NOT necessarily from the Scotland map.
---
What is the map compatible with?
The Scotland 1:50k map on SD card is compatible with Garmin handheld models manufactured since 2008, and must include an SD or microSD card slot. The models the GB Discoverer map is compatible with are as follows:
Garmin Astro 320, 430, Colorado 300, Colorado 400c, Colorado 400i, Colorado 400t, Dakota 20, Edge Edge 800, Edge 810, Edge 1000, Edge Touring, Edge Touring Plus, epix, eTrex 20, eTrex 20x, eTrex 30, eTrex 30x, eTrex Touch 25, eTrex Touch 35, eTrex Touch 35t, GPSMAP 62s, GPSMAP 62sc, GPSMAP 62st, GPSMAP 62stc, GPSMAP 64, GPSMAP 64s, GPSMAP 64st, GPSMAP 66s, GPSMAP 66st, GPSMAP 78, GPSMAP 78s, GPSMAP 78sc, GPSMAP 276Cx, Montana 600, Montana 610, Montana 600t Camo, Montana 650, Montana 650t, Montana 680, Montana 680t, Monterra, nuvi 500, nuvi 510, nuvi 550, Oregon 200, Oregon 300, Oregon 400c, Oregon 400i, Oregon 400t, Oregon 450, Oregon 450t, Oregon 550, Oregon 550t, Oregon 600, Oregon 600t, Oregon 650, Oregon 650t, Oregon 700, Oregon 750, Oregon 750t, Rino 650, Rino 650t, Rino 655t, Rino 750t, Rino 755t.
'Special Order' means that an item is available but not held as a normal stock item. These items are usually obtainable within three to five working days (but can take one week or longer) and we may charge Your credit/debit card/PayPal account before ordering the item from manufacturer/distributor. It can take five days or more to despatch a Special Order.
IMPORTANT: Because these maps are custom ordered at time of purchase (made to order) they cannot be returned for refund and nor can the transaction be cancelled after we have ordered them from the manufacturer (in accordance with the Consumer Contracts Regulations). Therefore, please ensure that you are definitely ordering the correct map, and that you have checked that is compatible with your device, and that it will be delivered to you before you depart for your destination. If this means you need to contact us prior to ordering please do so.
---
How to install
Mapping for Scotland comes supplied on a microSD inside a larger SD card adaptor. To install insert either the full size or microSD card (depending on your model) into a compatible Garmin GPS device (see compatibility list above).
Please note: When using the purchased map, the SD card needs to remain in your Garmin device at all times so the map can be read. The map card cannot be copied to either your Garmin unit or external hard drive. However the map SD card can be used in multiple compatible Garmin devices, but only one at a time. For further help with installing and loading Garmin SD/microSD Cards click here.
---
Other maps to consider
The Scotland Garmin GB Discoverer 1:50k map (010-C1035-00) covers part of Great Britain. However, you might like to consider an alternative Garmin GB Discoverer Ordnance Survey (OS) map that includes all of Great Britain:
‣1:50k All of Great Britain - provides OS detail at 1:50k scale for all of Great Britain.
Exploring, walking or hiking elsewhere in the UK?
A number of 1:25k OS Explorer maps covering Great Britain's National Parks may also be available to buy, these are pictured below.
In addtion to the National Parks, there are also other maps at a scale of 1:25k which cover Great Britain's National Trails, as pictured below.
In total there were 42 maps in the complete GB Discoverer series (although some are now no longer available). To view them all click here.
Garmin GB Discoverer original 2009 publicity material:
Click on the above image to view high resolution version and read about the Discoverer maps along with the original list of National Parks and National Trails.
---
Why buy from us?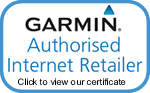 We are official Internet Retailers of Garmin products and we sell the genuine Garmin maps. We always aim to ensure the mapping available at our website is the most recent edition of the software. Beware of other websites selling older mapping that is not the current version of the software.
This page was last updated on: 6th November 2018