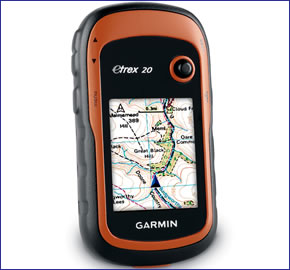 Garmin eTrex 20 is the perfect handheld GPS system for walking, hiking and geocaching. It features a 2.2-inch 65k colour, sunlight-readable display and is both waterproof and rugged.
The eTrex 20 has 1.7GB of internal memory and is preloaded with a worldwide shaded relief basemap. Additional mapping is also available which can be loaded to the Garmin eTrex 20 with ease making the eTrex 20 a very versatile device.
The eTrex 20 has a 25 hour battery life and is designed for paperless geocaching eliminating the need for carrying paper with the geocache details.
Garmin eTrex 20 Garmin eTrex 20 has been discontinued.
Accessories are still available for your eTrex 20 click here. Likewise for maps click here.
The replacement Garmin eTrex model is the Garmin eTrex 20x.
For the latest range of handheld and outdoor GPS click here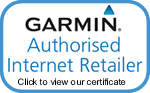 The Garmin eTrex 20 is the ideal compact partner for hiking, cycling, driving, sailing and lots more. At just over 10cm in height, 5cm wide and 3cm deep it's small enough to fit into your pocket ready to assist you in your outdoor pursuits. Coupled with this the eTrex 20 also provides up to 25 hours battery life.
*NOH - A newly overhauled (NOH) device is a device that was returned to Garmin to be factory refurbished. To read more click here or scroll to the base of this page. NOH products include a 1 year warranty.
The eTrex 20 is part of the latest Garmin eTrex series and includes the following feature:
‣Internal 1.7GB memory
At the centre of the eTrex 20 is a sunlight-readable 2.2-inch (5.6cm) colour display. Plus finding your way around the eTrex 20 menus is easy using the unit's thumb stick. The eTrex 20 is built to withstand the outdoor environment. Its rugged construction makes it very durable and it is also waterproof to IPX 7 standards.
Also available is the Garmin eTrex 30. Although part of the same range as the eTrex 20, the eTrex 30 additionally features the ability to wirelessly share your walks, hikes and caches. Plus it also has an electronic compass and a barometric altimeter which can calculate altitude and help predict the weather. Click here to read more about the eTrex 30.
The Garmin eTrex 20 is also the perfect GPS device for geocaching. This Garmin GPS device is designed for paperless geocaching by supporting GPX files. It will save to your device co-ordinates of the geocache as well as the location, terrain, difficulty, hints and description. This saves you printing out the geocache details and carrying them around with you - just download to the Garmin eTrex 20 and go.
The Garmin eTrex 20 features a microSD card slot and internal memory of 1.7GB. This enables you to expand the capabilities of the Garmin eTrex 20 system beyond the preprogrammed Worldwide base map. You can install Ordnance Survey maps with Garmin GB Discoverer for walking and hiking, load BlueChart g3 marine charts for days out on the water or even turn-by-turn road mapping utiliising City Navigator NT road maps. To find out more about eTrex 20 compatible maps and charts click here. Furthermore the relevant bike, boat, car or motorbike mounts are available to purchase from the eTrex 20 accessory page.
This Garmin handheld it equipped with EGNOS-enabled GPS receiver and HotFix satellite prediction. This means your Garmin eTrex 20 will lock onto satellites quickly and accurately and will keep its GPS signal even in wooded areas and mountainous terrain. In addition the eTrex series also uses GLONASS satellites as well as GPS satellites. This results in 20% quicker lock on to satellites. In fact there are 24 more satellites to lock on to compared with using GPS on its own.
Handheld/Outdoor FAQs
Do you have a question about the Garmin eTrex 20 or other handheld GPS related question that's not been answered on this webpage? Please see our handheld and Outdoor GPS FAQs page for questions from other customers.Plus if the answer to your question isn't featured, use the online form to ask us for the answer. Alternatively please telephone 01733 777623 Monday to Friday (9:30am-5:00pm) to speak to one of our sales team.
---
Garmin eTrex 20 Features
‣Enhanced 2.2-inch 65k colour TFT display (176 x 220 pixels)
‣Worldwide built-in basemap with shaded relief
‣Paperless geocaching
‣1.7GB internal memory
‣microSD card slot for optional mapping
‣High-sensitivity, WAAS/EGNOS-enabled GPS receiver with HotFix with GNSS support
‣Rugged, waterproof (IEC 60529 IPX7)
‣USB interface
‣Up to 25 hours of battery life, 2 AA batteries (not included) NiMH or Lithium recommended
‣Supports spine mounting accessories
‣1 year guarantee
---
Map Coverage
Garmin eTrex 20 is preloaded with a Worldwide basemap with shaded relief. Please note: Additional maps can be loaded to the eTrex 20. The eTrex 20 features a SD/microSD Card slot, an easy way to add new maps and mapping updates.
What's in the box? (when purchased from ActiveGPS.co.uk)
‣Garmin eTrex 20
‣Carabiner clip
‣USB cable
‣Quick start manual
---

Garmin eTrex 20 Accessories
Looking for accessories and spares for the Garmin eTrex 20? All parts are genuine Garmin product and specifically designed for use with the handheld Garmin eTrex 20 device.
View all Garmin eTrex 20 accessories
---
Garmin eTrex 20 Maps
Discover the optional range of maps that you can add to the Garmin eTrex 20 here.
---
Garmin eTrex 20 Technical Specification
‣Technology: GPS
‣Display: transflective, 65-K colour TFT (176 x 220 pixels)
‣Touchscreen: No
‣Battery: 2 AA batteries (not included); NiMH or Lithium recommended
‣Battery Life: 25 hours
‣Waypoints/favourites/locations: 2000
‣Routes: 200
‣Track Log: 10,000 points, 200 saved tracks
‣Basemap: Worldwide
‣Built-in memory: 1.7GB
‣Accepts data cards: microSD card (not included)
‣Geocaching-friendly: yes (paperless)
‣Waterproof: Yes, IPX7
‣Dimensions: Width - 54mm, Height - 103mm, Depth - 33mm
‣Weight: 141.7 g with batteries
‣Guarantee: 1-year
‣Garmin eTrex 20 manual

Manual requires Adobe Acrobat Reader
Download a free copy here
This product is a sophisticated electronic device which requires that you read, understand, and act upon the information given in the instruction manual (usually available via the above 'manual' link). You will need internet access and, in accordance with the manufacturers' recommendations, regularly seek out and accept all firmware or software updates offered by the manufacturer. All GPS devices need to 'see' the satellites in the sky. Therefore you will need to know that your vehicle does not have glass that will block or impede the GPS signal.
---
Why buy from us?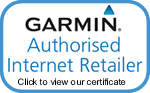 We are official Authorised Internet Retailers for Garmin. We sell genuine Garmin products, accessories and maps. We purchase from assigned Garmin UK distributors. We do not buy on the grey market and we do not sell counterfeit products. You can rest assured that by purchasing from ActiveGPS you will receive the full support of Garmin.
Page updated: 18th October 2017