Garmin City Navigator NT Brazil maps on SD/microSD Card provide you with highly detailed street-level road mapping. These maps can be used within the popular nuvi car sat-nav range, zumo motorcycle sat navs and other Garmin handheld and cycling GPS devices.
Simply insert the plug-and-play SD or microSD card into your compatible Garmin GPS device, select the new map update via your Garmin's on screen menu and you're ready to use up-to-date Garmin maps.
Once installed the pre-programmed SD card provides detailed street-level mapping for Brazil with turn-by-turn directions, address lookup and more.
Garmin part number: 010-10759-00
Compatibility: Compatible with Garmin aera, Camper, Colorado, Dakota, dezl, dezlCam, Drive, DriveAssist, DriveLuxe, DriveSmart, DriveTrack, Edge, eTrex, fleet, GPSMAP, Montana, Monterra, nuvi, nuviCam, nuLink, Oregon, Rino, RV, zumo. View full Garmin Brazil map device compatibility list
IMPORTANT: This map is NOT compatible with the Garmin StreetPilot (all models). Learn more.
Please Note: your device may require the latest software update. Further Garmin map installation tips.
Garmin City Navigator NT Maps of Brazil microSD/SD card - £39.99
City Navigator NT Brazil
City Navigator maps come supplied on a pre-programmed microSD card with SD card adaptor, making these maps compatible with a variety of different Garmin devices including the Garmin etrex, GPSMAP, Montana and Oregon handheld range and naturally the complete nuvi, zumo, dezl and Camper automotive ranges.
Installation and set up is very easy, simply insert either the microSD or SD card into your sat navs or GPS devices SD slot and you're ready to go.
Once installed the SD card provides detailed street-level mapping for Brazil with turn-by-turn directions, address/post code lookup and points of interest (POI) including restaurants, petrol stations, attractions and more.
Please note: Mapping and map updates for other countries are also available. Please click here for a list of other Garmin sat nav maps you can buy from ActiveGPS.
---
Mapping Coverage

The City Navigator NT Brazil map features here street-level full coverage for Brazil, including: Amazonas - Manaus, Bahia - Salvador, Cear - Aracati, Beberibe, Cascavel, Eusébio, Fortaleza, Fortim, Icapuí, Jijoca de Jericoacoara, Pindoretama, Trairi , Distrito Federal - Brasília, Lago Norte, Lago Sul, Sobradinho, Taguatinga, Esprito Santo - Itapemirim, Marataízes, Piúma Mato Grosso - Chapada dos Guimarães, Cuiabá, Rondonópolis Minas Gerais - Belo Horizonte, Uberlândia Paran - Antonina, Curitiba, Guaraqueçaba, Guaratuba, Londrina, Matinhos, Pontal do Paraná, São José dos Pinhais, Tijucas do Sul, Tunas do Paraná Pernambuco - Barreiros, Recife, Rio Formoso, São José da Coroa Grande Rio de JaneiroAngra dos Reis, Armação dos Búzios, Arraial do Cabo, Cabo Frio, Itaguaí, Mangaratiba, Niterói, Rio de Janeiro, Saquarema Rio Grande do NorteNatal Rio Grande do Sul - Bom Jesus, Caxias do Sul, Feliz, Guaporé, Igrejinha, Ijuí, Nova Bassano, Nova Prata, Porto, Alegre, Rolante, Santa Rosa, Santo Ângelo, São Sebastião do Caí, Serafina Corrêa, Tapejara, Três Coroas, Vacaria, Veranópolis Santa Catarina - Blumenau, Florianópolis, Sao Paulo - Barueri, Bertioga, Campinas, Campos do Jordão, Caraguatauba, Carapicuíba, Cotia, Diadema, Guarujá, Guarulhos, Ilhabela, Indaiatuba, Itaquaquecetuba, Jundiaí, Osasco, Ribeirão Preto, Santana de Parnaíba, Santo André, Santos, São Bernardo do Campo, São Caetano do Sul, São José dos Campos, São Paulo, São Sebastião, Ubatuba and Tocantins - Palmas.
---
What the Brazil map provides
Get turn-by-turn directions to any address with the City Navigator NT maps of Brazil (010-10759-00). In addition compatible Garmin sat navs also speak the road names.
City Navigator maps use here maps which include the latest road network including motorways, national and regional and local roads.
City Navigator NT Brazil also provide points of interest database (POI) such as hotels, restaurants, banks, cashpoints, shopping centres and petrol stations. They also feature speed limit data direct to your sat nav. Warnings to speed camera locations are an optional extra, via subscription.
Do you have a question regarding the Brazil City Navigator maps? Please contact us to ask us or see our Garmin mapping FAQ page.
Please note: Premium features such as Lane Assist and Junction View found on the latest Garmin sat navs will not be affected by this sat nav map update. However the new map will not add these features to a sat nav which doesn't already offer or include such a feature. This map is simply a road and POI (points of interest) database which your device will use to show the latest roads and POI. Please be assured that the new mapping will not remove any features that you already have.
---
Key Features
‣Displays turn-by-turn directions on your compatible Garmin
‣Provides street-level detail for Brazil
‣Searchable address and points of interests (POI) including restaurants, petrol stations, etc
‣Mapping provided by here
‣Genuine Garmin map
---
What's in the box?
‣SD card adaptor with preprogrammed microSD card inside
‣Instruction manual
---
Garmin City Navigator screen shots
Please note: The images above are screen shots from various City Navigator maps and NOT from the Brazil map. In addition the four screen shots are taken from different Garmin nuvi models, these may differ from the layout that you see on your Garmin GPS device - for illustration purposes only.
---
What is the map compatible with?
City Navigator maps are compatible with multiple devices across the Garmin product range including automotive, handheld/outdoor, marine and aviation. What's more you can use the same SD card in different devices. Although not at the same time, as for copyright reasons the map cannot be downloaded or transferred.
The City Navigator NT Brazil map on SD card is compatible with the following Garmin products:
Automotive products
Garmin BMW Motorrad Navigator IV, Navigator V, Navigator VI, BMW Portable Navigation System Plus (710), Camper 660, 760, 770, dezl 560, 570, 580, 760, 770, 780, dezlCam, dezlCam 785, Drive 40, 50, 51, 60, 61, (all Drive models), DriveAssist 50, 51, (all DriveAssist models), DriveLuxe 50, 51, (all DriveLuxe models), DriveSmart 50, 51, 60, 61, 70, (all DriveSmart models), DriveTrack 70, 71, (all DriveTrack models), fleet 590, 660, 670, 770, 780, 790, nuvi 20, 30, 40, 50, 60, 200, 300, 400, 500, 600, 700, 800, 1100, 1200, 1300, 1400, 1600, 2200, 2300, 2400, 2500, 2600, 2700, 3400, 3500, 3700 series (all nuvi models), nuviCam, nuLink 1690, 1695, 2320, 2340, 2390 (all nuLink models), RV 660, 760, 770, zumo 220, 340, 345, 346, 350, 390, 395, 396, 400, 500, 550, 590, 595, 600 (all zumo models).
IMPORTANT: This map is NOT compatible with the StreetPilot (all models).
Please note: All model variation ending: T, LM, LT, LMT, LMT-D, LMT-S, W, WT are included in the above list e.g. dezl 570LMT-D, DriveAssist 51LMT-S, nuvi 2797LMT etc.
Also, all series variations e.g. nuvi 2500 series includes: 2507, 2507, 2515, 2517, 2518, 2519, 2529, 2545, 2547, 2548, 2557, 2559, 2567, 2568, 2569, 2577, 2585, 2589, 2595, 2597, 2598, 2599. If you would like us to confirm compatibility with your Garmin model, please contact us with your Garmin model number.
Handheld, outdoor, marine and aviation products
Garmin aera 500, 510, 550, 560, 660, 795, 796, Colorado 300, 400c, 400i, 400t, Dakota 20, Edge 705, 800, epix, eTrex Legend Cx, Legend HCx, Venture Cx, Vist Cx, Vista HCx, 20, 20x, 30, 30x, Touch 25, Touch 35, Touch 35t, Oregon 200, 300, 400c, 400i, 400t, 450, 450t, 550, 550t, 600, 600t, 650, 650t, 700, 750, 750t, fenix 5, GPSMAP 60Cx, 60CSx, 62s, 62sc, 62st, 62stc, 64, 64s, 64sc, 64st, 66s, 66st, 76, 76C, 76CS, 78, 78s, 276Cx, 620, Montana 600, 600t, 610, 610t, 650, 650t, 680, 680t, Monterra, Rino 650, 650t, 655t, 750, 755t.
Please note: These maps are ONLY compatible with the above Garmin products. For sat nav maps for other manufacturers e.g. TomTom click here.
---
How to install
City Navigator Brazil mapping comes supplied on a microSD inside a larger SD card adaptor. To install insert either the full size SD or microSD card (depending on model) into a your Garmin's SD card slot.
Once inserted, switch on your Garmin sat nav or GPS system and navigate via the on-screen menu to the Maps menu screen. Once there place a tick along side the description for the new Brazil map update. You have successfully installed the maps and are they are ready to use.
Please note: When using the purchased map, the SD card needs to remain in your Garmin device at all times so the map can be read. The map card cannot be copied to either your Garmin unit or external hard drive. However the map SD card can be used in multiple compatible Garmin devices, but only one at a time.
For further help with installing and loading Garmin SD/microSD Cards click here.
---
Other maps to consider
The Brazil map is one of 24 maps we sell in the Garmin City Navigator series. So whether you heading across to Europe or over the pond to USA and Canada or down under to Australia or New Zealand there's most likely a map you can buy to use with your Garmin sat nav.
What's more using your own sat nav abroad is often easier and cheaper than hiring one when you reach your holiday or business trip destination. To view all 24 maps that are available click here.
Most automotive Garmin sat navs, can't use any other mapping, other than City Navigator. However if your own a Garmin handheld or marine device, the choice of additional mapping is far from limited to just road maps.
Mapping that's available includes Ordnance Survey maps to other maps for hiking and off-road cycling and even nautical marine charts. To discover which other maps you can buy for your Garmin GPS system click here to find your model.
---
Why buy from us?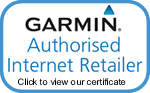 We are official Internet Retailers of Garmin products and we sell the genuine Garmin maps. We always aim to ensure the mapping available at our website is the most recent edition of the software. Beware of other websites selling older mapping that is not the current version of the software.
This page was last updated on: 6th November 2018