Buying a Garmin Car Sat Nav
If you are buying a Garmin Car Sat Nav please take note that the letters at the end of the model number tell you whether the car sat nav has Lifetime Traffic and/or Lifetime Maps. For example, a model number ending LMT-D includes Lifetime Maps (the LM in LMT-D) and also includes Lifetime Traffic (denoted by the T in the LMT-D part). Furthermore the D tells you that the traffic information is Digital which means you get more frequent traffic updates.
---
Buying a Snooper Car Sat Nav

If you are buying a Snooper car sat nav you can select from a 4.3, 5 or 7-inch sized screen. Snooper have a comprehensive database of speed camera locations too which is the same database used by their dedicated speed camera detectors.
To read more details about the offer and to see which Syrius models the offer applies click here.
---
Buying a TomTom Car Sat Nav
If you are buying a TomTom car sat nav then you can get either a 5 or 6-inch sized screen. All TomTom car sat navs include Free Lifetime Maps and Free Lifetime Traffic making these car sateliite navigations very good value.
---
Why buy from us?
ActiveGPS is a Garmin Authorised Internet Retailer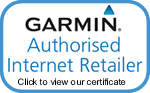 We are official Authorised Internet Retailers for Garmin. We sell genuine Garmin products, accessories and maps. We purchase from assigned Garmin UK distributors. We do not buy on the grey market and we do not sell counterfeit products. You can rest assured that by purchasing from ActiveGPS you will receive the full support of Garmin.
ActiveGPS is an Official Snooper Internet Supplier

ActiveGPS.co.uk (parent company Active Alliance Limited) is an Official Snooper Internet Supplier No: PP1310. The Snooper official Internet supplier network has been created to protect UK consumers from stolen and counterfeit goods. In addition as an official supplier we have the expertise to provide you with the best before and after sales service. For further information please click on the logo to the right.
Page last updated: 2nd January 2019