Please note: All of the Snooper Truckmate models above are also available with different preloaded software making them ideal for use in cars (Snooper Syrius) buses and coaches (Snooper Coach & Bus
) and caravans / motorhomes (Snooper Ventura) instead of truck, lorries, HGV's, etc (Snooper Truckmate). The mapping remains the same, the ability to enter vehicles dimensions is different as is the POI (Point of Interest) database which is aimed at a specific vehicle type e.g. campsites when using a Snooper Ventura model. The Ventura and Truckmate models also feature a car mode, so when using with a large vehicle a separate car sat nav is not required.
---
Truck Sat Nav Buying Guide
Truck satellite navigation systems can be effectively utilised by all commercial vehicles from trucks and HGVs to coaches and buses. The benefits to truck satellite navigation software go beyond saving time there is also the environmental and cost effectiveness of a truck sat nav system with improved fuel consumption and improved cost effectiveness.The problem
You couldn't have missed the almost weekly press reports of a truck or large vehicle getting sent along an inappropriate route by an inept sat nav system. Almost all these stories end in disaster with the vehicle concerned stranded in a field, wedged under a bridge and even destroying property. It is reported that there has been millions of pounds worth of damage caused as drivers use sat nav systems designed for cars to navigate commercial vehicles.
More recently (January 2017), the Local Government Association (LGA) wants to bring in legislation that would see lorry drivers in England and Wales being banned from using sat-navs specifically designed for cars and see them use instead use GPS sat nav system suitable for HGVs. Read the full story.
The solution
The unique software found in truck sat navs will create a route based on the attributes of your particular vehicle. Simply enter into the truck sat nav the size and weight of your vehicle, plus the type of load if applicable and the truck software will calculate a safe, truck friendly route. Routes will be calculated based on roads with adequate width and height, excluding roads with low bridges or weight restrictions plus many other hazards.
Choosing between the range
With larger dashboards in trucks and HGVs, a 3.5-inch display simply wouldn't be large enough to be clearly seen. That's why truck sat navs like the Snooper S2700 start with a screen size of 4.3-inch. Some truck nav systems like the Garmin dezl 570LMTand Snooper SC5900 DVR all offer a slightly larger screen at 5-inch. The TomTom GO PROFESSIONAL 620, 6200 and 6250 all feature 6-inch touchscreens. While the top-of-the-range models like the Garmin dezl 770LMT-D and Snooper S6800 Pro offer a very large and easy to read 7-inch windscreen display.
All of the Garmin and TomTom truck sat nav models available from ActiveGPS are preloaded with European maps. The Snooper truck sat nav models are available in two options a UK and Ireland map version and a European map version. So if you are just driving a truck in the UK, you aren't paying for maps you aren't going to use. Though if you think at anytime in the future you will be venturing into Europe, it's cheaper to buy the maps preloaded rather to purchase them separately later with a typical saving of £50.
All Snooper models also have a car navigation mode, so if you switch from driving a truck to driving a car you can take the Snooper Truckmate with you.
---
Garmin Authorised Internet Retailer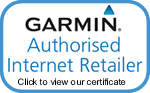 We are official Authorised Internet Retailers for Garmin. We sell genuine Garmin products, accessories and maps. We purchase from assigned Garmin UK distributors. We do not buy on the grey market and we do not sell counterfeit products. You can rest assured that by purchasing from ActiveGPS you will receive the full support of Garmin.
---
ActiveGPS is an Official Snooper Internet Supplier

ActiveGPS.co.uk (parent company Active Alliance Limited) is an Official Snooper Internet Supplier No: PP1310. The Snooper official Internet supplier network has been created to protect UK consumers from stolen and counterfeit goods. In addition as an official supplier we have the expertise to provide you with the best before and after sales service. For further information please click on the logo to the right.
Page last updated: 16th January 2019