Not sure which TomTom sat nav model you have? Simply e-mail us, or use the online form on our contact us page and provide us with the unit's model, part and serial number normally located on the underside of your GPS system. We'll then reply with the relevant webpage of available accessories for you to browse.
Please note: Some parts for older TomTom models e.g. Rider 1st Edition have been discontinued, parts if available, will be in short supply.
---
Cardo Scala Rider motorcycle headsets at ActiveGPS.co.uk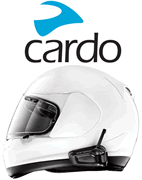 Cardo Scala Rider headsets are available to use on your motorcycle for multiple purposes. The benefits of buying and using a Scala Rider headset are three-fold; 1. you can listen to sat nav voice turn-by-turn instructions, 2. listen to music and 3. communicate with other motorcyclists whilst riding (using the intercom when within range and mobile phone when out of range).
We sell the latest 2019 range of Cardo Scala Rider headsets including the PACKTALK, SMARTPACK and SMARTH ranges.
View all Cardo Scala Rider headsets
---
Page last updated: 18th March 2019