The TomTom RIDER is rugged, water resistant, fits both motorbikes and scooters and provides you even with clear spoken instructions in your helmet. Drive mode tailored for simple touch-screen operation with gloves on. Door-to-door planning in your region allows you to find your way to any address in any region/country. The crystal-clear 3D and 2D graphics and compact and portable design make the TomTom RIDER satellite navigation system a leading motorbike accessory.
The TomTom RIDER can review and test the calculated route before you actually start driving. Water resistant and rugged with a provided mounting kit of four pieces to adapt to your 2wheels. In helmet spoken instructions via the BluetoothTM included headset and the speed linked volume (volume of voice instructions will increase/decrease depending on speed of your bike) and the anti-glare screen that provides an optimal view, even in direct sunlight makes navigation along the quickest, shortest or avoiding toll roads route chosen quick and simple. Multiple waypoints and destinations can be used entered into the TomTom RIDER also.
The TomTom RIDER offers hands-free calling via BluetoothTM connection with a compatible mobile phone. (For safety reasons it blocks outgoing calls while the bike is moving, but if you choose to accept an incoming call it is automatically routed to your helmet. When the bike isn't moving or you have stopped for a break you can make and receive calls normally.)
The TomTom RIDER features an integrated GPS antenna and is ready for TomTom Plus services. This TomTom satellite navigation system can also be used within a car and recognises if you are in a car or on a motorbike so there's no need to adjust the RIDER for use in the car.
---
Cardo Scala Rider motorcycle headsets at ActiveGPS.co.uk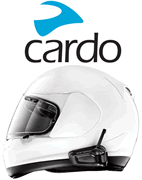 Cardo Scala Rider headsets are available to pair with your TomTom Rider. The benefits of buying and using a Scala Rider headset with your TomTom Rider are three-fold; 1. you can listen to sat nav voice turn-by-turn instructions, 2. listen to music and 3. communicate with other motorcyclists whilst riding (using the intercom when within range and mobile phone when out of range).
We sell the latest 2019 range of Cardo Scala Rider headsets including the PACKTALK, SMARTPACK and SMARTH ranges.
View all Cardo Scala Rider headsets
---
TomTom RIDER Features
‣3.5 inch, 320 x 240 TFT colour LCD touchscreen
‣Integrated GPS antenna
‣Bluetooth headset included for clear wireless spoken instructions
‣Postcode navigation for simple and accurate selection of your destination (UK and NL only)
‣TomTom RIDER can be used in a car using the optional car mounting kit on the windscreen of the car
‣RIDER recognizes if you are in a car or on a motorbike: There's no need to adjust RIDER for use in the car - it automatically switches from glove-friendly to in-car mode for driving, and it allows you to make and take calls any time on the move too.
‣Thousands of points of interest available
‣Call a POI (directly call a point of interest through the RIDER)
‣Save personal favorite addresses for quick route planning
‣Displays compass on screen to have even more orientation while driving
‣Get free scenic routes offered by TomTom PLUS
‣Ready for TomTom PLUS services (get scenic routes for free and try out traffic service for free for a month)
‣Save personal favorite addresses for quick route planning
‣Hands-free calling via BluetoothTM connection with a compatible* mobile phone
‣Internal rechargeable Li-Ion giving approx. 5hours
‣Water resistant
‣Memory card (SD card) with software and maps
‣Integrated GPS receiver based on SiRF Star III with 20 Channel All-in-view tracking
‣USB port and cable for PC connection
‣Mounting kit fits bikes and scooters
---
Installation
The TomTom Rider mounting kit fits bikes and scooters. Water resistant and protected against any wet weather conditions (test: TomTom RIDER was subjected to a sustained jet of water at high pressure from all directions and suffered no harmful effects). Furthermore the Bluetooth headset offers clear wireless spoken instructions.
Map Coverage

TomTom RIDER works with Tele Atlas Maps to provide detailed maps of the UK. Which in addition to street information include features such as route calculation, Points of Interest, Estimated Time of Arrival, and more.
---
TomTom Rider 1st Edition Accessories
Want to add accessories to your TomTom Rider 1st Edition model? We sell a vast selection of genuine TomTom parts and accessories.
View all of the TomTom Rider 1st Edition accessories
---
TomTom RIDER Technical Specification
‣Technology: GPS
‣Installation: Plug & Play
‣Power: 12 volt, cigarette lighter
‣Dimensions: Width - 115mm, Depth - 58mm, Height - 92mm
‣Guarantee: 1-year

Manual requires Adobe Acrobat Reader
Download a free copy here
This product is a sophisticated electronic device which requires that you read, understand, and act upon the information given in the instruction manual (usually available via the above 'manual' link). You will need internet access and, in accordance with the manufacturers' recommendations, regularly seek out and accept all firmware or software updates offered by the manufacturer. All GPS devices need to 'see' the satellites in the sky. Therefore you will need to know that your vehicle does not have glass that will block or impede the GPS signal.
---
Page updated: 18th March 2019