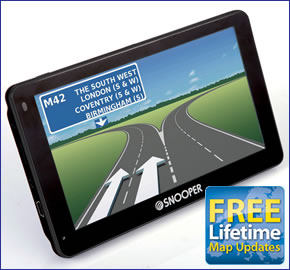 Snooper Syrius Pro S2500 car sat nav includes a 4.3-inch slim wide touchscreen. The Syrius S2500 also provides TMC Traffic information.
Snooper S2500 Syrius features Lane Guidance and Junction View to help guide you along your route with turn-by-turn voice directions. The S2500 Syrius Pro also has My Speed speed limit alerts for every road and optional speed cameras. Buy the Snooper S2500 Syrius Pro from ActiveGPS and receive FREE lifetime map updates - worth over £100!
Snooper S2500 Syrius Pro has been discontinued.
Snooper S2500 Syrius Pro car sat nav has been replaced by the Snooper S2700 Syrius Pro.
Accessories and spares for the Snooper S2500 Syrius can be purchased here.

Snooper S2500 Syrius Pro is an entry-level portable 4.3-inch satellite navigation system which has been designed for use in a car.
The Snooper S2500 Syrius is part of a family of four different S2500 sat nav devices. While each model uses here maps, the preloaded POI and internal database differs between the range. Each of the four different models has a different driver, or more specifically a different vehicle type/size in mind. These are:
‣Snooper S2500 Bus & Coach - for drivers of coaches and buses.
‣Snooper S2500 Truckmate - for drivers of trucks, HGV's and oversized vans.
‣Snooper S2500 Ventura - for drivers towing caravans or driving a motorhome, or large camper vans.
‣Snooper S2500 Syrius - for drivers of cars and small vans.
Please note: All of the above Snooper S2500 models feature a car mode.
The S2500 Syrius Pro sat nav features a 4.3-inch touchscreen and is preloaded with the latest Navteq UK and Ireland or European maps depending on version purchased. Not least the Syrius S2500 is plug-and-play and a completely portable device.
If you are looking for a system with a larger 5 inch screen we recommend buying the Snooper SC5900 sat nav instead.
S2500 car sat nav also provides advanced warnings to roadwork's, congestion and traffic jams and what's more these alerts are all FREE. The S2500 Pro features TMC Traffic information which utilises the traffic master information network.

SPECIAL OFFER: Buy the S2500 Syrius Pro Snooper car sat nav model from ActiveGPS and receive FREE lifetime map updates worth over £100. The annual road map updates are by here. To view details of the offer and other models that include the FREE lifetime map updates click here.
Snooper Syrius S2500 sat nav calculates your route for your car and it will provide turn-by-turn spoken navigation to your destination.
The Snooper Syrius S2500 Pro satnav also features Junction View and Lane Guidance. These two features help to make it clear which lane you need to be in at each junction providing you with plenty of warning. To make your current location clearer and to highlight where you are heading, you can also increase the size of road names and numbers displayed on the 4.3-inch screen.
The Snooper S2500 has a point of interest (POI) 'corridor' search which will inform you of points of interest along your predetermined route. Additionally the Syrius S2500 sat nav system includes petrol stations POI so you can find the nearest one to you or in a pre-defined area. There is also a route timer that can be set to alert you when it is time to take a break on your journey so that you do not risk falling asleep whilst driving long journeys.
Research has shown that Syrius users will save money over time. By using Snooper satellite navigation to find the shortest or most economical route you will save 16% fewer miles driven on each journey and thus also a 16% saving in fuel expenses making this Snooper Syrius pay for itself.

The Syrius includes My Speed information meaning it will tell you the speed limit of every road regardless of whether there is a speed camera or not. The Syrius S2500 will also alert you if you exceed the speed limit protecting your driving licence. There is also an optional AURA speed camera database. The database provides advanced warnings to both fixed and mobile speed camera locations across the UK, Europe. Click here to read more about the AURA speed trap database.
Snooper S25000 Syrius Car Sat Nav FAQs
Do you have a question about the Snooper S2500 Syrius that's not been answered on this webpage? Please see our car sat nav FAQs for questions from other customers and visitors. Plus if the answer to your question isn't featured, use the online form to ask us for the answer. Alternatively please telephone 01733 777623 Monday to Friday (9:30am-5:00pm) to speak to one of our sales team.
---
Snooper S2500 Syrius Pro Features
‣4.3-inch full colour LCD touch display
‣here street-level road maps - SNS2500 UK and Ireland, SNS2500E Europe
‣Turn by turn voice instructions
‣2D and 3D map views
‣3D Direction indicators
‣TMC traffic information technology
‣Junction View - provides images of main motorway junctions to help you navigate more safely
‣Lane Guidance - provides advanced notice of which lane or lanes to use when approaching junctions
‣My Speed - displays speed limits of nearly every road across UK and Europe
‣Your Route - create and save your own bespoke routes
‣Multi-route planner - navigate around up to 16 different destinations just by adding the post codes
‣Route Timer
‣MP3 player
‣MP4 player
‣'One touch' Home and Office route planner
‣Navigate by junction number
‣Navigate by co-ordinate
‣Navigate by Easting and Northing
‣A choice of different screen colours
‣Extensive list of Points of Interest
‣User POIs - upload and share POIs with other users
‣Built-in rechargeable battery
‣Built-in SIRF III GPS antenna
‣Fully portable - Plug and Play
‣1 year manufacturers guarantee
---
Installation
Snooper S5000 Syrius Pro mounts on the inside of your vehicles windscreen using the suction cup windscreen bracket provided. Snooper S5000 Syrius Pro can be powered directly either from its internal battery if it's fully charged or powered from the cigarette lighter socket.

Coverage
The Snooper model SNS2500 model includes street-level here maps (formely NAVTEQ) for the following countries:
UK • Ireland.
The Snooper model SNS2500E model includes street-level here maps for the following countries:
UK • Ireland • France • Spain • Portugal • Italy • Austria • Switzerland • Belgium • Holland • Luxembourg • Germany • Denmark • Norway • Sweden • Finland • Poland • Estonia • Lithuania • Czech Republic • Latvia • Liechtenstein • Hungary • Romania • Slovakia • Slovenia • Serbia • Montenegro • Croatia • Turkey • Greece • Albania • Bosnia & Herzegovina • Bulgaria • F.Yugoslavia Rep.of Macedonia • Russia.
Snooper AURA Speed Camera Subscription

Snooper S2500 Syrius Pro provides advanced warning of all fixed speed cameras, SPECS and many laser sites using Snooper's AURA speed trap database. There are 3 easy ways to pay using a credit or debit card.
1. Monthly £2.99 inc. VAT
2. Quarterly £7.99 inc. VAT
3. Annual £29.99 inc. VAT
PC System Requirements
The Snooper S2500 will only operate on Windows computers. Specifically, you must be using Windows XP (32 bit), Windows Vista, WIndows 7, Windows 8 / 8.1. Additionally the software will only work with Internet Explorer 6 or Netscape Navigator 6 or above.
The Snooper S2500 will not operate when using Windows 95, 98, Millennium, 2000, Windows XP (64 bit) or Apple Macintosh operating systems.
What's in the box? (when purchased from ActiveGPS.co.uk)
‣Snooper S2500 Syrius Pro
‣Windscreen Mounting Bracket
‣In-vehicle Charger
‣microSD card with preloaded here maps - SNS2500 UK and Ireland, SNS2500E Europe
‣USB Cable/Software CD-Rom
---
Snooper S2500 Syrius Pro Accessories
The S2500 Syrius comes supplied with everything you need to use it in-car (see What's in the box? above), however replacement and additional S2500 accessories are also available to buy from ActiveGPS.
A couple of extra accessories that you might like to consider buying is the soft carrying case and the mains charger. View all of the accessories for the Snooper S2500 Syrius sat nav here.
---
Snooper S2500 Syrius Pro Technical Specification
‣Technology: GPS
‣Display: 4.3-inch, LCD Display
‣Processor: (CPU) MTK MT3351 468 MHZ
‣OS: WinCE 5.0
‣GPS Receiver: MTK MT3328
‣Memory: 64MB (SLC)
‣SDRAM: 64MB (DDR2)
‣Memory Card: microSD Card up to 8GB
‣Traffic information: TMC messages with free product lifetime subscription
‣Speaker: Speaker Mono 8ohms / 1.0W (MAX) speaker
‣Microphone: 40dB
‣Power: 12-24V DC Output: 5.2V DC 1.5A
‣Battery: Li-ion battery 900 mAh
‣Installation: Plug and play
‣Dimensions: Width - 118mm, Height - 74mm, Depth - 12mm

Manual requires Adobe Acrobat Reader
Download a free copy here
This product is a sophisticated electronic device which requires that you read, understand, and act upon the information given in the instruction manual (usually available via the above 'manual' link). You will need internet access and, in accordance with the manufacturers' recommendations, regularly seek out and accept all firmware or software updates offered by the manufacturer. All GPS devices need to 'see' the satellites in the sky. Therefore you will need to know that your vehicle does not have glass that will block or impede the GPS signal.
---
ActiveGPS is an Official Snooper Internet Supplier

ActiveGPS.co.uk (parent company Active Alliance Limited) is an Official Snooper Internet Supplier No: PP1310. The Snooper official Internet supplier network has been created to protect UK consumers from stolen and counterfeit goods. In addition as an official supplier we have the expertise to provide you with the best before and after sales service. For further information please click on the logo to the right.
Page updated: 11th February 2019