Garmin zumo 400 designed for bikers, features a superbright sunlight readable glove-friendly 3.5-inch display with preloaded maps for UK and Ireland a full 8-digit UK postcode search.
The Garmin zumo 400 also features a built-in MP3 player, Audio book player and picture viewer. The Garmin zumo 400 also provides access to speed camera locations via the Cyclops speed camera database.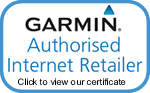 The Garmin zumo 400 is preloaded with detailed UK and Ireland street data. You can customise the Garmin zumo 400's built-in fuel guage to warn you when it's time to fill up. The Garmin zumo 400 also includes MP3 player and provides weather and traffic with the optional XM antenna. Plan your trip on your computer before you start. Search for food and fuel stops and local attractions. Then, transfer your route to the Garmin zumo and go. At the end of the day, share your favourite places and rides with other Garmin zumo riders, and review your travels in Google Earth.
The Garmin zumo 400 features left-handed buttons and a glove-friendly touch screen for easy operation. The Garmin zumo 400 is also vibration-tested, waterproof and built with fuel-resistant plastics to withstand rides in all conditions.
---
Cardo Scala Rider motorcycle headsets at ActiveGPS.co.uk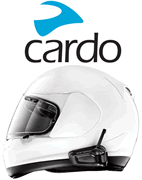 Cardo Scala Rider headsets are available to pair with your Garmin zumo 400. The benefits of buying and using a Scala Rider headset with your Garmin zumo 400 are three-fold; 1. you can listen to sat nav voice turn-by-turn instructions, 2. listen to music and 3. communicate with other motorcyclists whilst riding (using the intercom when within range and mobile phone when out of range).
We sell the latest 2019 range of Cardo Scala Rider headsets including the PACKTALK, SMARTPACK and SMARTH ranges.
View all Cardo Scala Rider headsets
---
Garmin zumo 400 Features
‣3.5-inch glove-friendly colour touch screen
‣Preloaded with UK and Ireland mapping
‣Superbright sunlight readable, UV-resistant display makes it easy to view your screen
‣Removable lithium-ion battery; up to four hours of use
‣Glove-friendly touch screen with left-handed controls makes it easy to operate
‣Superbright sunlight readable, UV-resistant display makes it easy to view your screen
‣Motorcycle console for trip information, including fuel gauge to warn you when its time to fill up
‣Motorcycle mount with standard 4-hole AMPS pattern so you can mount it anywhere
‣Includes Garmin Lock, an anti-theft feature
‣Custom caps, available in a variety of colors, to reflect your style
‣Supports optional FM TMC traffic alerts
‣Supports optional XM NavTraffic with XM weather, and XM Satellite Radio
‣Voice announces streets by name
‣Look up addresses and points of interest
‣Choose 2D or 3D map perspective
‣Upload custom POIs, including alerts for speed zones and safety cameras
‣Built-in MP3 player and JPEG Picture Viewer
‣Waterproof: IEC 60529 IPX7 standards (submersible in one meter of water for up to 30 min.)
---
Installation
Garmin zumo 400 comes with motorcycle mount with RAM mounting hardware that fits almost any bike. The totally secure motorbike docking kit attaches the Garmin zumo 400 with an audible 'click' so you know it's firmly in place. The optional Garmin Automotive Suction Mount allows you to use your Garmin zumo 400 in your car.
Map Coverage

The Garmin zumo 400 is preloaded with City Navigator® NT for United Kingdom and Ireland provided by NAVTEQ. NAVTEQ maps provide high quality detailed street level maps, which in addition to street information include features such as route calculation, Points of Interest (POI), Estimated Time of Arrival, and more.
Further Garmin zumo 400 maps are available SD card which insert directly into the Garmin zumo 400. Available Garmin zumo 400 maps include North America. View the complete range of maps available for the Garmin zumo 400.
What's in the box? (when purchased from ActiveGPS.co.uk)
‣Garmin zumo 400 (UK/Ireland only)
‣Motorcycle mount with RAM mounting hardware
‣Motorcycle power cable
‣Security screwdriver
‣USB Cable
‣Quick Start Manual
‣Owners manual on CD-Rom
---

Garmin zumo 400 Accessories
Want to fit and install your Garmin zumo 400 motorbike sat nav on a second bike? You need to buy the RAM mount kit and motorcycle power cable.
View the full range of zumo 400 accessories
---
Garmin zumo 400 Maps
The Garmin zumo 400 is preloaded with street-level road maps for UK and Ireland. If however, you want to take the zumo 400 further afield, we may have the map that you need. Garmin zumo maps available include: USA, Canada and Mexico, Australia and New Zealand, Morocco and Southern Africa.
View all of the available zumo 400 maps
---
Do you have a question about the Garmin zumo 400? Submit your question via our contact page.
---
Garmin zumo 400 Technical Specification
‣Technology: GPS / Bluetooth
‣Display: 3.5-inch, QVGA color TFT with white backlight (320 x 240 pixels)
‣Waterproof: yes (IPX7)
‣Battery: removable, rechargeable lithium-ion
‣Battery Life: up to 4 hours
‣Installation: Plug & Play
‣Power: 12 volt, Motorcycle Power Cable.
‣Dimensions: Width - 122mm, Height - 99mm, Depth - 40mm
‣Weight: 300.5g
‣Guarantee: 1-year
‣Garmin zumo 400 manual

Manual requires Adobe Acrobat Reader
Download a free copy here
This product is a sophisticated electronic device which requires that you read, understand, and act upon the information given in the instruction manual (usually available via the above 'manual' link). You will need internet access and, in accordance with the manufacturers' recommendations, regularly seek out and accept all firmware or software updates offered by the manufacturer. All GPS devices need to 'see' the satellites in the sky. Therefore you will need to know that your vehicle does not have glass that will block or impede the GPS signal.
---
Why buy from us?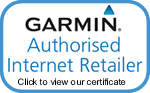 We are official Authorised Internet Retailers for Garmin. We sell genuine Garmin products, accessories and maps. We purchase from assigned Garmin UK distributors. We do not buy on the grey market and we do not sell counterfeit products. You can rest assured that by purchasing from ActiveGPS you will receive the full support of Garmin.
Page updated: 25th March 2019