Garmin nuvi 3540LT is Garmin's flagship car sat nav model and features both UK and Western European maps and FREE lifetime traffic information. The nuvi 3540 also includes 5-inch touchscreen and has a battery life of up to 4 hours.
As with similar Garmin nuvi sat navs, the nuvi 3540LT features Lane Assist and PhotoReal Junction View. Additionally there is an optional speed camera database provided by Cyclops that will warn you to speed cameras.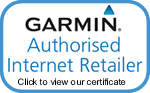 The Garmin nuvi 3540LT is the top-of the-range Garmin nuvi cat sat nav in the nuvi 3000 series. It has a very thin screen that is only 13mm in depth and has a 5-inch touchscreen. It has UK and Ireland and Europe maps preloaded to the device.
What's more the Garmin nuvi 3590LMT includes FREE liftime traffic via the included GTM 35 traffic receiver.
The 3590LMT also has Automatic Orientation meaning you can view in portrait or landscape mode. Plus simply pinch and zoom the screen for the best view of your route. It also features 3D terrain, buildings and landmarks in the view of the route ahead on your nuvi screen. The battery life of this Garmin nuvi is up to 4 hours.
The nuvi 3590LMT has Lane Assist and PhotoReal Junction View which will display junctions and road signs in a split screen view one mile in advance of your turning giving you plenty of warning. You can even get Bird's Eye Junction showing junctions from overhead at complex junctions.
You can save 100 routes to the Garmin 3590LMT. Furthermore, the Garmin system includes Eco-Route which will find the most efficient, economical route. Is also calculates routes quickly and efficiently using Guidance 3 navigation technology. It chooses the most fuel-efficient route and it can also tell you the cost of your journey.

Garmin nuvi 3590LMT sat navs contain our unique Cyclops speed camera system, for real-time, direction-relevant and accurate alerts. Get overspeed warning and speed limit information as you approach one of hundreds of fixed, mobile, variable limit and temporary speed cameras. New or moved cameras are constantly tracked and Cyclops checks and updates its central database daily.
---
Garmin nuvi 3540LT Features
‣View routes on the 5-inch (10.92 cm) touchscreen
‣Street-level here mapping for the UK and Western Europe with 90 day nuMaps Guarantee
‣Enjoy FREE traffic updates
‣Avoid traffic tie-ups with 3D Traffic, subscription-free live traffic updates over the HD Radio system
‣Turn-by-turn guidance with voice prompts
‣Speaks street names (e.g. "Turn right ON ELM STREET in 500ft."):
‣8-digit postcode - navigate using full UK postcode search
‣Know which lane to be in thanks to advanced lane guidance with Bird's Eye and photoReal junction views
‣See landmarks and terrain in 3-D
‣Get fast route calculations and address look ups with Garmin Guidance 3.0, our most advanced mapping and navigation engine available
‣Auto re-route (fast off-route and detour recalculation)
‣Choice of route setup (faster time, shorter distance, off road)
‣Auto sort multiple destinations (provides most direct route)
‣Control nuvi 3540LT easily using its responsive multi-touch glass display with pinch to zoom
‣Use in portrait or landscape mode
‣Speed limit indicator (displays speed limit for most major roads)
‣Route avoidance (avoid highways, tolls etc.)
‣World travel clock, currency and unit converter, calculator
‣Enhanced pedestrian navigation (guides you as you walk around town)
‣Rechargeable Li-ion battery (up to 4 hours)
‣Built-in Cyclops speed camera database (includes fixed camera locations and mobile hot-spots)
‣1 Year manufacturers guarantee
---
Installation
The Garmin nuvi 3540LT has been designed to be plug and play, and as such can be transferred from vehicle to vehicle with ease. The Garmin nuvi 3540LT is powered via the supplied vehicle power cable. The Garmin nuvi 3540LT then attaches to your vehicles windscreen via the Garmin nuvi 3540LT suction cup mount.
Map Coverage

Garmin nuvi 3540LT is preloaded with street-level here maps (formely NAVTEQ) for both Western and Eastern Europe. To view the map coverage for a specific country or region please click the following links for more details: UK and Ireland, France and Benelux, Spain and Portugal, Germany, Austria and Switzerland, Nordics, Italy and Greece, and Eastern Europe.
Further Garmin nuvi 3540LT maps are available microSD card which insert directly into the Garmin nuvi 3540. Available Garmin nuvi 3540LT maps include USA and Canada, Australia and New Zealand, Middle East and Southeast Asia. To view additional maps click here.
What's in the box? (when purchased from ActiveGPS.co.uk)
‣Garmin nuvi 3540LT
‣Preloaded City Navigator NT mapping for Western Europe
‣Lifetime traffic (indicated by "LT" after model number on the box)
‣Digital 3D traffic receiver with vehicle power cable
‣Quick release smart mount
‣USB cable
‣Quick start manual
---

Garmin nuvi 3540LT Accessories
Looking for accessories and spares for the Garmin nuvi 3540LT view them all here. All parts are genuine Garmin product and specifically designed for use with the 4.3-inch nuvi 3540LT sat nav.
Garmin nuvi 3540LT Maps
Looking for sat nav maps for the Garmin nuvi 3540LT view them all here. All mapping comes on microSD card with SD card adaptor and is genuine Garmin product and specifically designed for use with the nuvi 3540LT. Countries available to buy include: Southern Africa, USA and Canada and Australia and New Zealand.
---
Garmin nuvi 3540LT Technical Specification
‣Technology: GPS
‣Display: 5-inch multi-touch, glass, dual-orientation, WVGA colour TFT with white backlight
‣Power: 12 volt, cigarette lighter
‣Battery: Rechargeable lithium-ion up to 4 hours (depending on use)
‣Installation: Plug and play
‣Dimensions: Width - 138mm, Height - 87mm, Depth - 13mm
‣Weight: 203g
‣Guarantee: 1-year
‣Garmin nuvi 3540LT manual

Manual requires Adobe Acrobat Reader
Download a free copy here
This product is a sophisticated electronic device which requires that you read, understand, and act upon the information given in the instruction manual (usually available via the above 'manual' link). You will need internet access and, in accordance with the manufacturers' recommendations, regularly seek out and accept all firmware or software updates offered by the manufacturer. All GPS devices need to 'see' the satellites in the sky. Therefore you will need to know that your vehicle does not have glass that will block or impede the GPS signal.
---
Why buy from us?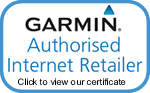 We are official Internet Retailers of Garmin products and we sell genuine Garmin accessories and maps. We purchase from the Garmin UK distributor. We do not buy on the grey smarket and we do not sell counterfeit products. You can rest assured that by purchasing from ActiveGPS you will receive the full support of Garmin.
Page updated: 25th January 2019