Garmin nuvi 350 newly overhauled displays detailed street-level road maps for UK and Europe on an easy-to-use colourful 3.5-inch touchscreen and provides clear, voice-prompted directions to your destination. Garmin nuvi 350 also provides hands-free calling via the wireless Bluetooth module and features full UK postcode search. Garmin nuvi 350 also includes the option to use the unique Garmin nuvi Travel Guides which provides helpful and thorough reviews and recommendations for restaurants, hotels, shopping, nightlife, sporting events and tourist attractions, along your route.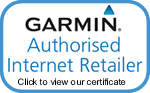 Garmin nuvi 350 is preloaded with City Navigator NT street maps for UK, Eastern and Western Europe and includes a comprehensive points of interest (POIs) database with hotels, restaurants, petrol, ATMs and more. Like the rest of the nuvi series, the Garmin nuvi 350 sports a sleek, slim design and fits comfortably in your pocket or purse. Its rechargeable lithium-ion battery makes it convenient for navigation by car or foot.
The Garmin nuvi 350 3.5-inch colour antiglare touchscreen display is easy to read - from any direction. View map detail, driving directions, photos and more in bright, brilliant colour. The Garmin nuvi 350 also features a full UK postcode search. Simply enter a destination or postcode, and the Garmin nuvi 350 will take you there with 2D or 3D maps and turn-by-turn voice directions. In addition, the Garmin nuvi 350 even announces the name of exits, streets and places so you never have to take your eyes off the road.
The Garmin nuvi 350 integrates Bluetooth wireless technology with a built-in microphone and speaker for hands-free calling. Just pair the Garmin nuvi 350 with your compatible Bluetooth phone and talk hands-free through the nuvi 350 while staying focused on the road. Simply dial numbers with Garmin nuvi's 310 touch screen keypad to make a call. To answer calls, just tap the screen and speak directly into its built-in microphone.
The Garmin nuvi 350 includes many travel tools including JPEG picture viewer, world travel clock with time zones, currency converter, measurement converter, calculator and more. The Garmin nuvi 350 also comes with Garmin Lock, an anti-theft feature.
Cyclops Speed Camera Alerts

The Garmin nuvi 350, like all Garmin sat nav's, gets its speed camera data from the Cyclops speed camera database. The database provides advanced alerts to fixed, average speed, mobile, variable, temporary roadwork, red light and red light speed cameras. As you approach a camera, your device sounds an alert. Subscription charges apply. Click here to read more about the Cyclops speed trap database.
Garmin nuvi 350 Features
---
‣3.5-inch display - colour touch screen
‣Preloaded maps for UK, Eastern and Western Europe
‣Turn-by-turn guidance with voice prompts
‣3D map view display
‣Picture viewer (JPG format)
‣Auto re-route (fast off-route and detour recalculation)
‣Choice of route setup (faster time, shorter distance, off road)
‣Route avoidance (avoid highways, tolls etc.)
‣Text-to-speech announcements: provides names to streets, places and exits
‣Hands-free calling with Bluetooth wireless technology
‣Custom POIs (ability to add additional points of interest)
‣Configurable vehicle icons (select car-shaped icons for map navigation)
‣World travel clock, currency & measurement converter, calculator
‣Rechargeable Li-ion battery (up to 8 hours)
‣Garmin Lock (anti-theft feature)
‣Please note: This product has been newly overhauled
‣1 Year manufacturers guarantee
---
Installation
The Garmin nuvi 350 has been designed to be plug and play, and as such can be transferred from vehicle to vehicle with ease. The Garmin nuvi 350 is powered with the 12-volt vehicle power adaptor and attaches to your vehicles windscreen via the Garmin nuvi 350 suction cup bracket. Alternatively with the dashboard disk you can mount the suction cup bracket on your dashboard instead, all three accessories are supplied with the Garmin nuvi 350.
Coverage

The Garmin nuvi 350 is preloaded with City Navigator® NT for Western Europe (full coverage) provided by NAVTEQ. NAVTEQ maps provide high quality detailed street level maps, which in addition to street information include features such as route calculation, Points of Interest (POI), Estimated Time of Arrival, and more.
Further Garmin nuvi 350 maps are available SD card which insert directly into the Garmin nuvi 350. Available Garmin nuvi 350 maps include, France, Spain, Germany, Western Europe, Eastern Europe and North America. View the complete range of maps available for the Garmin nuvi 350.
What's in the box? (when purchased from ActiveGPS.co.uk)
‣Garmin nuvi 350
‣12 volt Vehicle Power Cable
‣Vehicle Suction Cup Mount
‣Dashboard Disc
‣AC Charger
‣Carry Case
‣USB Cable
‣Quick Start Manual
---

Garmin nuvi 350 Accessories
Looking for accessories and spares for the Garmin nuvi 350? All parts are genuine Garmin product and specifically designed for use with the nuvi 350.
Accessories available to purchase include vehicle power charger and suction cup mount, a weighted dashboard mount and an external GPS antenna. Along with these accessories, it's also possible to buy replacement parts such as suction cup mount and vehicle charger. View all of the nuvi 350 accessories here.
Garmin nuvi 350 Maps
Looking for sat nav maps for the Garmin nuvi 350? All mapping comes on microSD card with SD card adaptor and is genuine Garmin product and specifically designed for use with the nuvi 350 Countries available to buy include: UK and Ireland, France and Benelux, Full Europe, North America, Australia and New Zealand. View all of the nuvi 350 compatible maps here.
---
Garmin nuvi 350 Technical Specification
‣Technology: GPS
‣Display: 3.5-inch QVGA color TFT with white backlight
‣Power: 12 volt, cigarette lighter
‣Battery: Rechargeable lithium-ion up to 8 hours (depending on use)
‣Installation: Plug and play
‣Dimensions: Width - 98mm, Height - 74mm, Depth - 22mm
‣Weight: 144.6g
‣Guarantee: 1-year
‣Garmin nuvi 350 manual

Manual requires Adobe Acrobat Reader
Download a free copy here
This product is a sophisticated electronic device which requires that you read, understand, and act upon the information given in the instruction manual (usually available via the above 'manual' link). You will need internet access and, in accordance with the manufacturers' recommendations, regularly seek out and accept all firmware or software updates offered by the manufacturer. All GPS devices need to 'see' the satellites in the sky. Therefore you will need to know that your vehicle does not have glass that will block or impede the GPS signal.
---
Why buy from us?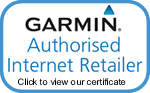 We are official Authorised Internet Retailers for Garmin. We sell genuine Garmin products, accessories and maps. We purchase from assigned Garmin UK distributors. We do not buy on the grey market and we do not sell counterfeit products. You can rest assured that by purchasing from ActiveGPS you will receive the full support of Garmin.
Page updated: 1st May 2019