The Garmin nuvi 2408LT-D car satnav has a 4.3 inch touchscreen which features maps of UK and Ireland. On screen information includes the speed limit for most major roads, your vehicle speed and estimated arrival time at your destination.
The nuvi 2408LT-D also comes equipped with Active Lane Guidance, actual road signs, and photos of junction layouts helping you to get in the correct lane at busy, complicated road junctions. Speed cameras subscription is include free for the first year.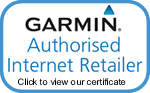 The Garmin nuvi 2408LT-D is an in-car sat nav with a 4.3 inch bright touchscreen which you can pinch-to-zoom. Maps included with the nuvi 2517 are Full UK and Ireland maps.
On-screen information is displayed without obstructing the navigation view of the road map so you will always know where you are going. The Garmin nuvi 2408 LT-D will display speed limit for almost every major road, current speed, estimated time of arrival and current street. Furthermore Up Ahead feature also recommends nearby services, food, fuel and cash machines along your journey as they become in close range of your vehicle.
Garmin Real Directions is a feature that announces directions turn-by-turn using recognisable landmarks that you will see such as buildings and traffic lights. So for example, you may be advised by the sat nav to "turn left after the petrol station" making it easier to identify where your next turn is.
Active Lane Guidance refers to spoken instructions at exits and junctions. Brightly coloured arrows on-screen will also help guide you. Furthermore BirdsEye junction view and photoReal Junction will assist you by displaying junctions, exits, surrounding landscapes and real road signs along your route. If your destination is complex to find such as a specific terminal at an Airport or a particular shop at a shopping centres Direct Access feature will help to guide you to the exact location. For example, if you enter the location of a John lewis at a shopping centre Direct Access will guide you to the correct part of the shopping centre to ensure you reach your destination and do not have too far to walk.
Free Digital Traffic is provided with the Garmin nuvi 2408 LT-D without any subscription charges. The roads covered include motorways, dual-carriageway and secondary roads. The traffic information will be displayed on-screen to the right with the navigation map still on screen so you can view both traffic information and the map at the same time. Traffic alerts are spoken and traffic information is also voice activated. The expected minutes of delay are displayed on screen and if there is a detour then the Garmin nuvi will offer you an alternative route to avoid traffic congestion. The traffic information will also confirm that you are driving along the fastest route.

Speed camera locations are included with the Garmin nuvi 2408LT-D and you can (via subscription) update this database using the unique Cyclops speed camera database. On approach to a speed cameras location overspeed warnings and speed limit information is also displayed. Included in the Cyclops database are locations for fixed, mobile, variable limit, average speed cameras, temporary, mobile zones and red light speed cameras. New or moved cameras are constantly tracked and Cyclops checks and updates its central database daily.
The Garmin 2408 navigator also contains a speed limit database for most major roads across Europe and the device displays your vehicles' speed.
Garmin nuvi 2408 Car Sat Nav FAQs
Do you have a question about the Garmin nuvi 2408LT-D that's not been answered on this webpage? Please see our car sat nav FAQs for questions from other customers and visitors. Plus if the answer to your question isn't featured, use the online form to ask us for the answer. Alternatively please telephone 01733 777623 Monday to Friday (9:30am-5:00pm) to speak to one of our sales team.
---
Garmin nuvi 2408LT-D Features
‣View routes on the 4.3-inch touchscreen
‣Street-level here mapping for UK and Ireland
‣Includes Cyclops speed camera locations for FREE preloaded. Updates to this database are available.
‣Voice activated navigation
‣3D Terrain view and 3D Landmarks.
‣Displays speed limit for most major roads, current speed and time of arrival
‣Avoid traffic tie-ups with 3D traffic, subscription-free live traffic updates from the our extensive traffic avoidance system
‣Turn-by-turn guidance with voice prompts
‣Speaks street names e.g. "Turn right ON ELM STREET in 500ft."
‣8-digit postcode - navigate using full UK postcode search
‣Active Lane Guidance guides to proper lane for navigation
‣PhotoReal Junction view displays junction signs
‣Auto re-route fast off-route and detour recalculation
‣Choice of route setup - faster time, shorter distance, off road
‣Auto sort multiple destinations - provides most direct route
‣Speed limit indicator - displays speed limit for most major roads
‣Route avoidance - avoid highways, tolls etc
‣Bluetooth enabled for hands-free calls.
‣Garmin App called Smartphone Link enables access to premium services such as weather radar and view from live traffic cameras.
‣World travel clock, currency and unit converter, calculator
‣Rechargeable Li-ion battery - up to 2.5 hours
‣Built-in Cyclops speed camera database - includes fixed camera locations and mobile hot-spots
‣1 Year manufacturers guarantee
---
Installation
Garmin 2408LT-D is a plug-and-play sat nav that can be set up and removed in seconds. The nuvi 2408LT-D is powered by an in-car charger that plugs and powers via your vehicles cigarette lighter adaptor. A suction cup mount and cradle attaches to your vehicles windscreen to provide a secure base to view the units screen and navigational instructions. Both the car charger and windscreen mount are in the box when you buy the nuvi 2408LT-D from ActiveGPS.
Map Coverage

Garmin nuvi 2408LT-D is preloaded with street-level here maps (formely NAVTEQ) for UK and Ireland. To view the map coverage for a specific country or region please click the following links for more details: UK and Ireland.
If you'd like to buy additonal maps for another region (outside of the nuvi 2408 preloaded UK and Ireland map region). e.g. Europe, North America or Australia and New Zealand.
What's in the box? (when purchased from ActiveGPS.co.uk)
‣Garmin nuvi 2408LT-D
‣Preloaded City Navigator NT mapping for UK and Ireland
‣Vehicle suction cup mount
‣USB cable
‣Quick start manual
---

Garmin nuvi 2408 Accessories
Looking for accessories and spares for the Garmin nuvi 2408 view them all here. All parts are genuine Garmin product and specifically designed for use with the 4.3-inch nuvi 2408 sat nav..
Garmin nuvi 2408 Maps
Looking for sat nav maps for the Garmin nuvi 2408 view them all here. All mapping comes on microSD card with SD card adaptor and is genuine Garmin product and specifically designed for use with the nuvi 2408. Countries available to buy include: Southern Africa, USA and Canada and Australia and New Zealand.
---
Garmin nuvi 2408LT-D Technical Specification
‣Technology: GPS
‣Display: 4.3-inch, WVGA colour TFT with white backlight
‣Power: 12 volt, cigarette lighter
‣Battery: Rechargeable lithium-ion up to 1 hours (depending on use)
‣Installation: Plug and play
‣Dimensions: 122mm x 76mm x 19mm
‣Weight: unknown
‣Guarantee: 1-year
‣Garmin nuvi 2408LT-D manual

Manual requires Adobe Acrobat Reader
Download a free copy here
This product is a sophisticated electronic device which requires that you read, understand, and act upon the information given in the instruction manual (usually available via the above 'manual' link). You will need internet access and, in accordance with the manufacturers' recommendations, regularly seek out and accept all firmware or software updates offered by the manufacturer. All GPS devices need to 'see' the satellites in the sky. Therefore you will need to know that your vehicle does not have glass that will block or impede the GPS signal.
---
Why buy from us?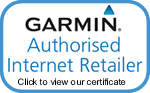 We are official Authorised Internet Retailers for Garmin. We sell genuine Garmin products, accessories and maps. We purchase from assigned Garmin UK distributors. We do not buy on the grey market and we do not sell counterfeit products. You can rest assured that by purchasing from ActiveGPS you will receive the full support of Garmin.
Page updated: 11th April 2018