Garmin GPSMAP 62 handheld GPS system is designed for walking and hiking and comes preprogrammed with a Worldwide BaseMap with shaded relief.
GPSMAP 62 also features a 2.6-inch sunlight-readable colour screen, is waterproof and can be powered via either AA or lithium-ion batteries, providing power for up to 20 hours.
Garmin GPSMAP 62 supports paperless geocaching using GPX files making this an ideal handheld GPS system for geocaching.
Garmin GPSMAP 62 has been discontinued
The equivalent and replacement model is the Garmin GPSMAP 66s.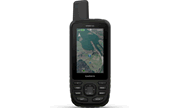 You can however still buy accessories for the GPSMAP 62.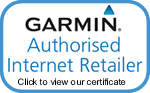 The Garmin GPSMAP 62 is the entry-level model within the GPSMAP 62 series and is perfect for demanding outdoor adventures. With its protruding GPS receiver on top of the 62s it'll maintain a GPS satellite fix longer than other handheld GPS devices (with a built-in GPS antenna), when used in areas of poor or low GPS reception e.g. deep valleys, woodlands. Coupled with this the GPSMAP 62s is also waterproof and provides up to 20 hours battery life.
The GPSMAP 62 is part of the Garmin GPSMAP 62-series and features:
‣Internal 1.7GB memory
Please note: The GPSMAP 62-series supersedes the now discontinued GPSMAP 60-series, however accessories and maps are still available.
With its internal 1.7GB memory you can store up to 2000 waypoints, 200 routes and 10,000 points on 200 saved tracks.
The Garmin GPSMAP 62 supports paperless geocaching using GPX files making this an ideal handheld GPS system for geocaching. It will download coordinates of the geocache as well as the location, terrain, difficulty, hints and description. This saves you printing out the geocache details and carrying them around with you - just download to the Garmin GPSMAP 62 device and go.
Additional mapping such as Garmin GB Discoverer maps are also available for use with the GPSMAP 62. These maps provide Ordnance Survey (OS) LandRanger maps at at a scale of either 1:25k or 1:50k depending on the map purchased.
Please note: There is no SD/microSD Card slot built into the 62 so adding additional maps is not as easy as it is with other models in the GPSMAP 62-series e.g. GPSMAP 62s which do include a built-in microSD slot. However new maps can be downloaded to the units 1.7GB internal memory.
If you require topo maps preloaded to the handheld device you buy, we recommend you buy the GPSMAP 62stc or GPSMAP 62st instead. Both models are pre-programmed with topographical maps for Europe and provide rich map data with contours, elevation, roads and rivers, etc.
Furthermore, If you want a 5 megapixel digital camera built-in you should consider buying one of the top-of-the-range models, the Garmin GPSMAP 62stc and GPSMAP 62sc both include cameras. The built-in camera enables you to take photos and the unit automatically geotags them with the GPS co-ordinates of where they were taken. This enables you to view and navigate back to exact the location too. Although the standard GPSMAP 62 doesn't include a camera you can however navigate to geotagged photos.
Handheld/Outdoor FAQs
Do you have a question about the Garmin GPSMAP 62 or other handheld GPS related question that's not been answered on this webpage? Please see our handheld and Outdoor GPS FAQs page for questions from other customers.Plus if the answer to your question isn't featured, use the online form to ask us for the answer. Alternatively please telephone 01733 777623 Monday to Friday (9:30am-5:00pm) to speak to one of our sales team. For further information online please see the Garmin GPSMAP comparison table.
---
Garmin GPSMAP 62 Features
‣Bright 2.6-inch LCD sunlight readable colour display (160 x 240 pixels)
‣Worldwide built-in basemap with shaded relief
‣High-sensitivity, WAAS/EGNOS-enable GPS receiver and HotFix
‣Rugged, waterproof (IEC 60529 IPX7)
‣1.7GB internal memory
‣Supports paperless geocaching
‣Up to 20 hours of battery life, battery type: 2 AA batteries (not included) NiMH or Lithium recommended
‣USB and NMEA 0183 compatible
‣1 year guarantee
---
Garmin GPSMAP 62 Map Coverage
Garmin GPSMAP 62 is preloaded with a worldwide basemap with shaded relief. Please note: Additional maps on SD cannot be loaded to the GPSMAP 62. Unlike the GPSMAP 62s/62st/62sc/62stc, the GPSMAP 62 does not feature a SD/microSD Card slot, an easy way to add new maps and mapping updates. Additional maps must be downloaded to the units 1.7GB internal memory.
---
What's in the box? (when purchased from ActiveGPS.co.uk)
‣Garmin GPSMAP 62
‣Wrist strap
‣USB cable
‣Quick start manual
---

Garmin GPSMAP 62 Accessories
Looking for accessories and spares for the Garmin GPSMAP 62? Many parts are available including a carrying case, retractable lanyard, handlebar mount and battery charger kit.
View all Garmin GPSMAP 62 accessories
---
Garmin GPSMAP 62 Technical Specification
‣Technology: GPS
‣Display: transflective, 65-K colour TFT (160 x 240 pixels)
‣Touchscreen: No
‣Battery: 2 AA batteries (not included)
‣Waypoints/favourites/locations: 2,000
‣Routes: 200
‣Track Log: 10,000 points, 200 saved tracks
‣Basemap: Worldwide
‣Built-in memory: 1.7GB
‣Accepts data cards: No
‣Waterproof: Yes, IPX7
‣Dimensions: Width - 61mm, Height - 160mm, Depth - 36mm
‣Weight: 260.1grams
‣Guarantee: 1-year
‣Garmin GPSMAP 62 manual

Manual requires Adobe Acrobat Reader
Download a free copy here
This product is a sophisticated electronic device which requires that you read, understand, and act upon the information given in the instruction manual (usually available via the above 'manual' link). You will need internet access and, in accordance with the manufacturers' recommendations, regularly seek out and accept all firmware or software updates offered by the manufacturer. All GPS devices need to 'see' the satellites in the sky. Therefore you will need to know that your vehicle does not have glass that will block or impede the GPS signal.
---
Why buy from us?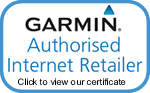 We are official Authorised Internet Retailers for Garmin. We sell genuine Garmin products, accessories and maps. We purchase from assigned Garmin UK distributors. We do not buy on the grey market and we do not sell counterfeit products. You can rest assured that by purchasing from ActiveGPS you will receive the full support of Garmin.
Page updated: 14th November 2018