Garmin GPSMAP 60Cx GPS handheld navigation system features a removable 64Mb microSD card for detailed mapping memory and a waterproof, rugged housing. The microSD card slot is located inside the waterproof battery compartment. Users can load map data and transfer routes and waypoints through the unit's fast USB connection.
Garmin GPSMAP 60Cx has been discontinued
Accessories are still available for your GPSMAP 60Cx click here.
Likewise for maps click here.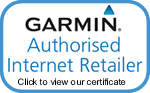 This Garmin GPSMAP 60Cx global positioning system features a new, highly sensitive GPS receiver that acquires satellites faster and lets users track their location in challenging conditions, such as heavy foliage or deep canyons.
Considered the mainstay satnav system among serious outdoor enthusiasts, the GPSMAP 60Cx handheld GPS offer a large color TFT display and turn-by-turn routing capability. Each GPS navigation system comes with a blank 64 MB microSD card. Owners of these new x-series handhelds can also purchase new microSD cards that are pre-loaded with MapSource® TOPO and inland lake maps, BlueChart® marine cartography, and City NavigatorT street maps.
Handheld/Outdoor FAQs
Do you have a question about the Garmin GPSMAP 60Cx or other handheld GPS related question that's not been answered on this webpage? Please see our handheld and Outdoor GPS FAQs page for questions from other customers.Plus if the answer to your question isn't featured, use the online form to ask us for the answer. Alternatively please telephone 01733 777623 Monday to Friday (9:30am-5:00pm) to speak to one of our sales team. For further information online please see the Garmin GPSMAP comparison table.
---
Garmin GPSMAP 60Cx Features
‣WAAS enabled
‣Display: 1.5" W x 2.2" H, 2.6"-diagonal, 256-color, transflective TFT (160 x 240 pixels)
‣Built-in basemap; automatic routing capability
‣64 MB microSD memory for MapSource data
‣10,000-point automatic track log; 20 saved tracks (500 points each) let you retrace your path in both directions
‣LED backlit Garmin satnav display and keypad
‣Internal memory is preloaded with a marine point database
‣1,000 user waypoints with name and graphic symbol; 50 reversible routes
‣Position formats include Lat/Lon, UTM, Loran TDs, Maidenhead, MGRS, user grid, and more
‣Audible alarms for anchor drag, arrival, off-course, proximity waypoint, and clock
‣Large-numbers option for easy viewing; dual-position display mode
‣Trip computer provides odometer, stopped time, moving average, overall average, total time, max speed, and more
‣Built-in quad-helix receiving antenna with remote antenna capability
‣Satellite navigation instructions can be shared with repeaters, plotters, and autopilots using NMEA protocols through the dedicated serial port
‣Built-in celestial tables for sun and moon calculations and the best times to fish and hunt
‣Up to 18 hours (typical use), 30 hours (battery saver) using two AA alkaline batteries
‣microSD card slot for additional map data
‣Water resistant: IEC 60529 IPX7 standards
‣1 year guarantee
---
Map Coverage
The Garmin GPSMAP 60Cx is pre-loaded with the Atlantic Recreational Routable Basemap v2 which includes Europe, extreme western Russia, Africa, and the Middle East, and covers an area from N75 to S60 Latitude, W30 to E60 Longitude. Also included is a high-level worldwide map with political boundaries and major cities.
Standard map coverage includes:
‣Oceans, rivers and lakes (greater than 30 square miles)
‣Principal cities and some small cities and towns
‣Major motorways and principal main routes
‣Political boundaries (state and international borders)
‣Major motorways and principal main routes
‣Major Airports.
A. Iceland, Great Britain, Baltic States, Denmark, Germany, Benelux, France, Spain, Portugal, Switzerland, Austria, Italy and Southern Africa (up to S20 Latitude) - In addition to the standard map coverage, these areas also include:
‣Lakes greater than 5 square miles, major streams and rivers
‣Exit data for major motorways and/or interstates (Europe Only)
‣Small cities and towns.
B. Northern Africa (above S20 Latitude), Extreme Western Russia, Middle East Standard Map Coverage.
---
What's in the box? (when purchased from ActiveGPS.co.uk)
‣Garmin GPSMAP 60Cx
‣Atlantic Recreational Routable Basemap v2
‣Belt clip
‣Wrist Strap
‣64 MB microSD card
‣USB cable
‣MapSource Trip and Waypoint Manager
‣Owner's manual on CD-Rom
‣Quick start guide
---

Garmin GPSMAP 60Cx Accessories
Looking for accessories and spares for the Garmin GPSMAP 60Cx? Many parts are available including a carrying case, retractable lanyard, vehicle power cable and dash mount.
View all Garmin GPSMAP 60Cx accessories
Garmin GPSMAP 60Cx Maps
Discover the optional range of maps that you can add to the Garmin GPSMAP 60Cx here. Maps available include City Navigator street-level road mapping.
View all Garmin GPSMAP 60Cx maps
---
Garmin GPSMAP 60Cx Technical Specification
‣Technology: GPS
‣Display: 160 x 240 pixels, 256 level color TFT
‣Waypoints: 1000
‣Routes: 50
‣Track log: 10,000 points, 20 saved tracks
‣Built-in memory: 1MB
‣Electronic compass: No
‣Barometric altimeter: No
‣Data cards: microSD card
‣Battery: 2 AA batteries (not included) up to 28 hours operation
‣Waterproof: (IPX7)
‣Dimensions: Width - 61mm, Height - 155mm, Depth - 33mm
‣Weight: 198g
‣Guarantee: 1-year
‣Garmin GPSMAP 60Cx manual

Manual requires Adobe Acrobat Reader
Download a free copy here
This product is a sophisticated electronic device which requires that you read, understand, and act upon the information given in the instruction manual (usually available via the above 'manual' link). You will need internet access and, in accordance with the manufacturers' recommendations, regularly seek out and accept all firmware or software updates offered by the manufacturer. All GPS devices need to 'see' the satellites in the sky. Therefore you will need to know that your vehicle does not have glass that will block or impede the GPS signal.
---
Why buy from us?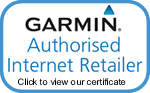 We are official Authorised Internet Retailers for Garmin. We sell genuine Garmin products, accessories and maps. We purchase from assigned Garmin UK distributors. We do not buy on the grey market and we do not sell counterfeit products. You can rest assured that by purchasing from ActiveGPS you will receive the full support of Garmin.
Page updated: 14th November 2018