Garmin echoMAP CHIRP 75sv chartplotter has a 7-inch display with keypad control. The Garimin Chartplotter comes preloaded with BlueChart g2 maps of UK, Ireland and North West mainland Europe coast and is waterproof to IPX7 standards. Position and heading is updated 5 times every second making navigation very accurate. You will be able to see both below your boat and to the side underwater with this chartplotter (transducer not included).
Garmin echoMAP CHIRP 75sv with BlueChart g2 UK and Ireland - £779.95
The Garmin echoMAP CHIRP 75sv is a chartplotter with a 7-inch colour display and keypad control. The Garmin CHIRP chartplotter is waterproof to IPX7 standards and is preloaded with BlueChart g2 maps of Uk, Ireland and North West mainland Europe coast. You can use sonar to see where fish are with Panoptix all-seeing sonar support (transducer not included). In fact there are a selection of transducers available including:
‣high wide CHIRP sonar
‣CHIRP DownVu and CHIRP SideVu
‣Panoptix sonar
Also available is the echoMAP CHIRP 95sv which has a larger 9-inch screen. All other features are the same with this larger screen model.
The chartplotter always shows your current position with Internal 5Hz GPS/GLONASS which updates your position and heading 5 times per second. DownVu and SideVu are built-in to the echoMAP CHIRP 75sv enabling you to see not only directly below your boat or yacht but also to the side of the boat/yacht. The maximum depth of the sonar depends on water conditions and is: 2300ft in freshwater and 1100ft in saltwater. You can also connect the CHIRP 75sv chartplotter to work with NMEA 2000 to display engine data, sensors, autopilots and more including distress signals that transmit your GPS location. Plus you can add up to 5,000 waypoints for the chartplotter to store and navigate back to.
Sonar-recording capabilities enable you to track the boats position and save digital information. Plus you can playback on a computer using HomePort software and share waypoints and routes between multiple devices.
The powering of the Garmin echoMAP CHIRP 75sv is done simply with a power cord so you can simply install and demount the chartplotter quickly and easily.
Quickdraw Contours feature enables you to create custom HD mapping with the creation software. Personalised HD fishing maps feature 30 centimetre contours on screen. You can use a Panoptix transducer, HD-ID sonar, CHIRP-enabled transducer, Garmin DownVu transducer or a NMEA 2000-compatible depth transducer with the Garmin echoMAP CHIRP 95sv.
If you have more than 1 sonar device installed onboard Quickdraw contours automatically selects the most capable sonar device for best results.
You can optionally add Panoptix LiveVu Forward Sonar to the echoMAP CHIRP 75sv chartplotter. The LiveVu will work when you boat is moving or stationary providing live images of what is below the water. You will be able to watch lure as it sinks and see depths and movements as you retrieve it. You will see fish swimming, see fish reacting to bait and see and feel the hit too. The LiveVu will enable you to see what is happening up to 30 metres away.
Add further mapping to the echoMAP 75sv chartplotter to use the chartplotter anywhere in the world. Click here to view the BlueChart maps available from Garmin.
The very best charts are BlueChart g2 Vision SD cards. These premium charts include: MarinerEye - keep an eye on 3D information above the waterline, FishEye - provides 3D information below the waterline. Furthermore high-resolution aerial images help you to identify where you should be traveling when you are unfamiliar with the layout of the waterways. There is an Auto Guidance feature that provides a route you can follow which avoids shallow water, buoys and other obstacles.
The Garmin echoMAP 75sv uses GPX Waypoints which enables you to transfer locational information utilising open standard format for waypoints (up to 5,000), tracks (50,000 points, 50 saved tracks) or frequently used routes (up to 100).
To find the perfect transducer to partner your echoMap CHIRP 75sv and your boat please complete our online form here. Pictured below, transom mounted transducer, thru-hull transducer and in-hull transducer.
---
Garmin echoMAP CHIRP 75sv Features
‣7-inch WVGA colour screen Chartplotter
‣Preloaded Garmin BlueChart g2 UK and Ireland and North West Europe
‣Keypad control
‣waterproof to IPX7 standards
‣GPS position and heading updated every 5 seconds
‣Sonar features DownVu and SideVu for views below the boat and also an underwater view to the sides of your boat
‣Maximum depth for Sonar use: 2,300 ft at 77kHz (freshwater) and 1,100 ft at 77kHz (saltwater)
‣NMEA 2000 compatible - display engine data, sensors, autopilot and more
‣Simple power cord installation
‣Quickdraw Contours to create custom maps for fishing, etc.
‣Add additional BlueChart g2 or g2 vision mapping to the echoMAP CHIRP
‣GPX Waypoints - save and view waypoints (5000), tracks (50,000 points, 50 saved tracks) and routes (100)
‣1 Year manufacturers guarantee
Sounder functions
‣Sounder output: up to 500 W (RMS) HD-ID/4,000 peak-to-peak
‣Depth: In freshwater: 2,300 ft @ 77kHz In saltwater: 1,100 ft @ 77kHz
‣Sonar recording. Playback using HomePort Software.
‣Graphic logging of water temperature
‣Alarm for fish size, shallow and deep water
‣A-scope (real time window)
‣White line
‣2x, 4x and bottom-locked zoom
‣Adjustable keel calibration
‣Split-screen zoom for a close-up view of fish and the bottom
---
Installation
The Garmin echoMAP CHIRP 75sv can be Flush and Bail mounted on your boat or yacht. Use the bail-mount bracket to position the echoMAP CHIRP on a flat surface. Alternatively cut the appropriate sized hole to Flush-mount the echoMAP CHIRP. We advise that you read the manual for specific mounting instructions which explains drill-bit sizes and more to ensure a professional mount of your new Garmin chartplotter.
---
Chart Coverage
Garmin echoMAP CHIRP 75sv marine chartplotters include BlueChart g2 maps of UK, Ireland and North West mainland Europe coast.
---
What's in the box? (when purchased from ActiveGPS.co.uk)
‣Garmin echoMAP CHIRP 75sv with BlueChart g2 for UK and Ireland
‣Power/data cable
‣Tilt mount
‣Quick-release cradle
‣Protective cover
‣Flush mount kit
‣Product documentationl
---

Garmin echoMAP CHIRP 75sv Accessories
Looking for Garmin echoMAP CHIRP 75sv accessories? Accessories available to purchase include 7-inch protective cover, bail mount (12-pin) and user data sharing cable. If you'd like to add a transducer to your echoMAP CHIRP 75sv please see this page.
View all Garmin echoMAP CHIRP 75sv accessories
Garmin echoMAP CHIRP 75sv Charts
Add Garmin BlueChart g2 HD and g2 Vision HD marine charts to your Garmin echoMAP CHIRP 75sv, view the different charts you can buy from ActiveGPS here.
---
Garmin echoMAP CHIRP 75sv Technical Specification
‣Technology: GPS Chartlotter, Fishfinder
‣Display: 7-inch WVGA display (400 x 800 pixels)
‣Battery: None
‣Waypoints/favourites/locations: 5,000
‣Routes: 100
‣Track Log: 50,000 points, 50 saved tracks
‣Maps: Inlcudes Garmin BlueChart Map of UK, Ireland and Northwest Mainland Europe.
‣NMEA input/output: NMEA 2000 and NMEA 0183 compatible
‣Built-in memory: None (cannot load maps to internal memory)
‣SD card slot: Yes, 1
‣Garmin radar compatible: Unknown
‣Garmin sonar compatible: Yes
‣Waterproof: Yes, IPX7
‣Dimensions: Width - 250mm, Height - 139mm, Depth - 51mm
‣Weight: 771 g
‣Guarantee: 1-year
‣Garmin echoMAP CHIRP 75sv manual

Manual requires Adobe Acrobat Reader
Download a free copy here
This product is a sophisticated electronic device which requires that you read, understand, and act upon the information given in the instruction manual (usually available via the above 'manual' link). You will need internet access and, in accordance with the manufacturers' recommendations, regularly seek out and accept all firmware or software updates offered by the manufacturer. All GPS devices need to 'see' the satellites in the sky. Therefore you will need to know that your vehicle does not have glass that will block or impede the GPS signal.
---
Why buy from us?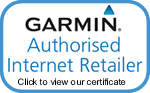 We are official Authorised Internet Retailers for Garmin. We sell genuine Garmin products, accessories and maps. We purchase from assigned Garmin UK distributors. We do not buy on the grey market and we do not sell counterfeit products. You can rest assured that by purchasing from ActiveGPS you will receive the full support of Garmin.
Page updated: 29th November 2017