Garmin BlueChart g2 HD Charts
Garmin Blue Chart g2 HD charts are available in three different sizes - these are small, regula and large.
BlueChart g2 HD small charts provide a limited yet fairly substantial area of waters around the British Isles and Europe. View the latest Blue Chart g2 small charts.

BlueChart g2 HD regular charts are ideal if you'd like to explore more of the coastline than where your boat/vessel is moored. View the latest Blue Chart g2 regular charts.
BlueChart g2 HD large charts are perfect if you'd like to sail, fish, etc right around the UK, mediterranean all with one chart. View and buy the latest Blue Chart g2 HD large charts.
Blue Chart g2 Features
‣Seamless transitions between zoom levels and more continuity across chart boundaries
‣Vector object oriented data
‣Shaded depth contours, coastlines, spot soundings, navaids, port plans, wrecks, obstructions, intertidal zones, restricted areas and IALA symbols
‣1-foot HD contours provide a more accurate depiction of bottom structure for improved fishing charts and navigation in swamps, canals and port plans
‣Port plans
‣Tidal stations for selected countries
‣Aids to navigation with view range and coverage including light sector info
‣Wrecks, restricted areas, anchorages, obstructions
‣Tidal current graphs
‣Standard 2-D direct overhead or 3-D "over the bow" map perspective for easy chart reading and orientation
‣Marina points of interest and slipways
‣Genuine Garmin map product
---
Latest v2018 BlueCharts
To ensure you receive the very latest version of the Garmin marine chart for your device, which is currently v2018.5 (v20.0) our Garmin Blue Charts are made to order and despatched same day*. *Orders placed Monday to Friday before 1:00PM (UK time).
IMPORTANT: Because all BlueCharts are made to order (custom made at time of purchase) they cannot be cancelled once ordered nor returned for refund. Therefore, please ensure that you are definitely ordering the correct chart and that you have checked that is compatible with your device.
---
New Chart Guarantee
All of the Garmin BlueCharts available from ActiveGPS come supplied on preprogrammed plug-and-play SD/microSD Cards which insert directly into your Garmin chartplotters SD/microSD card slot. What's more all g2 HD and g2 Vision HD charts purchased from ActiveGPS come with a FREE new chart guarantee valid for 12 months after purchase, learn more about the new chart guarantee.
---
Garmin BlueChart g2 HD Compatibility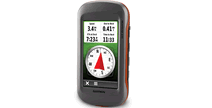 BlueChart g2 HD maps are compatible with the following Garmin handhelds and marine ChartPlotters:
Garmin Montana range, Oregon range, Dakota 20, eTrex 20/30, Vista HCx/Legend HCx, GPSMAP 60Cx/CSx, 62s/62sc/62st/62stc, 76Cx/CSx, 78/78s, nuvi 550, echoMAP 50s/70s, GPSMAP 400, 500, 600, 700, 4000, 5000, 6000 and 7000 series.
Please note: Older Garmin units required a datacard rather than SD/microSD, we no longer stock Datacard versions of the Blue Chart.
All Garmin BlueCharts are supplied on preprogrammed microSD card inside a full size SD card adaptor - Learn how to install Garmin BlueChart maps SD/microSD Card onto your Garmin marine chartplotter/handheld GPS device.
Not sure whether your Garmin marine or handheld system will be compatible with marine blue charts on preprogrammed microSD/SD cards? Simply email us, or use the online form on our contact us page and provide us with the unit's model, part and serial number normally located on the underside of your Garmin product. We'll then reply with the relevant webpage of available bluecharts for you to browse.
We also have a Garmin map Frequently Asked Questions page where you can ask a question and read questions and answers posted by other customers.
---
Why buy from us?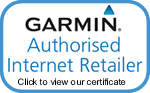 We are official Authorised Internet Retailers for Garmin. We sell genuine Garmin products, accessories and maps. We purchase from assigned Garmin UK distributors. We do not buy on the grey market and we do not sell counterfeit products. You can rest assured that by purchasing from ActiveGPS you will receive the full support of Garmin.
Page last updated: 13th November 2018