‣Records with higher resolution than the X model
‣Small screen displays analytics during activity
‣GPS technology
‣Camera
‣Automatically take photos at intervals upto 120 seconds
View VIRB XE
View VIRB XE accessories
‣Small screen displays analytics during activity
‣GPS technology
‣Camera
‣Automatically take photos at intervals upto 120 seconds
View VIRB X
View VIRB X accessories
Newly Overhauled Purchase Definition
A newly overhauled (NOH) device is a device that was returned to Garmin to be factory refurbished. Newly overhauled devices go through extensive testing to bring the units up to the same specifications as when they were manufactured as new, maintaining high quality standards. Newly overhauled devices will still have a one year manufacturer's warranty when purchased from a Garmin dealer.
Please note that newly overhauled (NOH) devices received as replacements for servicing will have either a 90-day warranty or the remainder of the original device's warranty, whichever is longer.
---
Why buy from us?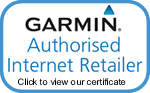 We are official Authorised Internet Retailers for Garmin. We sell genuine Garmin products, accessories and maps. We purchase from assigned Garmin UK distributors. We do not buy on the grey market and we do not sell counterfeit products. You can rest assured that by purchasing from ActiveGPS you will receive the full support of Garmin.
Page last updated: 16th January 2019