TomTom Urban Rider is a rugged, water resistant, satellite navigation system designed specifically to fit both motorbikes and scooters. The TomTom Urban Rider features a 3.5-inch glove-friendly touch screen and is pre-installed with maps for United Kingdom and the Republic of Ireland.
TomTom Urban Rider also features Advanced Lane Guidance, TomTom IQ Routes technology and TomTom MapShare which are all designed to make your journey easier. Plus start driving with the latest map - guaranteed! If a new map for the TomTom Urban Rider is available within 30 days of first use, you can download that map once for FREE via TomTom HOME.
Smarter bike navigation at your fingertips
Simplified menu
TomTom Urban Rider main menu has just two simple buttons 'Navigate to' and 'Browse map', so you can get going without any hassle.
Glove-friendly screen
TomTom Urban Rider features improved glove-friendly screen for easier and safer navigation.
Anti-glare screen and sun visor
Keep the sun off your screen for the optimum view, with the anti-glare screen and built-in sun visor.
Speed-linked volume
The TomTom Urban Rider is designed to adjust its volume as you adjust your speed, so you can always get your instructions loud and clear.
Waterproof
The TomTom Urban Rider is designed to be as rugged and waterproof as you need it to be, so you can rely on it, whatever the weather.
Advanced Lane Guidance
Clearly shows which lane to take at junctions so you don't miss your turning. On the most difficult highway intersections, realistic 3D representation of the junction keeps you relaxed and safe.
Map Share Technology
Make corrections to your own map and benefit from thousands of corrections made by TomTom users every day – free of charge.
Speed Cameras
The TomTom Urban Rider comes with fixed speed camera alerts pre-installed, to help you to drive more safely and responsibly, while saving money on speeding fines.
---
Cardo Scala Rider motorcycle headsets at ActiveGPS.co.uk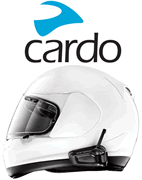 Cardo Scala Rider headsets are available to pair with your TomTom Urban Rider sat nav. The benefits of buying and using a Scala Rider headset with your TomTom Urban Rider are three-fold; 1. you can listen to sat nav voice turn-by-turn instructions, 2. listen to music and 3. communicate with other motorcyclists whilst riding (using the intercom when within range and mobile phone when out of range).
We sell the latest 2019 range of Cardo Scala Rider headsets including the PACKTALK, SMARTPACK and SMARTH ranges.
View all Cardo Scala Rider headsets
---
TomTom Urban Rider Features
‣3.5 inch, 320 x 240 TFT colour LCD touchscreen
‣Pre-installed UK and Ireland maps
‣8-digit postcode - navigate using full UK postcode search
‣Simplified menu for easiest use
‣Improved glove-friendly screen
‣Advanced lane guidance gives you extra clarity when navigating difficult junctions
‣TomTom IQ Routes - The knowledge of millions in your route
‣TomTom MapShare - Correct your map and get others' changes
‣Internal rechargeable Li-Ion giving approx. 8 hours
‣Operating temperature: - 10 to + 55 °C
‣Waterproof (IPX7) - protects against any wet-weather conditions
‣TomTom Urban Rider can be used in a car using the optional car mounting kit on the windscreen of the car
‣USB port and USB cable 2.0 for PC connection
‣1 year guarantee
---
Installation
TomTom Urban Rider comes with RAM mounting hardware that fits almost any bike. The totally secure motorbike docking kit attaches the TomTom Urban Rider with an audible 'click' so you know it's firmly in place.
Map Coverage

TomTom Urban Rider comes pre-installed with detailed TeleAtlas map coverage of United Kingdom and Republic of Ireland and partial coverage of the Channel Islands.
Also available: the TomTom Urban Rider Europe - giving detailed street-level mapping for the whole of Europe. Map coverage: Andorra, Austria, Belgium, Bulgaria, Croatia, Czech Republic, Denmark, Estonia, Finland, France, Germany, Gibraltar, Greece, Hungary, Italy, Latvia, Liechtenstein, Lithuania, Luxembourg, Malta, Monaco, Netherlands, Norway, Poland, Portugal, Ireland, San Marino, Slovakia, Slovenia, Spain, Sweden, Switzerland, Turkey, United Kingdom, the Russian Federation and Vatican City. Plus connector roads of Albania, Belarus, Bosnia-Herzegovina, Macedonia, Moldavia, Montenegro, Romania, Serbia and Ukraine.
---
What's in the box? (when purchased from ActiveGPS.co.uk)
‣TomTom Urban Rider UK and Ireland
‣RAM mounting hardware
‣Home charger
‣Documentation
---
TomTom Urban Rider Accessories
Want to add accessories to your TomTom Urban Rider model? We sell a vast selection of genuine TomTom parts and accessories.
View all of the TomTom Urban Rider accessories
---
TomTom Urban Rider Questions and Answers
Question: TomTom Urban Rider, model 4GC01. I've seen these on sale on ebay.  How do I know if I can get free lifetime map updates?
Answer: We no longer stock and sell the discontinued TomTom Urban Rider.
You should contact the eBay seller and ask them the question.
When we (ActiveGPS) sold the TomTom Urban Rider 4-5 years ago we did include for our customers free lifetime map updates. We no longer stock it and cannot verify what other sellers may or may not be offering with any product.
Do you have a question about the TomTom Urban Rider? Submit your question via our contact page.
---
TomTom Urban Rider Europe Technical Specification
‣Technology: GPS
‣Display: 3.5 inch, 320 x 240 TFT colour LCD touchscreen
‣Processor: CPU 380 MHz
‣GPS Receiver:
‣Power: 12 volt, motorbike battery
‣Battery: Internal rechargeable Li-Ion giving approx. 8 hours
‣Compatibility: Supports leading Bluetooth-enabled helmets
‣Installation: Plug and play
‣Waterproof: (IPX7) - protects against any wet-weather conditions
‣Operating Temperature: -10 to +55 Celsius
‣Dimensions: Width - 113.2mm, Height - 96.2mm, Depth - 52.9mm
‣Weight: 310g
‣Guarantee: 1-year

Manual requires Adobe Acrobat Reader
Download a free copy here
This product is a sophisticated electronic device which requires that you read, understand, and act upon the information given in the instruction manual (usually available via the above 'manual' link). You will need internet access and, in accordance with the manufacturers' recommendations, regularly seek out and accept all firmware or software updates offered by the manufacturer. All GPS devices need to 'see' the satellites in the sky. Therefore you will need to know that your vehicle does not have glass that will block or impede the GPS signal.
---
Page updated: 26th March 2019