Road Angel Gem+ and Road Angel Gem+ Deluxe features live speed camera updates (subscription charge applies), a rechargeable battery, a laser detector, a KPH (Kilometers Per Hour) mode in addition to the MPH (Miles Per Hour) readout and road and vehicle categorisation e.g. car, truck, etc. In addition to alerts to fixed and mobile speed cameras the Road Angel Gem+ also features a speed limit database for all roads, so you'll always know the speed limit (subscription charge applies - from £99.99).
The Road Angel Gem+ and Gem+ Deluxe while identical to each other are different in that the Gem+ Deluxe includes extra accessories. Installation and set up is easy with a easy to use magnetic mount, the Gem+ Deluxe also features a windscreen as well.
Road Angel Gem+ and Gem+ Deluxe have both been discontinued.
Require accessories for your Road Angel Gem+? These are in stock click here to buy.
For the latest range of speed camera detectors click here.
Following on from the very successful Road Angel Gem and Gem Deluxe, Road Angel have launched a new updated model named the Gem+ and the Gem+ Deluxe.
ActiveGPS is a Road Angel Authorised Reseller for the Road Angel Gem+ and related accessories.
The Road Angel Gem Plus provides audible and visual warnings to all speed camera locations (subscription charge applies). In particular Gem+ includes your speed and the road speed limit. In fact the Road Angel Gem Plus will tell you the speed limit of every road regardless of whether there is a speed camera there or not so you always know the roads speed limit. The display is full colour clearly displaying all the important information as you approach speed cameras and high-risk zones such as schools, railway crossings. In addition, the Road Angel Gem+ now also provides alerts to the new HADECS 3 speed cameras.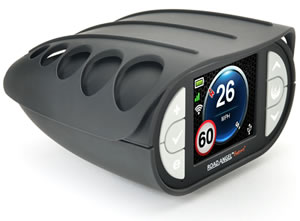 ---
Road Angel Gem+: Auto Express - Recommend 2016
"This dash-mounted product is pricey to buy and subscribe to for updates, but it's great at detecting cameras, with red light, fixed speed and mobile sites all flagged up, as well as accident blackspots. We found speed readings accurate, too, and it shows what the limit is at all times on its colour display. However, the notice period is a little too far in advance, and the reminder beeps are intrusive - even if you're under the limit. Still, menus and buttons are intuitive, and there's the added bonus of eAssist, which connects to the emergency services in the event of an accident."
Reviewed by Auto Express on 16/3/2016.
---
What's new on the Road Angel Gem+
The Gem Plus or Gem+ safety camera locator looks almost identical to it's predecessor. Indeed the physical dimensions are exactly the same, the differences however although subtle make the new Gem Plus a more advanced unit.
New finish - Firstly the Gem Plus outer casing is finished with a soft touch, rubberised finish.
Enhanced screen and audio - Road Angel have made screen enhancements and there are new brightness controls. The units internal speaker has been improved and there are now additional volume control settings.
New KPH and MPH speed read outs - The Gem+ also includes a built-in compass and KPH (kilometers per hour) speed read out mode as well as MPH (miles per hour) mode which the original model solely provided.
Vehicle specific speed limit advisory - The Road Angel Gem Plus is now equipped with road and vehicle categorisation meaning if you are driving a lorry or towing a caravan then the speed limit database will adjust to
therestrictions of your vehicle compared with when driving a car whereby there are no restrictions. This will affect overspeed warnings when approaching speed cameras.
New speed location alerts - When approaching a speed cameras location there are two new features these are a voice alert off setting and alert mute setting.
Day and night mode - Finally the new Gem+ and Gem+ Deluxe models have an automatic day/night setting where the units screen changes to a less bright colour scheme at night.
---
What's the difference between the Road Angel Gem+ and Gem+ Deluxe?
The Road Angel Gem+ Deluxe version is exactly the same as the standard Gem+ model, the difference is the Gem+ Deluxe includes extra accessories. These accessories include a carry case, windscreen suction cup mount, hardwire kit (enabling you to hardwire the Gem+ into your vehicles electrical supply) and 3metre USB Cable. You can also buy all of these accessories separately, although buying them bundled with the Gem+ Deluxe model represents a huge saving!
---
GPRS mobile phone technology - LIVE updating, SpeedShare and CameraShare
Using a sim card the Gem Plus utilises the GPRS mobile phone network to automatically update its speed camera locations database as you drive, meaning no need to connect the speed camera detector to a computer. There are also two features for updating the database whilst you are driving. These are firstly SpeedShare so you can inform Road Angel instantly via your device if the speed limit has changed for a particular road. Secondly, CameraShare allows you to tell Road Angel instantly over the LIVE GPRS network about the location of a safety camera partnership vans not in the database. Then if another Road Angel user drives past that location within 6 hours of you pressing the button they will also be alerted to presence of the safety camera van.
eAssist feature for contacting emergency services
The Road Angel Gem Plus also features eAssist which when pressed contacts the emergency services sending them the exact coordinates of your location so that they can assist you. You can also talk with the emergency services once this button is pressed.
Laser detection
The Road Angel Gem Plus includes a built-in laser detector with a range of 1 mile that will detect mobile laser guns being used in the road ahead. The laser detector is on the back of the Road Angel Gem+ and the red laser sensor can be seen in the photo below.
Warning to all speed cameras and high risk zones
The Road Angel Gem Plus will warn you to the following speed cameras and high risk zones:
Fixed speed cameras (Gatso, Truvelo, etc.), mobile safety camera locations, red light cameras, traffic light cameras, average speed monitoring zones, black-spot areas, school zones, congestion charge zones, railway crossings.
Road Angel Gem Plus FAQs
Do you have a question about the Road Angel Gem+ that's not been answered on this webpage? Please see our speed camera detector FAQs for questions from other customers and visitors. Plus if the answer to your question isn't featured, use the online form to ask us for the answer. Alternatively please telephone 01733 777623 Monday to Friday (9:30am-5:00pm) to speak to one of our sales team.
---
Road Angel Gem+ Features
‣Clear OLED full-colour approx. 1.75-inch (diagonal) screen
‣Road and vehicle categorisation
‣MPH and KPH modes
‣Integrated SIM for GPRS automatic speed camera updates
‣Live camera alerts through CameraShare
‣In-built Laser gun detection
‣UK wide safety camera locations
‣eAssist for calling emergency services in event of an incident
‣Up to 3 hour battery life, for cable free operation
‣100% legal
‣Spoken speed-limits to reduce distraction
‣Overspeed warning
‣Accurate speed limit display for all roads thanks to SpeedShare
‣Piece of mind from eCall
‣Fatigue warnings
‣Easy, personalised set-up via menu system
‣Simple dash mount, and plug and go installation
‣Safety camera subscription - 1 year: £99.99, 2 years: £189.99 or 3 years: £249.99
‣1 Years manufacturers warranty
---
Plug and play mounting
The Road Angel Gem+ is fully portable designed for plug-and-play use between vehicles or simply moved between the windscreen and glove compartment of your car when not in use. The battery life of the Road Angel Gem Plus is 2-4 hours.
The Road Angel Gem+ includes a dashmount as standard in the box, while the Road Angel Gem+ Deluxe includes both a dashmount and windscreen suction cup mount in the box, giving you more choice on how you install and view the Gem+ in your vehicle.
Pictured above: Road Angel Gem+ Deluxe complete with magnetic windscreen suction mount.
---
Registration - speed camera subscription, firmware and speed limit database
Road Angel Gem+ comes preloaded with the latest speed camera locations* and is ready to use straight from the box. To provide you with up to the second, realtime, wireless speed camera updates to the Road Angel Gem+, Road Angel requires you to subscribe to their database. There are three different subscription options, and all are payable directly to Road Angel (the manufacturer).
1. £99.99 for 12 months (1 year)
2. £189.99 for 24 months (2 years)
3. £249.99 for 36 months (3 years)
The subscription also entitles you to firmware updates, these firmware updates are issued quarterly (four times a year) and also include an updated national UK speed limit database - ensuring you have the very latest road speed limit information. A computer or laptop using Windows operating system is required for the firmware updates - see PC system requirements below.
*Preloaded speed camera database are installed by Road Angel at their UK office.
---
PC System Requirements
The Road Angel Gem Plus will only operate on Windows computers. Specifically, you must be using Windows XP, Windows Vista or Windows 7. The Gem+ is also compatible with both 32-bit and 64-bit versions of the compatible Windows operating systems.
Please note: The Road Angel Gem+ will not operate when using Apple Macintosh or Linux operating systems.
---
What's in the box? (when purchased from ActiveGPS.co.uk)
‣Road Angel Gem Plus
‣12/24 Volt USB vehicle charger with USB adaptor
‣240V/50Hz USB mains charger
‣1 metre USB charging cable
‣Dashboard mount
‣Quick start guide
In addition to the above the Gem Plus Deluxe model includes these additional FOUR accessories:
‣Hardwire kit
‣Windscreen suction cup mount
‣2.5 metre USB charging cable
‣Protective micro fibre storage pouch (carry case)
Road Angel packaging
Please note: The Road Angel Gem Plus and the Gem Plus Deluxe are packed in retail packaging which is ideal for display in a high street store. However, when the same product is sent through the delivery network, customers have occasionally reported torn inner compartments and loose items in the box - which we understood had been addressed by the new owners of Road Angel - InPhase. However, we have received the following from our Road Angel Distributor (who will dispatch your order directly to you). 
"Road Angel / InPhase have still not addressed the packaging problem and nine out of ten units are still rolling around in the box and the orange cardboard insert is invariably torn.
For quality control purposes we have been opening all boxes before despatch and wrapping the units in bubble wrap to prevent them getting marked or damaged in transit.
However, InPhase are now attaching a security seal to the outside of the Gem box which we now have to break in order to re-pack them.
Just thought I would let you know in case any of your customers think they are getting a "used" item."
This packaging issue will be the same - no matter where the Gem Plus is purchased. We, and our distributor, are at least making an effort.
---
Road Angel Gem+ Accessories
Whichever version of Road Angel Gem+ you buy, it comes complete with all the accessories you need to get it up and running in your vehicle. However, additional and replacement accessories are also available, these include: windscreen suction cup mount, dash mount and car charger adaptor.
View all Road Angel Gem Plus accessories
---
Road Angel Gem Plus Technical Specification
‣Technology: GPS/GSM/GPRS/Laser
‣Installation: Plug & Play
‣Power: 12/24 volt, cigarette lighter.
‣Dimensions: Width - 80mm, Height - 42mm, Depth - 75mm
‣Guarantee: 1-year
‣Road Angel Gem Plus manual

Manual requires Adobe Acrobat Reader
Download a free copy here
This product is a sophisticated electronic device which requires that you read, understand, and act upon the information given in the instruction manual (usually available via the above 'manual' link). You will need internet access and, in accordance with the manufacturers' recommendations, regularly seek out and accept all firmware or software updates offered by the manufacturer. All GPS devices need to 'see' the satellites in the sky. Therefore you will need to know that your vehicle does not have glass that will block or impede the GPS signal.
---
Road Angel Gem+ Questions and Answers
Question: I have a Road Angel Gem Deluxe (2015/2016 model) and I need a new screen as the current one has now minimal screen light - cant see during the day, and barely visible at night. All other functions work on the unit.
Answer: While we used to sell the Road Angel Gem Deluxe and we still sell accessories for the Road Angel Gem Deluxe we do not sell internal parts e.g. screen, speaker, etc.
Only the manufacturer is or was offering repairs and replacements of the nature you require.
---
Question: Does the Road Angel Gem+ Deluxe require an external antenna if my car has a heated front screen?
Answer: There is no external GPS antenna socket/port on the Road Angel Gem+ Deluxe.
Before buying the Road Angel Gem+ Deluxe for use in your vehicle(s) I would recommend that you check with the vehicles manufacturer that the windscreen does not block GPS signals. Some vehicles with heated windscreens have a small area of the windscreen where you can locate GPS based devices.
The Road Angel Gem+ Deluxe requires a GPS signal at all times to operate correctly.
---
Question: Can I plug an external laser detector into my Road Angel Gem?
Answer: There is no port in which to plug a laser detector into the Road Angel Gem.
The Gem features a built-in laser detector.
Do you have a question about the Road Angel Gem+? Submit your question via our contact page.
---
Road Angel Authorised Reseller
ActiveGPS.co.uk (parent company Active Alliance Limited) is an Road Angel Authorised Reseller. We buy directly from Road Angel Group based at Silverstone, Northampshire, UK. Our entire range of Road Angel products and accessories available to
purchase are 100% genuine.
Buy with confidence from ActiveGPS - safe in knowledge that your product is genuine and covered by a manufacturers backed guarantee.
Page updated: 26th March 2019