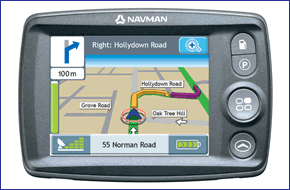 Navman F30 is pre-installed with mapping for UK and Ireland with detailed maps of England, Scotland, Wales, Northern Ireland and Republic of Ireland. The Navman F30 provides 3.5-inch colour touch screen, with 2D or 3D moving maps display and includes full 8-digit UK postcode search.
The Navman F30 also includes the T1 traffic pack equipping you with subscription-free, real-time traffic updates in the UK. The Navman F30 also includes speed camera locations and is pre-loaded with the latest speed camera database.
The Navman F30 is pre-loaded with detailed mapping for UK and Republic of Ireland and contains a wealth of features previously only found on much more expensive GPS satellite navigation systems including dedicated buttons to find the nearest petrol station or car park - ideal when you're somewhere unfamiliar. The Navman F30 also features full UK 8-digit postcode searches and advanced motorway navigation.
The Navman F30 also provides real-time traffic information via the T1 Traffic Module. The Navman F30 T1 uses the Traffic Message Channel (TMC) which broadcasts real-time traffic and weather information via the FM Radio Data System (RDS). FM radio stations transmit traffic information updates on a regular cycle, particularly around rush hours, with up to hundreds of events broadcasted to TMC receivers. Your T1 will decode these events and send them to your Navman F30, which will then display the various events and give you options on how to avoid traffic congestion in the road ahead.
The Navman F30 T1 traffic module works in the following European countries: Belgium, Germany, Denmark, France, United Kingdom (except Northern Ireland) and the Netherlands. Though additional Navman maps are required for the service to operate outside of the United Kingdom.
The Navman F30 is pre-loaded with the Navman UK speed camera database. The latest safety camera data is fully integrated with the Navman F30. Colour coded speed camera icons are displayed on the Navman F30 so you can easily recognise the type of speed camera on your route. You can also select your proximity range allowing you to decide when you should be alerted of an approaching speed camera.
---
Navman F30 Features
‣3.5-inch colour touch screen
‣Pre-installed UK and Ireland Reliable
‣8-digit postcode - navigate using full UK postcode search
‣Subscription-free, real-time traffic updates in the UK
‣Latest GPS receiver technology with SiRFstarIII GPS internal module
‣Nearest Fuel and Park buttons to alert you to the nearest petrol station or car park
‣Advanced Motorway Navigation
‣Route Summary View and Pause Journey functions
‣Spare SD card slot for additional maps, i.e. Western Europe, USA, Canada and Australia
‣Pre-loaded with the latest UK speed camera locations
‣Add your own Points of Interest (POI) such as speed cameras, using the optional Connectivity Kit
‣Drive-Away so it's ready to use out of the box
‣Automatic re-routing with Back-on-Track
‣1 Year manufacturers guarantee
---
Installation
The Navman F30 has been designed to be Plug and Play, and as such can be transferred from vehicle to vehicle with ease by the user. The Navman F30 is powered with a 12-volt adaptor cable in-car (supplied) and attaches to your vehicles windscreen via the Navman F30 suction mounting bracket which is also included.
The Navman F30 T1 Traffic Module which provides real-time traffic updates direct to your Navman F30, simply clicks onto the suction mounting bracket. The Navman F30 T1 Traffic Module has free lifetime subscription.
Speed Camera Subscription
The Navman F30 includes speed camera locations pre-loaded. Subscribe to monthly updates of speed camera locations for the United Kingdom. Subscription to the Navman UK speed camera database is priced at £24.95 for 1 year or £49.90 for 3 years.
Map Coverage

The Navman F30 works with Tele Atlas maps to provide detailed street level maps of the UK and Republic of Ireland. Tele Atlas maps provide high quality, detail rich maps, which in addition to street information include features such as route calculation, Points of Interest, Estimated Time of Arrival, and more.
Further Navman F30 maps are available SD card which insert directly into the Navman F30. Available Navman F30 maps include, Western Europe, Eastern Europe, France, Germany, Spain, USA, Canada, Australia and New Zealand. View the complete range of maps available for the Navman F30.
---
Navman F30 Accessories
Although the Navman F30 has been discontinued, a number of accessories are still available to buy from ActiveGPS. These accessories and spares include: windscreen suction cup mount, T1 traffic module and B2+ Handsfree and traffic module.
View all Navman F30 accessories
---
Navman F30 Maps
Maps for the Navman F30 are still available. Although no new map has been issued since 2008, we do still have a very limited stock of North America maps in stock.
View the available Navman F30 maps
---
Navman F30 Technical Specification
‣Technology: GPS
‣Display: Anti-glare high resolution 3.5" (89mm) colour touch-screen
‣Processor: Intel PXA 255-200MHz
‣GPS Receiver: SiRFstarIIIT
‣Power: 12 volt, cigarette lighter
‣Battery: Rechargeable integrated Li ION - up to 3.5hrs life (depending on use)
‣Installation: Plug and play
‣Dimensions: Width - 116mm, Height - 79.5mm, Depth - 24mm (excluding T1 cradle)
‣Weight: 200g (excluding T1 cradle)
‣Guarantee: 1-year
‣Navman F30 manual

Manual requires Adobe Acrobat Reader
Download a free copy here
This product is a sophisticated electronic device which requires that you read, understand, and act upon the information given in the instruction manual (usually available via the above 'manual' link). You will need internet access and, in accordance with the manufacturers' recommendations, regularly seek out and accept all firmware or software updates offered by the manufacturer. All GPS devices need to 'see' the satellites in the sky. Therefore you will need to know that your vehicle does not have glass that will block or impede the GPS signal.
Page updated: 25th March 2019