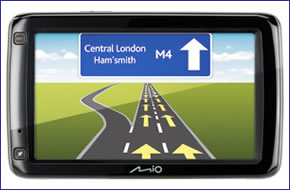 Mio Spirit 695 LM car navigator has a 5-inch large display and is preloaded with either UK and Ireland or Western Europe sat nav maps depending on the model purchased (see basket options below). Using predictive search you can locate your destination and this Mio suggests fastest, shortest and most economical.
The Mio Spirit 695 LM includes 3D junction view as well as major road signs of each road junction. In addition this Mio provides real-time traffic information so you are routed around traffic congestion in the road ahead. You can use the Mio 695 to find nearest the car park and restaurants in the area. Furthermore the Mio 695 will learn your driving style and predict your route based on personalised routes.
Mio Spirit 695 LM UK and Ireland
The Mio Spirit 695 LM / 685 is the mid-range in car sat nav from Mio. It has a 5-inch large display and comes with maps of UK and Ireland (695) or Westen Europe (685) preloaded to the device depending on the model purchased. Buy from ActiveGPS and not only do you get the chance to updates the maps within the first 30 days of registration, like other Mio models, the Spirit 695 includes FREE lifetime maps updates. Please note: the Spirit 685 does NOT include lifetime maps.
Searching for your destination is easy using the predictive search facility. You can even use Trip Planner and Mio More Desktop or search on the device to plan your route. You can set multiple waypoints along your journey. Mio Spirit 695LM then provides a choice of routes including fastest, shortest, easiest and most economical.
The Mio Spirit 695 LM features realistic 3D junction views and displays major road signs at each junction. Plus IQ routes provides real-time traffic information to help you avoid traffic congestion in the road ahead.
When you arrive at your destination you can search for parking within 1km. You can then also use the Near Me feature to find personal favourites such as restaurants. Plus, if you take the satnav with you when you leave your car, you can use the sat nav to find your car.
The Mio 695 will also learn your driving style and will predict your preferences regarding your personalised routes.
The Mio 695 LM can also be used on foot. Designed to be handheld whilst walking about towns and villages you will never lose your way again. Ideal when using the Near Me feature or when finding you car in a car park.
---
Mio Spirit 695 LM and 685 Features
‣5-inch widescreen touch screen
‣Preloaded with UK and Ireland or Western European mapping
‣Turn-by-Turn navigation with voice guided instruction
‣8-digit postcode - navigate using full UK postcode search
‣IQ Routes - for optimised routing
‣LearnMe Pro - for your own navigation experience
‣Built-in real-time Traffic Information
‣Parking Assistance - quickly and easily find nearby parking spaces
‣Pedestrian Mode - go even further on foot
‣3D Junction Views and Lane Guidance - never miss an exit
‣Navman QuickStart menu - access essential features quickly
‣Spoken street names (TTS) - listen for where to turn and keep your eyes on the road
‣Keyword Search - search for places using any words you like
‣QuickSpell keyboard - reduce errors and increases typing speed
‣Near Me feature locates restaurants, hotels, etc in the local area.
‣30 day Latest Map Guarantee and free lifetime maps for the lifetime of the product
‣Pre-loaded safety camera data - free trial for a limited period of 3 months
‣Road speed limit information
‣Tunnel guidance - know where you are in a tunnel
‣High speed GPS fix with SiRFInstantFixII - no more waiting for a GPS fix
‣1 Year manufacturers guarantee
---
Installation
Mio Spirit 695 LM has been designed to be Plug and Play, and as such can be transferred from vehicle to vehicle with ease by the user. The Mio Spirit 695 LM is powered with a 12-volt adaptor cable in-car (supplied) and attaches to your vehicles windscreen via the Mio Spirit 695 LM windscreen mounting bracket which is also included.
Map Coverage

Mio Spirit 695 LM is preloaded with UK and Ireland maps. The Mio Spirit 685 is preloaded with Western European maps.
What's in the box? (when purchased from ActiveGPS.co.uk)
‣Mio Spirit 695 LM
‣Car Charger with integrated TMC antenna
‣Windscreen Mounting Bracket
‣Software DVD
---
Mio Spirit 695 LM Technical Specification
‣Technology: GPS
‣Display: Anti-glare high resolution 5-inch 480 x 272 colour touch-screen
‣Processor: Samsung 6443/400 MHz
‣GPS Receiver: High speed SiRFstarIII with InstantFixII
‣Memory Card: No
‣Power: 10/30 volt DC in-vehicle power socket
‣Battery: Rechargeable integrated Li-ION battery-up to 4 hrs life (depending on usage)
‣Installation: Plug and play
‣Dimensions: Width - 142mm, Height - 88.2mm, Depth - 17.5mm
‣Weight: 185g
‣Guarantee: 1-year
‣Mio Spirit 695 LM manual

Manual requires Adobe Acrobat Reader
Download a free copy here
This product is a sophisticated electronic device which requires that you read, understand, and act upon the information given in the instruction manual (usually available via the above 'manual' link). You will need internet access and, in accordance with the manufacturers' recommendations, regularly seek out and accept all firmware or software updates offered by the manufacturer. All GPS devices need to 'see' the satellites in the sky. Therefore you will need to know that your vehicle does not have glass that will block or impede the GPS signal.
Page updated: 25th January 2019