Garmin VIRB is an action cameras for capturing video during sporting and leisure activities. The VIRB includes a 1.4 inch colour screen and the unit is switched on by using an over-sized button.
There are numerous mounts available for the VIRB so you can mount the camera just about anywhere. You can also record in many different modes with differing screen resolutions and frames per second for differing video image qualities. There is also numerous settings for taking still photos.
Additionally a digital image stabilisation feature allowsfor better video recording. You can also adjust for lens distortion. View accessories here.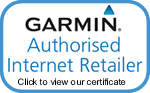 The Garmin VIRB is an action camera for capturing up to 3 hours of video and still photos and it has a 1.4 inch Chroma colour screen which uses minimal power.
There are multiple mounts suitable for various activities including dash mounts, handlebar, helmet, shoulder, multi-use strap mounts and there are also adapters that allow the use of other industry mounts. The VIRB is also built to be rugged and waterproof to IPX7 standards so you can use it in up to 1 metre depth of water for up to 30 minutes.
If you intend to use the Garmin virb for activities that involve water immersion then it is advised that you buy the Dive case which allows you to use in water up to 50 meters in depth.
Video can be recorded in many different modes including 1080p at 30fps, 960p 48fps, 720p 30/60fps and 848x480 120fps. You can also record in slow motion for up to 120fps. As a guide, you can record up to 3 hours at 1080pixels. Extend the time you can use/record with the VIRB by buying an extra battery.
You can also take photos with the VIRB Elite at either 16 megapixels, 12 megapixels or 8 megapixels. You can take photos one at a time, using Photo Burst (6/s) or Time lapse (various intervals). Also photos are taken with a 16 megapixel CMOS processor, providing manageable file sizes.
It is easy to know you are recording even if wearing gloves because there is a slide switch. Whats more there are preset recording profiles available. For example, in ski mode, the device will record during the run and then pause when you reach the bottom of the slope.
You can adjust the settings on the device using on-screen menu settings. There is a Digital image stabilisation mode which ensures you record a smoother video adjusting for bumpy conditions, for example. Lens distortion correction further helps to enhance
the quality of videos.
Compatible with Garmin zumo 590LM
The Garmin VIRB is also compatible with the Garmin zumo 590LM motorcycle sat nav whereby you can control the VIRB via the Garmin zumo 590 5-inch display.
---
Garmin VIRB Features
‣1.4-inch Chroma colour display & 1080HD
‣ANT+ connectivity
‣IPX7 water proof rating
‣Up to 3 hours battery
‣Requires Micro SD Max 64GB
‣Photo burst & time lapse
‣Oversized on/off switch
‣Record video in different resolutions and frames per second
‣Capture still image photos with either 16, 12 or 8 megapixels
‣Take photos in different modes: Photo Burst (6/s) or Time lapse (various intervals)
‣Digital image stabilisation
‣Lens distortion enhances quality of videos recorded
‣Pre-set recording profiles; skiing, etc
‣1 year manufacturers guarantee
---
Installation
There are many mounts for the VIRB. For example you can mount the VIRB on the handlebars of your bike, on top of your head, on your shoulder, on a cars dashboard or windscreen and many more places.
What's in the box? (when purchased from ActiveGPS.co.uk)
‣VIRB action camera
‣Lithium-ion battery
‣Cradle
‣Short link
‣Right angle link
‣Adapter to popular industry mounts
‣Flat surface mount
‣Curved surface mount
‣Removable flange base
‣Threaded collar
‣Knobs (3)
‣USB cable
‣Documentation
---

Garmin VIRB Accessories
Looking for accessories to use with the Garmin VIRB handheld device? We sell a vast selection of genuine parts and spares including VIRB carrying case, remote control, large tube bike mount, premium heart rate monitor and lithium ion battery.
View all Garmin VIRB accessories
---
Garmin VIRB Technical Specification
‣Technology: Video recording. Can connect remote control wirelessly
‣Display: 1.4-inch (1080 pixels)
‣Waterproof: yes (IPX7)
‣Battery: removable, rechargeable lithium-ion
‣Battery Life: up to 3 hours depending on usage and settings
‣Installation: Plug and Play
‣Power: Battery powered.
‣Dimensions: Width - 32mm, Height - 53mm, Depth - 111mm
‣Weight: 170g
‣Guarantee: 1-year
‣Garmin VIRB manual

Manual requires Adobe Acrobat Reader
Download a free copy here
This product is a sophisticated electronic device which requires that you read, understand, and act upon the information given in the instruction manual (usually available via the above 'manual' link). You will need internet access and, in accordance with the manufacturers' recommendations, regularly seek out and accept all firmware or software updates offered by the manufacturer. All GPS devices need to 'see' the satellites in the sky. Therefore you will need to know that your vehicle does not have glass that will block or impede the GPS signal.
---
Why buy from us?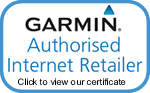 We are official Authorised Internet Retailers for Garmin. We sell genuine Garmin products, accessories and maps. We purchase from assigned Garmin UK distributors. We do not buy on the grey market and we do not sell counterfeit products. You can rest assured that by purchasing from ActiveGPS you will receive the full support of Garmin.
Page updated: 2nd August 2018