This heavy duty 5-inch cover fits the Garmin STRIKER Plus 5cv fishfinder head unit snugly, protects screen from getting scratched and guards against the harsh marine environment when not in use. More Details
Garmin STRIKER Plus 5cv Flush Mount Kit flush mount kit allows you to easily position your device against most flat surfaces in your boat. The kit includes hardware, installation instructions and a template. More Details
Garmin STRIKER Plus 5cv mounting bracket enables you to mount, swivel and tilt the 4-inch screen of your Garmin STRIKER 4 series fishfinder to achieve the best viewing angle. More Details
Power and connect your Garmin STRIKER Plus 5cv with this 4-pin power/data cable. The cable includes 6 feet (1.82 metres) length of cabling and also features NMEA 0183 inputs/output. More Details
Connect your Garmin STRIKER Plus 5cv using this user data sharing cable and then share data such as waypoints and routes with other compatible Garmin devices. More Details
Use this genuine Garmin cable to connect your Garmin STRIKER Plus 5cv fishfinder with a 4-pin connection to a single or dual beam transducer with an 8-pin connection. More Details
Use this genuine Garmin cable to connect your Garmin STRIKER Plus 5cv fishfinder with a 4-pin connection to a dual beam transducer with an 6-pin connection. More Details
Adding a Transducer to your STRIKER Plus 5cv
Garmin transducers are fully compatible with the Garmin STRIKER Plus 5cv and will provide you with a live 'view' beneath your boat. We stock the very latest Garmin transducers which can provide you with an image of not only what lies directly below but towards the front or sides of your boat with features such as SideVu, DownVu and RealVu 3D Forward.
To learn more about Garmin transducers please see our Garmin Transducer Buyer's Guide, the page also features an online form, which after completing we will email you a link to compatible transducers that are all fully compatible with your Garmin STRIKER Plus 5cv and the boat in which you will use both nautical devices on.
Find your compatible transducer here.
Pictured below, transom mounted transducer, thru-hull transducer and in-hull transducer.
---
Why buy from us?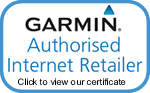 We are official Authorised Internet Retailers for Garmin. We sell genuine Garmin products, accessories and maps. We purchase from assigned Garmin UK distributors. We do not buy on the grey market and we do not sell counterfeit products. You can rest assured that by purchasing from ActiveGPS you will receive the full support of Garmin.
Page last updated: 23rd October 2018