The Garmin STRIKER 7sv is a Fishfinder and also features GPS technology. The screen size is 7-inch with keypad control. The included Transducer and Sonar will allow you to view beneath your boat for fish and also the side view from under your boat. You will also be able to view fish below and to the side of you boat/yacht.
Using the GPS technology you can mark waypoints and navigate back to them. You will also be able to view your boats speed.
The 3 in 1 transducers provides traditional sonar, DownVu and Side Vu.
Garmin STRIKER 7sv - £599.99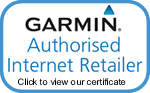 The Garmin STRIKER 7sv is a fishfinder with GPS technology and CHIRP Sonar. The screen on the STRIKER 7sv is 7-inch colour display.
With the in-built GPS technology you can mark hotspots such as good fishing locations, docks or ramps. You can then easily navigate back to these stored locations. If you have a echoMAP charplotter too you can share waypoints and
routes between your STRIKER and a Garmin echoMAP system. You are also able to view the speed of your boat or yacht on the display. Please note: Although the Garmin STRIKER has GPS technology it is not a Chartplotter.
With the STRIKER 7sv you will get CHIRP Traditional Sonar, Sonar History Rewind, Waypoint Map, Boat Speed Display and Built-in Flasher.
Both Garmin DownVu and SideVu Scanning are included with the Garmin STRIKER. CHIRP DownVu enables you to view below your boat whereas the CHIRP SideVu enables you to view the side of your boat. The CHIRP technology is an advanced technology that provides a ultra-clear image showing the views beneath your boat or yacht and at the sides of your vessel too.
The STRIKER 7sv includes a Garmin GT52 transducer with high wide CHIRP 250W, 455/800 kHz CHIRP DownVu and CHIRP SideVu with 350 W power. The GT52 transducer must be mounted. The Garmin GT52 transducer has a transom mount for use on a boat whereby the boat should be an outboard powered vessel. This transducer includes down vision and side scan.
If you would like to purchase a Garmin STRIKER with a smaller screen size then there is a 3.5-inch (STRIKER 4cv) and 5-inch (STRIKER 5cv) model available too.
Smooth scaling software technology for depth range adjustments is also provided with the Garmin STRIKER 7sv.
---
Garmin STRIKER 7sv Features
‣7-inch WVGA colour screen Fishfinder
‣Garmin GT52 transducer included
‣Keypad control
‣Waterproof to IPX7 standards
‣GPS speed
‣Sonar features DownVu and SideVu for views below the boat and also an underwater view to the sides of your boat
‣Maximum depth for Sonar use: 2,300 ft at 77kHz (freshwater) and 1,100 ft at 77kHz (saltwater)
‣Mark waypoints and go back to them (ie. save favourite fishing spots)
‣1 Year manufacturers guarantee
---
Installation
The Garmin STRIKER 7sv includes a tilt mount for mounting on your boat or yacht. The Garmin GT52 Transducer included is for use on a boat whereby the boat should be an outboard powered vessel. You will be able to see the view of the water below and to the sides of your boat/yacht as Garmin DownVu and SideVu both feature on this Garmin device.
---
What's in the box? (when purchased from ActiveGPS.co.uk)
‣STRIKER 7sv
‣GT52HW-TM transducer
‣Transom and trolling motor mounts
‣Power cable
‣Tilt mount
‣Documentation
---

Garmin STRIKER 7sv Accessories
Looking for Garmin STRIKER 7sv accessories? Accessories available to purchase include protective cover, tilt and swivel mount and flush mount kit. If you'd like to add a transducer to your STRIKER 7sv please see Garmin transducer page.
View all Garmin STRIKER 7sv accessories
---
Garmin STRIKER 7sv Technical Specification
‣Technology: Fishfinder, Transducer
‣Display: 7-inch WVGA display (800 x 480 pixels)
‣Water temperature log and graph: Yes
‣Waypoints/favourites/locations: Yes
‣Garmin sonar compatible: Yes
‣DownVu and SideVu: Yes
‣AutoGain technology (minimise clutter, maximise targets): Yes
‣A-scope (real time display of fish passing through transducer beam): Yes
‣Water temperature sensor included: Yes
‣Waterproof: Yes, IPX7
‣Dimensions: Width - 235mm, Height - 140mm, Depth - 58mm
‣Weight: 680 g
‣Guarantee: 1-year
‣Garmin STRIKER 7sv manual

Manual requires Adobe Acrobat Reader
Download a free copy here
This product is a sophisticated electronic device which requires that you read, understand, and act upon the information given in the instruction manual (usually available via the above 'manual' link). You will need internet access and, in accordance with the manufacturers' recommendations, regularly seek out and accept all firmware or software updates offered by the manufacturer. All GPS devices need to 'see' the satellites in the sky. Therefore you will need to know that your vehicle does not have glass that will block or impede the GPS signal.
---
Why buy from us?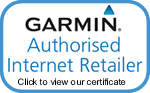 We are official Authorised Internet Retailers for Garmin. We sell genuine Garmin products, accessories and maps. We purchase from assigned Garmin UK distributors. We do not buy on the grey market and we do not sell counterfeit products. You can rest assured that by purchasing from ActiveGPS you will receive the full support of Garmin.
Page updated: 29th November 2017