The Garmin StreetPilot c340 provides in-car navigation that is simple for anyone to use directly out of the box. After selecting a destination from the user-friendly touch screen interface, Garmin's text-to-speech feature tells users the name of the street, when to turn, and in what direction. If you miss your turn, the Garmin StreetPilot c340 automatically calculates a new route to the destination.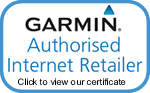 Notification of traffic delays is a Garmin StreetPilot c340 option that lets drivers see congested areas via a color-coded map. This feature lets users avoid traffic by simply pushing a button that will calculate a new route. This traffic awareness is made possible via the new Garmin GTM 11 FM TMC receiver that connects to selected Garmin street navigation products. The GTM 11 receives digital data from specific FM broadcast stations in select major metro areas throughout the United States and Europe.
The Garmin StreetPilot c340 comes preprogrammed with highly detailed City Navigator® NT street data of the entire United States, Canada, and Puerto Rico. The database features nearly six million points of interest-including hotels, restaurants, gas stations, ATMs, and attractions.
As an added benefit, you can now import customized points of interest with the help of Garmin's free POI Loader software. The possibilities are endless - upload safety cameras or school zones, and you will receive a warning if you are traveling too fast. In addition, an optional proximity-alert feature notifies you of upcoming custom POIs.
The Garmin StreetPilot c340 joins Garmin's growing line of automotive GPS navigators. It has a bright, 3.5-inch diagonal, TFT display with touchscreen; dual integrated speakers for high-quality voice prompts; and an internal lithium-ion battery for out-of-car route planning.
---
Garmin StreetPilot c340 Features
‣WAAS-enabled 12 parallel channel GPS
‣Built-in patch antenna; MCX-type connector for optional external GPS antenna connection
‣SD memory card expansion slot for use with other MapSource street-mapping products
‣Traffic alerts with optional GTM 11 FM TMC traffic receiver
‣Text-to-Speech - unit prompts you to "Turn right on High Street" instead of "Turn right in 500 feet"
‣Users can set up proximity alerts for school zones, safety cameras, and more with Garmin's POI loader program (free from www.garmin.com)
‣Choose between a three-dimensional mapping perspective or 2D overhead view
‣Display: 2.8"W x 2.1"H (3.5" diag.), 320 x 240 pixels; bright, TFT display, 64K colors, with white backlight and touch screen
‣Built-in lithium ion battery for trip planning (approximately 4-8 hours battery life)
‣Includes integrated 12-volt power adapter/speaker for external power while in your vehicle
‣Integrated suction-cup mounting system provides easy adjustment and quick release
‣USB interface
---
Installation
The Garmin StreetPilot c340 boasts distinctive and sleek styling - the only buttons are a rotary volume knob and an on/off switch. The device is secured by a suction-mount cradle that fastens to the windshield for easy portability between vehicles. Users can customize their unit's appearance with an array of colored faceplates (sold separately). 12-volt adapter included.
Map Coverage
UK and Europe
---

Garmin StreetPilot c340 Accessories
Looking for accessories and spares for the Garmin StreetPilot c340 view them all here. All parts are genuine Garmin product and specifically designed for use with the StreetPilot c340 sat nav.
---
Garmin StreetPilot c340 Technical Specification
‣Technology: GPS
‣Installation: Plug & Play
‣Power: 12 volt, cigarette lighter
‣Dimensions: Width - 113mm, Depth - 72mm, Height - 82mm
‣Guarantee: 1-year
‣Garmin StreetPilot c340 manual

Manual requires Adobe Acrobat Reader
Download a free copy here
This product is a sophisticated electronic device which requires that you read, understand, and act upon the information given in the instruction manual (usually available via the above 'manual' link). You will need internet access and, in accordance with the manufacturers' recommendations, regularly seek out and accept all firmware or software updates offered by the manufacturer. All GPS devices need to 'see' the satellites in the sky. Therefore you will need to know that your vehicle does not have glass that will block or impede the GPS signal.
---
Why buy from us?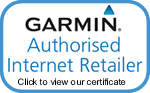 We are official Authorised Internet Retailers for Garmin. We sell genuine Garmin products, accessories and maps. We purchase from assigned Garmin UK distributors. We do not buy on the grey market and we do not sell counterfeit products. You can rest assured that by purchasing from ActiveGPS you will receive the full support of Garmin.
Page updated: 25th January 2019