For budget-conscious users who only require detailed maps for a limited area, the Garmin StreetPilot c330 features an SD card slot, a128MB SD card, and MapSource City Select street data on DVD. The user simply selects the specific area of interest and the data is transferred from a PC via a fast USB connection. (The Garmin StreetPilot c330 comes factory preloaded with MapSource City Select map data.)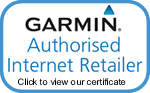 The Garmin StreetPilot c330 GPS navigator features a simple touchscreen interface, with automatic route calculation to any destination and turn-by-turn voice-prompted directions along the way. Selecting a destination is straightforward and requires only a limited amount of input from the user. Plus, the Garmin StreetPilot c330 allows you to choose between a three-dimensional (3D) navigation view or the more traditional "bird's eye" overhead view.
For the ultimate out-of-the-box convenience, the Garmin StreetPilot c330 comes preprogrammed with highly detailed MapSource City Select street data. The database features nearly six million points of interest-including hotels, restaurants, petrol stations, ATMs, and attractions. (The Garmin StreetPilot c330 comes with a 128 MB SD card and a MapSource City Select CD-ROM for data transfer from a PC via a USB connection.)
As an added benefit, you can now import customized points of interest with the help of Garmin's free POI Loader software. The possibilities are endless - upload speed cameras locations or school zones, and you will receive a warning if you are traveling too fast. In addition, an optional proximity-alert feature notifies you of upcoming custom Points of Interest (POIs).
The centerpiece of the Garmin StreetPilot c330 is a bright, 3.5-inch diagonal, 16-bit color display that makes navigation a snap. The Garmin StreetPilot c330 also features dual integrated speakers for high-quality voice prompts.
---
Garmin StreetPilot c330 Features
‣WAAS-enabled 12 parallel channel GPS
‣Built-in patch antenna; MCX-type connector for optional external GPS antenna connection
‣Pre-programmed internal memory
‣Audible and visual navigation instructions and warnings
‣Display: 2.8" W x 2.1" H (3.5" diag.), 320 x 240 pixels; QVGA transflective TFT with 16-bit color; 64K colors; bright white LED backlight and touch screen
‣Built-in lithium ion battery for trip planning
‣Pre-programmed internal memory
‣Integrated suction cup mounting system provides easy adjustment and quick release
‣USB interface
---
Installation
The Garmin StreetPilot c330 boasts distinctive and sleek styling - the only buttons are a rotary volume knob and an on/off switch. The device is secured by a suction-mount cradle that fastens to the windshield for easy portability between vehicles. Users can customize their unit's appearance with an array of colored faceplates (sold separately). 12-volt adapter included.
Map Coverage
UK and Ireland
---

Garmin StreetPilot c330 Accessories
Looking for accessories and spares for the Garmin StreetPilot c330 view them all here. All parts are genuine Garmin product and specifically designed for use with the StreetPilot c330 sat nav.
---
Garmin StreetPilot c330 Technical Specification
‣Technology: GPS
‣Installation: Plug & Play
‣Power: 12 volt, cigarette lighter
‣Dimensions: Width - 113mm, Depth - 72mm, Height - 82mm
‣Guarantee: 1-year
‣Garmin StreetPilot c330 manual

Manual requires Adobe Acrobat Reader
Download a free copy here
This product is a sophisticated electronic device which requires that you read, understand, and act upon the information given in the instruction manual (usually available via the above 'manual' link). You will need internet access and, in accordance with the manufacturers' recommendations, regularly seek out and accept all firmware or software updates offered by the manufacturer. All GPS devices need to 'see' the satellites in the sky. Therefore you will need to know that your vehicle does not have glass that will block or impede the GPS signal.
---
Why buy from us?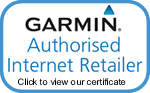 We are official Authorised Internet Retailers for Garmin. We sell genuine Garmin products, accessories and maps. We purchase from assigned Garmin UK distributors. We do not buy on the grey market and we do not sell counterfeit products. You can rest assured that by purchasing from ActiveGPS you will receive the full support of Garmin.
Page updated: 25th January 2019