For budget-conscious users who only require detailed maps for a limited area, the Garmin StreetPilot c310 features an SD card slot, a128MB SD card, and MapSource City Select street data on DVD. The user simply selects the specific area of interest and the data is transferred from a PC via a fast USB connection. (The Garmin StreetPilot c310 comes factory preloaded with MapSource City Select map data.)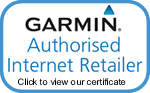 The Garmin StreetPilot "c-series" GPS navigators feature a simple touchscreen interface, with automatic route calculation to any destination and turn-by-turn voice-prompted directions along the way. Selecting a destination is straightforward and requires only a limited amount of input from the user. Plus, the StreetPilot c310 offers a three-dimensional navigation view or an overhead view.
---
Garmin StreetPilot c310 Features
‣Routes: Automatically calculated with turn-by-turn instructions; custom road preference allows user to prioritize choice of back roads or major highways; automatic off-route recalc shows how to get back on track if you miss a turn or exit
‣Voice: Navigation instructions and warnings
‣Waypoints: 500 with name and graphic symbol
‣Trip computer: Resettable odometer, timers, average and maximum speeds
‣GPS Accuracy: Position: < 15 meters (49 feet), 95% typical. Velocity: 0.05 meter/sec steady state
---
Installation
The new Garmin StreetPilot c-series boasts distinctive and sleek styling - the only buttons are a rotary volume knob and an on/off switch. The Garmin StreetPilot c310 GPS device is secured by a suction-mount cradle that fastens to the windshield for easy portability between vehicles. Users can customize their unit's appearance with an array of colored faceplates (sold separately).
Map Coverage
UK and Ireland
---

Garmin StreetPilot c310 Accessories
Looking for accessories and spares for the Garmin StreetPilot c310 view them all here. All parts are genuine Garmin product and specifically designed for use with the StreetPilot c310 sat nav.
View all Garmin StreetPilot c310 accessories
---
Garmin StreetPilot c310 Questions and Answers
Question: SD card for Garmin street pilot c310 would SD card update my maps etc? Thanking you.
Answer: To update the maps on your Garmin StreetPilot c310 you need to:
1. Ensure you have the latest software/firmware on your sat nav. Free from Garmin via Garmin Express software
2. Purchase the latest Garmin City Navigator NT Maps of UK and Ireland microSD/SD card here
3. Wait for delivery of above SD card and insert it into your Garmin StreetPilot c310
4. You will then have the latest street-level road maps of the UK and Ireland on your StreetPilot.
Do you have a question about the Garmin StreetPilot c310? Submit your question via our contact page.
---
Garmin StreetPilot c310 Technical Specification
‣Technology: GPS
‣Installation: Plug & Play
‣Power: 12 volt, cigarette lighter
‣Dimensions: Width - 113mm, Depth - 72mm, Height - 82mm
‣Guarantee: 1-year
‣Garmin StreetPilot c310 manual

Manual requires Adobe Acrobat Reader
Download a free copy here
This product is a sophisticated electronic device which requires that you read, understand, and act upon the information given in the instruction manual (usually available via the above 'manual' link). You will need internet access and, in accordance with the manufacturers' recommendations, regularly seek out and accept all firmware or software updates offered by the manufacturer. All GPS devices need to 'see' the satellites in the sky. Therefore you will need to know that your vehicle does not have glass that will block or impede the GPS signal.
---
Why buy from us?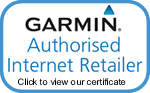 We are official Authorised Internet Retailers for Garmin. We sell genuine Garmin products, accessories and maps. We purchase from assigned Garmin UK distributors. We do not buy on the grey market and we do not sell counterfeit products. You can rest assured that by purchasing from ActiveGPS you will receive the full support of Garmin.
Page updated: 25th January 2019