The brand new boxed Garmin StreetPilot 7200 includes preloaded City Navigator NT version 9 detailed maps of UK and Europe and display navigation, entertainment, traffic, weather and huge 7-inch touch-screen display designed for larger vehicles such as RVs, semi-trucks, and buses.
Garmin StreetPilot 7200 has been discontinued.
For the latest range of car sat navs click here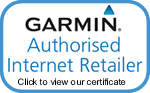 The Garmin StreetPilot 7200 features intuitive navigation with automatic route calculation; voice-prompted, turn-by-turn directions; 2D or 3D map view; and automatic rerouting if a motorist strays off course. The Garmin StreetPilot 7200 speaks street names, so users will know to "turn right on Main Street." Enter a series of destinations, and the Garmin StreetPilot 7200 will automatically sort them to provide an efficient route. With its POI Loader software, Garmin has also made it possible for customers to augment pre-loaded maps with custom POIs such as school zones and speed cameras.
The Garmin StreetPilot 7200 can monitor traffic tie-ups with the addition of an optional FM TMC traffic receiver or GXMT 30 smart antenna. By adding traffic services and a receiver/antenna to your SteetPilot 7200, it notifies you of accidents, road construction, and weather-related traffic delays before they are encountered, and then offers an alternate route.
View real-time weather conditions with the optional GXM 30 Smart Antenna and a XM NavTraffic subscription. Find out the local forecast for your route or campsite down the road. Available weather information includes current conditions, city forecasts, and warnings for thunderstorms and floods.
The StreetPilot 7200 includes a host of features to keep you entertained during your travels, including an internal MP3 player, XM radio, and audio books. The built-in MP3 player lets users browse music by artist, album, song, or genre. Music can be loaded onto an SD card and is "drag-and-drop" easy - no special software is required. The XM Radio (with the optional GXM 30 Smart Antenna and XM Satellite Radio subscription) features 150-plus channels of commercial-free music, sports, news, talk, and entertainment. All music or speech files can be emitted over the vehicle's existing speakers, through the StreetPilot's built-in FM wireless transmitter or via the unit's headphone/line-out jack. The entertainment audio is muted when navigation instructions are given.
---
Features
‣WAAS enabled; 12 parallel channel GPS
‣7-inch touch-screen
‣Antenna: Built-in GPS patch-style antenna; MCX-type connector for external GPS antenna
‣Colour TFT with automatic dimming backlight and touch screen
‣SD card slot and internal memory provides storage for MP3, audio books and additional MapSource products
‣Built-in speaker for radio and navigation instructions
‣Send audio to the car stereo through the integrated FM wireless transmitter or 3.5 mm stereo headphone/line-out plug
‣1 Year manufacturers guarantee
---
Installation
The Garmin StrretPilot 7200 is powered using the external speaker with a 12-volt adapter cable or A/C power adapter (both included in purchase). The Garmin StreetPilot 7200 also offers WAAS-enabled support to ensure the highest degree of GPS accuracy.
---
Map Coverage

The Garmin StreetPilot 7200 includes a pre-programmed 2.5Gb hard drive that stores City Navigator detailed maps of the UK and Europe. Motorists can navigate to a specific address or access an industry-leading database of more than five million points of interes - including lodging, restaurants, gas stations, and local attractions. The intuitive, menu-driven touchscreen ensures that navigating the unit is as easy as navigating the road.
---
Why buy from us?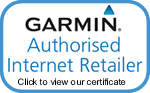 We are official Authorised Internet Retailers for Garmin. We sell genuine Garmin products, accessories and maps. We purchase from assigned Garmin UK distributors. We do not buy on the grey market and we do not sell counterfeit products. You can rest assured that by purchasing from ActiveGPS you will receive the full support of Garmin.
Page updated: 24th July 2017