The Garmin StreetPilot 2720 is a premium GPS automotive navigator that offers text-to-speech and traffic interface capabilities. In addition to the turn-by-turn voice prompted navigation available in earlier StreetPilot models, the Garmin 2720's text-to-speech functionality allows the unit to audibly announce the name of upcoming streets and points of interest (POIs), letting drivers keep their eyes on the road while navigating through busy traffic and tricky roadways.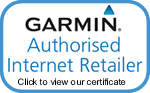 The Garmin StreetPilot 2720 boasts a new WQVGA, color, automotive-grade, sunlight-readable, touchscreen display that automatically adjusts the unit's backlight for optimum viewing in any amount of light. Drivers can view the map in a three-dimensional perspective, or a top-down track-up or north-up view.
As an added benefit, you can now import customized points of interest with the help of Garmin's free POI Loader software . The possibilities are endless - upload safety cameras or school zones, and you will receive a warning if you are traveling too fast. In addition, an optional proximity-alert feature notifies you of upcoming custom POIs.
In addition to point-to-point navigation, the StreetPilot 2720 can calculate the most efficient route between multiple destinations - a real time-saver for realtors, sales forces, and errand-runners. Drivers can also tell the unit to avoid specific areas or road segments when calculating a route.
---
Features
‣Preloaded maps-ready to use out of the box
‣Turn-by-turn directions
‣Avoid traffic tie-ups using optional GTM 11 FM TMC traffic receiver
‣Text-to-speech feature delivers street and POI names, as well as addresses, so you can keep your eyes on the road
‣Arrange destinations to minimize trip distance-a real time-saver for realtors, sales forces, and errand-runners
‣Import custom POIs such as restaurants and safety cameras from industry-standard CSV files
‣Proximity-alert feature warns of upcoming custom POIs, such as safety cameras and school zones
‣Touch-screen and alphanumeric remote control
‣View the map in either a three-dimensional perspective or top-down track-up or north-up view
‣3.8"-diagonal WQVGA color, automotive-grade, sunlight-readable TFT display; 3.3"W x 1.7"H; 454 x 240 pixels
‣Built-in photo sensor adjusts for light conditions automatically
---
Installation
The Garmin StrretPilot 2720 is powered using the external speaker with a 12-volt adapter cable or A/C power adapter (both included in purchase). The Garmin StreetPilot 2720 also offers WAAS-enabled support to ensure the highest degree of GPS accuracy.
---
Map Coverage

The Garmin StreetPilot 2720 includes a pre-programmed 2.5Gb hard drive that stores City Navigator detailed maps of the UK and Europe. Motorists can navigate to a specific address or access an industry-leading database of more than five million points of interes - including lodging, restaurants, gas stations, and local attractions. The intuitive, menu-driven touchscreen ensures that navigating the unit is as easy as navigating the road.
---

Garmin StreetPilot 2720 Accessories
Looking for accessories and spares for the Garmin StreetPilot 2720 view them all here. All parts are genuine Garmin product and specifically designed for use with the StreetPilot 2720 sat nav.
---
Garmin StreetPilot 2720 Technical Specification
‣Technology: GPS
‣Installation: Plug & Play
‣Power: 12 volt, cigarette lighter
‣Dimensions: Width - 143mm, Depth - 50mm, Height - 80mm
‣Guarantee: 1-year
‣Garmin StreetPilot 2720 manual

Manual requires Adobe Acrobat Reader
Download a free copy here
This product is a sophisticated electronic device which requires that you read, understand, and act upon the information given in the instruction manual (usually available via the above 'manual' link). You will need internet access and, in accordance with the manufacturers' recommendations, regularly seek out and accept all firmware or software updates offered by the manufacturer. All GPS devices need to 'see' the satellites in the sky. Therefore you will need to know that your vehicle does not have glass that will block or impede the GPS signal.
---
Why buy from us?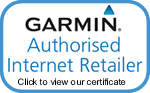 We are official Authorised Internet Retailers for Garmin. We sell genuine Garmin products, accessories and maps. We purchase from assigned Garmin UK distributors. We do not buy on the grey market and we do not sell counterfeit products. You can rest assured that by purchasing from ActiveGPS you will receive the full support of Garmin.
Page updated: 18th October 2017