Like its predecessor - the Garmin StreetPilot 2620 - this unit features a high-resolution color touchscreen with voice prompted turn-by-turn navigation and a powerful microprocessor for fast route calculation and map redraw. The system includes a unique wireless infrared remote control, which allows easy operation of the unit from a distance. The Garmin StreetPilot 2620 also offers WAAS-enabled support to ensure the highest degree of GPS accuracy.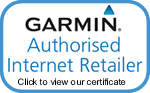 The Garmin StreetPilot 2620 is a plug-and-play portable automotive GPS navigator that features MapSource City Navigator pre-loaded, detailed maps - right out of the box. This means no unlocking or uploading map data to your unit!
The Garmin StreetPilot 2620 offers a number of new and exclusive software upgrades.
---
Features
‣Multiple Destinations
Do you want to find the most efficient route for deliveries or sales calls? Users can enter a series of destinations, and the Garmin StreetPilot 2620 will automatically sort them to provide an efficient route.
‣Road Segment and Area Avoidance
Would you like to avoid traffic tie-ups or roadwork? Users can specify areas and road segments to avoid when calculating routes.
‣Find Nearest on Route Are you running on empty?
This time-saving feature allows users to limit searches for gas stations, restaurants, etc, to upcoming points near a route.
‣Adjustable Road Class Preference How about taking the road less traveled? Users can adjust preferences for major, medium, and minor road categories
---
Installation
The Garmin StrretPilot 2620 is powered using the external speaker with 12-24 volt adapter cable or A/C power adapter (both included in purchase). The Garmin StreetPilot 2620 also offers WAAS-enabled support to ensure the highest degree of GPS accuracy.
---
Map Coverage

The unit includes a pre-programmed 2.5Gb hard drive that stores City Navigator detailed maps of the UK and Europe. Motorists can navigate to a specific address or access an industry-leading database of more than five million points of interes - including lodging, restaurants, gas stations, and local attractions. The intuitive, menu-driven touchscreen ensures that navigating the unit is as easy as navigating the road.
---

Garmin StreetPilot 2620 Accessories
Looking for accessories and spares for the Garmin StreetPilot 2620 view them all here. All parts are genuine Garmin product and specifically designed for use with the StreetPilot 2620 sat nav.
---
Garmin StreetPilot 2620 Technical Specification
‣Technology: GPS
‣Installation: Plug & Play
‣Power: 12 volt, cigarette lighter.
‣Dimensions: Width - 143mm, Depth - 50mm, Height - 80mm
‣Guarantee: 1-year
‣Garmin StreetPilot 2620 manual

Manual requires Adobe Acrobat Reader
Download a free copy here
This product is a sophisticated electronic device which requires that you read, understand, and act upon the information given in the instruction manual (usually available via the above 'manual' link). You will need internet access and, in accordance with the manufacturers' recommendations, regularly seek out and accept all firmware or software updates offered by the manufacturer. All GPS devices need to 'see' the satellites in the sky. Therefore you will need to know that your vehicle does not have glass that will block or impede the GPS signal.
---
Why buy from us?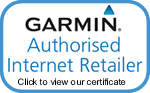 We are official Authorised Internet Retailers for Garmin. We sell genuine Garmin products, accessories and maps. We purchase from assigned Garmin UK distributors. We do not buy on the grey market and we do not sell counterfeit products. You can rest assured that by purchasing from ActiveGPS you will receive the full support of Garmin.
Page updated: 18th October 2017