Drive, hike, sail or ride. With the rugged, waterproof and multi-purpose Garmin nuvi 550 sat-nav, you can do it all. Garmin nuvi 550 is geared for adventure and ideal for those who want to go out and explore the great outdoors in every way they can. With a built-in compass and integrated Wherigo and Geocaching player, this sat-nav goes beyond navigation to bring the fun of the many family treasure hunts and adventures available online. With detailed European street maps and topographic shaded contours, this easy-to-use sat-nav is the perfect companion for navigating your active lifestyle.
Garmin nuvi 550 has been discontinued.
Accessories are still available for your nuvi 550 click here and to view maps click here.
Released in 2017, the replacement and equalivent model to the nuvi 550 is the Garmin GPSMAP 276Cx.
For the latest range of marine devices click here.
Multi-mode for multi-purpose navigation
Four bespoke user modes bring customised features for driving, boating, walking and cycling. This flexible navigator combines the advanced navigation and large colour display of Garmins in-car sat-navs with the rugged resilience of our outdoor GPS handhelds. Slim and streamlined, it fits neatly into your pocket, bag or backpack, with a removable, rechargeable lithium-ion battery that packs in eight hours of power. Optional mounts for each mode of transport make it an even better fit. Garmin nuvi 550 comes equipped with the latest technology from Garmin including sophisticated NAVTEQ mapping data and waterproof card slot to load different types of mapping such as TOPO for outdoor navigation and BlueChart g2 cartography for marine use.
Driving
Garmin nuvi 550 makes driving safe, simple and stress-free. Its built-in, unique driver safety system contains details on hundreds of fixed, mobile and temporary safety cameras, variable limit and red light speed cameras across Europe. When you approach a camera, it sounds an alert and shows an overspeed warning and the speed limit to help you travel responsibly. The nuvi welcome screen greets you with two simple questions: "Where To?" and "View Maps." Just tap the colour touchscreen to look up addresses and services and for voice-prompted, turn-by-turn directions to your destination. Add optional traffic services for live traffic alerts which use data from real cameras located every two miles along every major route.
Garmin nuMaps Guarantee - simply register your new Garmin nuvi 550 within 90 days of first using your sat-nav to see if a free map update is available. See map coverage below for more details.
Boating
When loaded with optional BlueChart g2 marine cartography, the waterproof Garmin nuvi 550 provides detailed chart-specific information, spot soundings, tides and currents, wrecks, port plans, restricted areas and more. The mapping and memory card slot is located within the waterproof battery compartment to avoid water damage. Just select the boating mode and pair with optional marine mount to take your adventures to the water. Garmin nuvi 550 is ideal for the occasional boating enthusiast who wants one navigational device for foot, car, bike or boat.
Walking and hiking
Garmin nuvi 550 takes walking and outdoor pursuits in its stride, with shaded, contoured maps and sunlight-readable, waterproof touchscreen. Select the walking mode to activate the built-in compass page, journey track log and integrated Wherigo / geocaching player. Or plug in optional topographic mapping for routing on road, track and path, with detailed contours, geographic points and shaded terrain.
Scootering and biking
Garmin nuvi 550 fits comfortably on your scooter or cycle for GPS navigation on two wheels. An optional scooter mount provides a secure fixing to cushion against vibration from your travelled terrain. The user interface is simple to control on the move and, with voice-prompted directions via Bluetooth, you can enjoy safe, clear directions on the go. Its rugged UVA/B and fuel-resistant design make it a trustworthy companion, while the waterproof casing braves all weather to give turn-by-turn directions for the most direct route in the quickest time. Just select the bicycling mode and you're away.
Navigation is just the beginning. Garmin nuvi 550 includes many travel tools, including a world travel clock with time zones, currency and measurement converter, calculator and more. Show off photos of your all-terrain excursions with the integrated picture viewer and discover Garmin Extras to get even more mileage from your Garmin nuvi 550. You will find free downloads including custom points of interest and brand new vehicle icons from the Garmin Garage. Available third-party travel guides include The Good Pub Guide 2008 and Falk Marco Polo Travel Guide for directions to thousands of recommended places to drink, eat and visit.
Cyclops Speed Camera Alerts

The Garmin nuvi 550, like all Garmin sat nav's, gets its speed camera data from the Cyclops speed camera database. The database provides advanced alerts to fixed, average speed, mobile, variable, temporary roadwork, red light and red light speed cameras. As you approach a camera, your device sounds an alert. Subscription charges apply. Click here to read more about the Cyclops speed trap database.
---
Garmin nuvi 550 Features
‣3.5-inch touchscreen display, sleek design that fits easily in your pocket
‣Street-level mapping for the UK, Ireland and Western Europe (22 countries) with 90 day nuMaps Guarantee
‣Turn-by-turn guidance with voice prompts
‣Multipurpose GPS for use in-car, walking and sailing
‣Four user modes - driving, boating, walking and cycling
‣3D map view display
‣Built-in DEM basemap (Digital Elevation Model) with shaded landscape contours
‣Compass page, support for grids and datum
‣Picture viewer (JPG format)
‣Auto re-route (fast off-route and detour recalculation)
‣Choice of route setup (faster time, shorter distance, off road)
‣Route avoidance (avoid highways, tolls etc.)
‣Custom POIs (ability to add additional points of interest)
‣Configurable vehicle icons (select car-shaped icons for map navigation)
‣World travel clock, currency and measurement converter, calculator
‣microSD card slot for optional mapping and data storage
‣Compatible with Garmin Topographic and Marine mapping
‣Waterproof IPX7
‣Rechargeable Li-ion battery (up to 8 hours)
‣Garmin Lock (anti-theft feature)
‣Built-in Cyclops speed camera database (includes fixed camera locations and mobile hot-spots)
‣1 Year manufacturers guarantee
---
Installation
The Garmin nuvi 550 has been designed to be plug and play, and as such can be transferred from vehicle to vehicle with ease. The Garmin nuvi 550 is powered with the 12-volt vehicle power adaptor and attaches to your vehicles windscreen via the Garmin nuvi 550 suction cup bracket. Alternatively with the dashboard disk you can mount the suction cup bracket on your dashboard instead, all three accessories are supplied with the Garmin nuvi 550.
Map Coverage

The Garmin nuvi 550 is preloaded with City Navigator NT for the UK, Ireland and Western Europe (22 countries) provided by NAVTEQ. NAVTEQ maps provide high quality detailed street level maps, which in addition to street information include features such as route calculation, Points of Interest (POI), Estimated Time of Arrival, and more.
Further Garmin nuvi 550 maps are available SD card which insert directly into the Garmin nuvi 550. Available Garmin nuvi 550 maps include North America, Australia and New Zealand, Middle East and Southeast Asia. Garmin nuvi 550 maps.
---
What's in the box? (when purchased from ActiveGPS.co.uk)
‣Garmin nuvi 550
‣12 volt Vehicle Power Cable
‣Vehicle Suction Cup Mount
‣Lithium-ion battery
‣Dashboard Disc
‣Quick Start Manual
---

Garmin nuvi 550 Accessories
Looking for accessories to use with the Garmin nuvi 550 handheld device? We sell a vast selection of genuine parts and spares including nuvi 550 carrying case, suction cup mount, vehicle power charger and replacement battery. View accessory page here.
Garmin nuvi 550 Maps
Optional Garmin maps for Garmin nuvi 550 are supplied on SD/microSD Card, these include; street-level road maps - perfect for cycling of using your nuvi 550 in a car, 1:50k and 1:25k Ordnance Survey maps - ideal for hiking and walking the countryside of Great Britain and marine BlueCharts - ideal if you want to navigate the waters around the UK, Europe or further afield.
Learn more about the optional range of maps that you can add to the nuvi 550 here.
---
Garmin nuvi 550 Questions and Answers
Question: I'm looking for a motorcycle hard wire for a garmin nuvi 550, do you stock it and how much?
Answer: The hard wire power lead you require was discontinued by Garmin several years, we sold out a long while ago. Current accessories for the Garmin nuvi 550 can be viewed here.
Do you have a question about the Garmin nuvi 550? Submit your question via our contact page.
---
Garmin nuvi 550 Technical Specification
‣Technology: GPS
‣Display: 3.5-inch WQVGA colour TFT with white backlight
‣Power: 12 volt, cigarette lighter
‣Waypoints: 1000
‣Routes: 10
‣Built-in memory: Internal solid state
‣Electronic compass: Yes
‣Data cards: microSD card
‣Battery: User replaceable, rechargeable lithium-ion up to 8 hours (depending on use)
‣Installation: Plug and play
‣Dimensions: Width - 107mm, Height - 85mm, Depth - 23mm
‣Weight: 215g
‣Guarantee: 1-year
‣Garmin nuvi 550 manual

Manual requires Adobe Acrobat Reader
Download a free copy here
This product is a sophisticated electronic device which requires that you read, understand, and act upon the information given in the instruction manual (usually available via the above 'manual' link). You will need internet access and, in accordance with the manufacturers' recommendations, regularly seek out and accept all firmware or software updates offered by the manufacturer. All GPS devices need to 'see' the satellites in the sky. Therefore you will need to know that your vehicle does not have glass that will block or impede the GPS signal.
---
Why buy from us?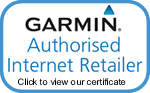 We are official Authorised Internet Retailers for Garmin. We sell genuine Garmin products, accessories and maps. We purchase from assigned Garmin UK distributors. We do not buy on the grey market and we do not sell counterfeit products. You can rest assured that by purchasing from ActiveGPS you will receive the full support of Garmin.
Page updated: 18th October 2017