Garmin nuLink 2340 is equipped with 3D traffic, Garmin nuLink 2340 provides a multi-dimensional traffic solution. With real-time online content including Google Local Search, and more with Garmin nuLink services¹, it's got everything you need while on the go.
Garmin nuLink 2340 includes street-level road maps for the UK and Western Europe on a 4.3-inch touchscreen display and also features Bluetooth wireless technology enables hands-free calls with compatible mobile phones.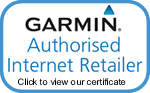 An ultra-thin, pocket design, affordable and simple-to-use sat-nav that enables you to talk on your phone, handsfree. The Garmin nuLink 2340 comes with preloaded maps for the UK and Western Europe and has ecoRoute to calculate a fuel-efficient route. It is compatible with the optional CityXplorer download to get you around on foot or public transport, and you can even add City Guides to make the most of your time in town.
Experience Multi-dimensional Traffic
Garmin's 3D traffic is a multi-dimensional feed of the most accurate data collected from 80 million expert sources. With historic, real-time and PhotoLive traffic data, Garmin 3D traffic ensures you have accurate information at any time of the day. It includes a free 30 day PhotoLive trial giving you live feeds from traffic cameras along your route (where available) so you can see for yourself whether there are any hold-ups.
Stay Connected with Garmin nuLink Services
The Garmin nuLink 2340 comes with a year's free subscription to nuLink live services which include 3D Traffic, Google Local Search, weather reports, Speedwatch red-light and safety camera alerts and Dynamic parking which tells you the latest prices and whether there are spaces. There are many other services available and even more via the nuLink store (on the device) such as Phone Book, fuel prices, flight status and PhotoLive traffic cameras.
Experience nüRoute Technology with trafficTrends and myTrends
nüRoute myTrends learns your driving habits to predict where you're going so you don't even need to type it in a route. This is ideal for warning you of traffic along your route. With trafficTrends, the Garmin nuLink 2340 takes information from other drivers to better estimate your time of arrival based on time of day and day of week.
See exactly where you're going
Garmin's PhotoReal Junction View shows actual junctions that have been digitised² to display incredible detail, even down to trees and pylons. The Garmin nuLink 2340 Lane Assist shows the correct lane choice for upcoming junctions and motorway exits. The Garmin nuLink 2340 split screen design allows you to see the junction and your position in relation to it, right up to the junction itself.
Hands-free phone calls
Bluetooth® wireless technology enables hands-free calls with compatible mobile phones.
Go Beyond Navigation
More features go beyond navigation. For example, Garmin tracker allows you to invite a friend or family member to monitor your progress, so they can see that you safely arrived home. The ecoRoute fuel-saver feature helps you save money and fuel and reduce your carbon footprint. There is also the option to add cityXplorer™ mapping to include directions on foot as well as public transport (dependent on the city). You can even customise the main menu to show the icons you want and use the most.
¹One-year data subscription to nuLink services included with purchase of Garmin nuLink 2340 while offer lasts. nuLink services only available in select coverage areas.
²Not available at all junctions in all areas.
---
Garmin nuLink 2340 Features
‣4.3-inch touchscreen display, sleek, ultra-slim design that fits easily in your pocket
‣Preloaded street-level mapping for the UK, Ireland and Western Europe (22 countries) with 90 day nuMaps Guarantee
‣Turn-by-turn guidance with voice prompts
‣8-digit postcode - navigate using full UK postcode search
‣Voice-activated navigation
‣Auto re-route (fast off-route and detour recalculation)
‣Choice of route setup (faster time, shorter distance, off road)
‣Route avoidance (avoid motorways, tolls etc.)
‣Bluetooth wireless technology
‣Trip planner
‣ecoRoute
‣nüLink! Live services, including Google Local Search, weather forecasts, fuel prices and much more
‣Customisable main menu
‣nuRoute technology with trafficTrends and myTrends
‣Garmin's exclusive PhotoReal Junction View and Lane Assist
‣PhotoLive traffic cameras to see congestion up ahead (free 30 day trial followed by optional monthly subscription)
‣World travel clock, currency and measurement converter, calculator
‣Custom POIs (ability to add additional points of interest)
‣Public Transport and Pedestrian mode with optional cityXplorer download
‣Rechargeable Li-ion battery (up to 2.5 hours)
‣Speedwatch safety cameras
‣Garmin Lock (anti-theft feature)
‣1 Year manufacturers guarantee
---
Installation
The Garmin nuLink 2340 has been designed to be plug and play, and as such can be transferred from vehicle to vehicle with ease. The Garmin nuLink 2340 is powered via the supplied vehicle power cable. The Garmin nuLink 2340 then attaches to your vehicles windscreen via the Garmin nuLink 2340 suction cup mount. Alternatively using the supplied dashboard disk you can mount the suction cup mount on top of your dashboard instead.
Map Coverage

Garmin nuLink 2340 comes preloaded with detailed City Navigator street maps for UK, Ireland and Western Europe (22 countries) with 90 day nuMaps Guarantee provided from map supplier NAVTEQ. Rolling screen transition, accelerated map redraw and routing capabilities make screen zooming even smoother and ensure the navigation always matches your pace.
What's in the box? (when purchased from ActiveGPS.co.uk)
‣Garmin nuLink 2340
‣Free 1-year data subscription to Garmin nüLink!™ services in Europe
‣12 volt Vehicle Power Cable
‣Vehicle Suction Cup Mount
‣micro-USB cable
‣Quick Start Manual
---
Garmin nuLink 2390 Technical Specification
‣Technology: GPS
‣Display: 4.3-inch WQVGA colour TFT with white backlight
‣Power: 12 volt, cigarette lighter
‣Battery: Rechargeable lithium-ion up to 2.5 hours (depending on use)
‣Installation: Plug and play
‣Dimensions: Width - 122mm, Height - 75mm, Depth - 16mm
‣Weight: 145g
‣Guarantee: 1-year
‣Garmin nuLink 2340 manual

Manual requires Adobe Acrobat Reader
Download a free copy here
This product is a sophisticated electronic device which requires that you read, understand, and act upon the information given in the instruction manual (usually available via the above 'manual' link). You will need internet access and, in accordance with the manufacturers' recommendations, regularly seek out and accept all firmware or software updates offered by the manufacturer. All GPS devices need to 'see' the satellites in the sky. Therefore you will need to know that your vehicle does not have glass that will block or impede the GPS signal.
---
Why buy from us?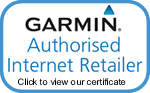 We are official Authorised Internet Retailers for Garmin. We sell genuine Garmin products, accessories and maps. We purchase from assigned Garmin UK distributors. We do not buy on the grey market and we do not sell counterfeit products. You can rest assured that by purchasing from ActiveGPS you will receive the full support of Garmin.
Page updated: 25th January 2019