The GarminiQue M4 satnav system uses Garmin's familiar StreetPilot interface that greets users with two recognizable options: "Where to?" and "View map." The Garmin iQue M4 GPS system also includes the same features found in Garmin's other high-end satellite navigation systems including intuitive navigation with automatic route calculation; voice-prompted, turn-by-turn directions; 2D or 3D map view; and automatic rerouting if a motorist strays off course.
Garmin iQue M4 has been discontinued.
For the latest range of handheld and outdoor GPS click here.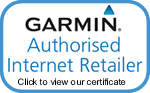 The Garmin iQue M4 satellite navigation system is touchscreen making it easy to enter information about the destination-such as the name or street address-the driver will be given detailed, turn-by-turn, voice-prompted directions. Destinations may also be selected through the points of interest (POIs) database, which includes nearly six million POIs such as restaurants, fuel, banks, and hotels. This street-smart navigator can remind you of an appointment, show the location on the Map Page, and route you right to the front door. The Garmin pocket PC iQue M4's pre-loaded maps include custom POIs such as school zones and speed cameras.
The Garmin iQue M4 global positioning system also includes built-in Windows Media Player that lets users browse music by artist, album, song, and genre. MP3s can be loaded onto an SD card or internal memory for music on the go.
The Garmin M4 pocket PC boasts a new SiRF high-sensitivity receiver for improved GPS performance, 64 megabytes of RAM, and SD/SDIO expansion slot for memory, wireless networking, and more. The iQue M4 Pocket PC also features Microsoft's Windows Mobile 2003 Second Edition operating system, which includes Pocket Office applications and supports portrait/landscape screen orientation for easy viewing of multimedia content.
Handheld/Outdoor FAQs
Do you have a question about the Garmin iQue M4 or other handheld GPS related question that's not been answered on this webpage? Please see our handheld and Outdoor GPS FAQs page for questions from other customers.Plus if the answer to your question isn't featured, use the online form to ask us for the answer. Alternatively please telephone 01733 777623 Monday to Friday (9:30am-5:00pm) to speak to one of our sales team.
---
Garmin iQue M4 Features
‣Integrated GPS receiver by SiRF
‣SD/MMC memory card expansion slot for use with other MapSource street mapping products
‣SDIO compatible for optional WiFi, Bluetooth, camera or other peripherals
‣Includes Microsoft Pocket Outlook®, Internet Explorer, Word and Excel; Windows Media® Player, MSN® Messenger Service, Calculator and ActiveSync®
‣Integrated flip-up GPS patch antenna can be positioned for optimal reception
‣Internal 1250 mAh lithium-polymer rechargeable battery; Enhanced battery life delivering 5-7 hours of continuous PDA/GPS use
‣Internal memory: 64MB RAM, 32MB ROM (safe storage and detailed maps available on additional memory)
‣Garmin satnav built-in speaker for voice-guidance commands, MP3 player, and message playback
‣Headphone and external GPS antenna connections
‣Interfaces: USB and infrared (IrDA)
‣Easily route to Outlook contacts and Calendar appointments
‣Search postal codes for European countries
‣Save routes and track logs
‣Enter a series of destinations, and the unit will automatically sort them to provide an efficient route
‣Specify areas and road segments to avoid when calculating routes
‣Detour around construction and traffic on demand
---
Installation
The Garmin GPS system iQue M4 includes auto cradle to install the Pocket PC into a vehicle.
Map Coverage
The Garmin iQue M4 is preloaded with European maps.
Garmin iQue M4 Technical Specification
‣Technology: GPS
‣Installation: Handheld
‣Power: Internal Battery
‣Dimensions: Width - 72mm, Depth - 20mm, Height - 128mm
‣Guarantee: 1-year
---
Why buy from us?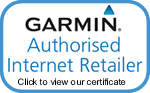 We are official Authorised Internet Retailers for Garmin. We sell genuine Garmin products, accessories and maps. We purchase from assigned Garmin UK distributors. We do not buy on the grey market and we do not sell counterfeit products. You can rest assured that by purchasing from ActiveGPS you will receive the full support of Garmin.
Page updated: 21st December 2016