The Garmin iQue 3000 is a newly styled, entry-level Palm Powered personal digital assistant (PDA) that offers fully integrated Global Positioning System (GPS) technology. The Garmin iQue 3000 inlcudes maps of Europe. The Garmin iQue 3000 welcomes users with Garmin's easy-to-use "where to" or "view maps" interface.
Garmin iQue 3000 has been discontinued.
For the latest range of handheld and outdoor GPS click here.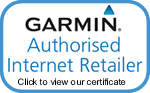 The Garmin iQue 3000 welcomes users with Garmin's easy-to-use "where to" or "view maps" interface. After entering a destination, the iQue 3000 will choose the fastest or shortest route to navigate the user from door to door. The unit automatically recalculates a route if the driver misses his or her turn and notifies the driver of the estimated time of arrival.
The compact Garmin iQue 3000 features Garmin's Que technology that offers complete integration between organization and GPS navigation functions. Que technology connects the Palm Address Book and Date Book to the GPS electronic map so that users can navigate directly to a specific address from the user's contact database or date book.
Users may download detailed street information onto their Garmin iQue 3000 from the installation DVD, which is a standard accessory. This industry-leading navigation database allows the user to look up nearly six million points of interest, such as restaurants, hotels, transportation hubs, and banks. Map data is provided by NAVTEQ a world leader in premium-quality mapping.
Handheld/Outdoor FAQs
Do you have a question about the Garmin iQue 3000 or other handheld GPS related question that's not been answered on this webpage? Please see our handheld and Outdoor GPS FAQs page for questions from other customers.Plus if the answer to your question isn't featured, use the online form to ask us for the answer. Alternatively please telephone 01733 777623 Monday to Friday (9:30am-5:00pm) to speak to one of our sales team.
---
Garmin iQue 3000 Features
‣Display information: 320 x 320-pixel
‣Colour TFT touchscreen display
‣Dedicated Graffiti writing area; usable screen area of 3.0" (diagonal)
‣Battery: Rechargeable lithium-ion battery
‣3D & 2D map views
‣Internal 1250 mAh lithium-polymer rechargeable battery; Enhanced battery life delivering 5-7 hours of continuous PDA/GPS use
‣MP3 playback
‣microSD card expansion slot
‣1 Year manufacturers guarantee
---
Installation
The Garmin GPS system iQue 3000 includes auto cradle to install the Pocket PC into a vehicle.
Coverage
The Garmin iQue 3000 is preloaded with European maps.
Garmin iQue M4 Technical Specification
‣Technology: GPS
‣Installation: Handheld
‣Power: Internal Battery
‣Dimensions: Width - 72mm, Depth - 20mm, Height - 128mm
‣Guarantee: 1-year
---
Why buy from us?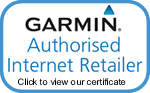 We are official Authorised Internet Retailers for Garmin. We sell genuine Garmin products, accessories and maps. We purchase from assigned Garmin UK distributors. We do not buy on the grey market and we do not sell counterfeit products. You can rest assured that by purchasing from ActiveGPS you will receive the full support of Garmin.
Page updated: 21st December 2016