The latest chartplotter from Garmin are the GPSMAP 557 and 557xs which both feature a 5-inch colour display. They are wifi, bluetooth and Fusion link enabled. The 557/557xs both come preloaded with BlueChart g2 UK and Ireland marine charts and a worldwide basemap. The difference between the 557 and 557xs is the xs version comes with a sounder for defining depth contours, finding fish and locating objects underwater. You will need to purchase a transducer to enable the sounder to operate.
The 557 benefits from a GLONASS GPS receiver for better GPS positioning updating 10 times a second to find fishing spots. There is a fast processor for quick panning and zooming and the screen is viewable in bright, direct sunlight.
DELIVERY: Please note: These items weigh in excess of 2Kg and may attract a higher delivery charge. Royal Mail 1pm, 9am, Saturday delivery and International Signed For may not be available with this product. At our option we may use a courier and delivery could take two days or more. If you require urgent delivery please e-mail before placing your order.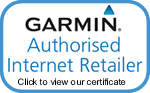 The GPSMAP 557 is a compact chartplotter for use on the water. The 557 features high resolution, super-bright 5-inch VGA colour display. The 557 is waterproof to IPX7 standards and the screen has also been enhanced to speed up the map drawing and panning features. The 557 is also wifi and bluetooth enabled. It is also Fusion Link capable enabling you to connect to other devices with ease.
The GPSMAP 557 comes preloaded with marine charts for the UK and Ireland. There is also a basemap with satellite images. To make navigation quick and simple there is a high-sensitivity GPS receiver. In addition there is a GLONASS GPS receiver which works at 10Hz and updates position 10 times a second making it ideal when navigating to find a hot fishing spot quickly. You can also quickly mark and navigate to 5,000 waypoints or 100 routes.
The GPSMAP 557xs version includes a sounder. The sounder enables the chartplotter to define the depth of the water, define where fish are and find objects underwater up to 610 metres (2000 feet) below the waters surface. However, for the sounder to function you'll need to separately buy a transducer. There are three types of transducers available. The specific one to buy depends on type of vessel/boat/rib and where or how you'd like to mount the transducer. The three are:
‣Transom Mount - for outboard powered boats and fits to the transom of the boat.
‣In-hull mount - for non-outboard powered boats for only single skin fibre glass boats.
‣Through-hull mount - for non-outboard powered boats. Ideal for wooden, steel boats, etc.
To find the perfect transducer to partner your GPSMAP 557xs and your boat please complete our online form here. Pictured below, transom mounted transducer, thru-hull transducer and in-hull transducer.
The 557xs also has an alarm for fish size, shallow and deep water.
The GPSMAP 557 has an SD card slot so you can add additional mapping capabilities to the system. These extra features include 3D Mariners Eye for 3D information above the waterline and 3D Fish Eye for 3D information below the waterline. These g2 vision maps also feature high-resolution satellite images for help when navigating unfamiliar waters. There is also an Auto Guidance feature that will navigate you along you chosen route avoiding shallow water, buoys and other obstacles.
Both the GPSMAP 557 and 557XS are NMEA 2000-compatible making it simple to connect to sensors, instruments and future marine products providing information such as engine, fuel, wind, VHF, autopilot and other data monitoring.
Please note: The Garmin GPSMAP 557 is equivalent to the GPSMAP 527, the difference being that the GPSMAP 527 is preloaded with North American BlueChart. The GPSMAP 557 is preloaded with UK and Ireland BlueCharts and is the model that is destined for the UK/European market.
---
Garmin GPSMAP 557 Features
‣5-inch VGA display
‣Preloaded worldwide basemap
‣Preloaded Garmin BlueChart g2 UK andIreland
‣Wireless communication via WiFi and Bluetooth
‣Media integration with Fusion - control your Fusion marine stereo via the 557
‣Fast processor for rapid zooming, panning and updating the image
‣NMEA 0183 and NMEA 2000
‣Excellent visibility in bright sunlight
‣High-sensitivity 10 Hz GPS/GLONASS receiver
‣Waterproof to IPX7
‣2 microSD card slots allows upgrade to BlueChart g2 HD / g2 Vision HD cartography and user data
‣1 Year manufacturers guarantee
Sounder functions - GPSMAP 557xs model ONLY
‣Supports dual frequency (50/200khz) or dual beam (77/200khz)
‣Built in HD-ID sonar technology which also includes built-in Spread-Spectrum CHIRP sonar capability
‣Sounder output: up to 1,000 W (RMS), 8,000 W (PTP), with 1kW transducer
‣Depth: 600m (with dual frequency, 1kW transducer
‣UltraScroll
‣See-Thru technology
‣Advanced traget searching with Chirp technology
---
Chart Coverage
Garmin GPSMAP 557 and 557xs marine chartplotters are preloaded with Garmin BlueChart g2 UK and Ireland mapping (pictured right).
The chart features detailed marine cartography coverage of the British Isles in their entirety, including the Thames Estuary, Caledonian Canal, Outer Hebrides, Shetland and Orkney Islands, Isle of Wight, Isle of Man, and the Irish Sea.
Coverage across the English Channel from Douarnenez, France to Emden, Germany, including the Channel Islands, and the Seine River to Rouen, France Detailed coverage includes Antwerp, Belgium, Rotterdam, Netherlands, Amsterdam, Netherlands, and the Ijsselmeer in full. For more information about Garmin marine Bluecharts click here.
In future years you can purchase a marine map update SD card to update the preloaded UK and Ireland charts on the Garmin GPSMAP 557/557xs.
What's in the box? (when purchased from ActiveGPS.co.uk)
‣Garmin GPSMAP 557/557xs
‣Preloaded Garmin BlueChart g2 UK and Ireland
‣Tilt/swivel mount
‣Protective front cover
‣Power/data cable
‣Documentation
---

Garmin GPSMAP 557 Accessories
Looking for Garmin GPSMAP 557 or GPSMAP 557xs accessories? Accessories available to purchase include protective cover, flush mount kit and second mounting station. To view them all click here. If you'd like to add a transducer to your GPSMAP 557xs please see this page.
Garmin GPSMAP 557 Charts
Add Garmin BlueChart g2 HD and g2 Vision HD marine charts to your Garmin GPSMAP 557/556s, view the different charts you can buy from ActiveGPS here.
---
Garmin GPSMAP 557 Technical Specification
‣Technology: GPS
‣Display: 5-inch VGA display (480 x 640 pixels)
‣Battery: None
‣Waypoints/favourites/locations: 5,000
‣Routes: 100
‣Track Log: 50,000 points, 50 saved tracks
‣Basemap: Worldwide
‣NMEA input/output: NMEA 0183 compatible and NMEA 2000 certified
‣Built-in memory: None (cannot load maps to internal memory)
‣microSD card slot: Yes
‣Garmin radar compatible: No
‣Garmin sonar compatible: GPSMAP 557xs only
‣Waterproof: Yes, IPX7
‣Dimensions: Width - 150mm, Height - 155mm, Depth - 61mm
‣Weight: 0.8kg
‣Guarantee: 1-year
‣Garmin GPSMAP 557manual

Manual requires Adobe Acrobat Reader
Download a free copy here
This product is a sophisticated electronic device which requires that you read, understand, and act upon the information given in the instruction manual (usually available via the above 'manual' link). You will need internet access and, in accordance with the manufacturers' recommendations, regularly seek out and accept all firmware or software updates offered by the manufacturer. All GPS devices need to 'see' the satellites in the sky. Therefore you will need to know that your vehicle does not have glass that will block or impede the GPS signal.
---
Why buy from us?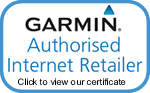 We are official Authorised Internet Retailers for Garmin. We sell genuine Garmin products, accessories and maps. We purchase from assigned Garmin UK distributors. We do not buy on the grey market and we do not sell counterfeit products. You can rest assured that by purchasing from ActiveGPS you will receive the full support of Garmin.
Page updated: 4th January 2018