The Garmin Forerunner 301 training partner continuously monitors your heart rate, speed, distance, pace and calories burned so you can train smarter, more effectively. The Garmin Forerunner 301 combines the popular features of the Garmin Forerunner 201 with a proven heart rate monitor and Training Centre software to create a highly integrated personal training system.
Garmin Forerunner 301 has been discontinued.
For the latest range of handheld and outdoor GPS click here.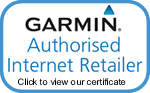 Whether you are a triathlete in training or just want to see tangible results, the Garmin Forerunner 301 global positioning system sets the pace with innovative features.
Included with the Garmin Forerunner 301 the Training Centre software helps you tailor workouts to meet specific goals and objectives. Create your own workouts or use workout templates included on the CD. Interactive analysis tools let you chart performance overlaid on a map.
Data acquired by the Garmin Forerunner 301 GPS may also be analyzed with MotionBased.com, a web-based application that has partnered with Garmin. MotionBasedT provides in-depth analysis of your workouts, online mapping and route sharing that will take your training to the next level. Endurance athletes may also use the Forerunner with TrainingPeaks.com, an easy-to-use web based training system designed to help athletes train for any event.
Handheld/Outdoor FAQs
Do you have a question about the Garmin Forerunner 301 or other handheld GPS related question that's not been answered on this webpage? Please see our handheld and Outdoor GPS FAQs page for questions from other customers.Plus if the answer to your question isn't featured, use the online form to ask us for the answer. Alternatively please telephone 01733 777623 Monday to Friday (9:30am-5:00pm) to speak to one of our sales team.
---
Garmin Forerunner 301 Features
‣Compact, lightweight and waterproof with an easy-to-read display on an ergonomic wristband
‣Embedded GPS sensor provides basic navigation capabilities to tell you how far, how fast, even how to get home
‣Digital coded heart rate monitor so you can see whether you are training too hard or not enough
‣Multi-sport capability lets you seamlessly transition between sports without resetting the unit, so you can use it for running, biking, and more
‣Easy to use - no calibration required. Just turn it on and go
‣Auto Pause pauses and resumes training timer based on a specified speed so you never have to start or stop the timer
‣Auto Lap records lap data when you reach a specified distance so you never have to punch the lap button
‣AutoLearnT feature learns user's heart rate zones, adjusting them as fitness levels improve
---
Installation
The Garmin Forerunner 301 includes Heart rate monitor, Training Center CD, Wrist strap, Expander strap, A/C charger, PC/USB interface cable and Quick start guide.
Garmin Forerunner 301 Technical Specification
‣Technology: GPS
‣Installation: Plug & Play
‣Power: PDA power supply
‣Dimensions: Width - 83.82mm, Depth - 22.86mm, Height - 43.18mm
‣Guarantee: 1-year
---
Why buy from us?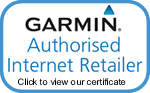 We are official Authorised Internet Retailers for Garmin. We sell genuine Garmin products, accessories and maps. We purchase from assigned Garmin UK distributors. We do not buy on the grey market and we do not sell counterfeit products. You can rest assured that by purchasing from ActiveGPS you will receive the full support of Garmin.
Page updated: 21st December 2016