Protect your Garmin eTrex Legend HCx handheld GPS from some of the scuffs and scrapes. Durable carrying case features clear vinyl lens and holes for operating buttons so you can use your GPS and view the display. Includes Velcro flap closure, belt clip and lanyard connection.
Want to protect and safely store your Garmin eTrex Legend HCx when you're not using it? Then you need to buy this genuine Garmin eTrex Legend HCx soft carrying case. More Details
Keep your Garmin eTrex Legend HCx safe, while within easy reach with this retractable lanyard. The retractable lanyard provides up to 28-inch (71cm) extension. Meaning you can easily view the eTrex's screen, while the lanyard is still attached to your person or other fixed point. More Details
Keep your Garmin eTrex Legend HCx in reach while on the move with belt clip. The Garmin eTrex Legend HCx fits securely into a mount that clips to your belt.
Garmin eTrex Legend HCx snaps securely into this handlebar mount, which fits up to a one-inch diameter bar. PLEASE NOTE: The kit includes a back cover (pictured left) but the cover is NOT for your Legend HCx. To use this mount you MUST have an adaptor plate… (which Garmin assume you already have).
Additional notes from Garmin UK
"This is the correct bike mount for all eTrex series units. The eTrex (Legend HCx) comes with an adapter clip which should be screwed to the battery cover of the eTrex. This then fits to the rail mount without using the battery cover which is included with the rail mount."
If you cannot find the adaptor clip that came with your eTrex, Garmin UK have indicated that they may be able to supply this part to you. You will need to contact them on 0808 238 0000.
Adjustable, fixed-mount automotive bracket. Convert your handheld GPS personal navigator into a hands-free mobile navigational tool. Mounts the Garmin eTrex Legend HCx securely to your vehicles windscreen and detaches in seconds. Adjusts for optimum viewing.
This mounting bracket has all the qualities you're looking for: lightweight, portable, adjustable. Bracket is jointed, allowing you to position your GPS out of the sun's glare. Comes with temporary and permanent adhesive disks that adhere the mount base to the dash.
Vehicle cigarette lighter adaptor for your Garmin eTrex Legend HCx navigation system. Ensures you always have enough power to guide you through your journey when using in-car.
Free up your hands to drive the boat, fish, or just enjoy your time on the water. This adjustable marine mount swivels and tilts for optimum viewing and has a locking mechanism to keep unit secure. Accepts optional external power adapter for quick connection to a DC power supply.
Need new maps, extra Points of Interest (POI), transfer waypoints, or the latest software updates? This spare USB cable connects your Garmin Edge Touring directly to the computer for updates, maps, etc. More Details
Take to the roads and trails with your Garmin GPS device, bike and this Garmin branded cyclists water bottle. Ready to provide you with the water or other drink you need for your outdoor cycling pursuits. Please note: The colour of the cyclists water bottle is now all black with Garmin logo in white. More Details
Never let your hot drink go cold quickly again with this Garmin branded thermal mug. Featuring an easy grip plastic handle, the Garmin mug has a lid, which can be removed completely for either easy filling or drinking. Please note: The colour of the thermal mug is now black with metal trim to base and top. More Details
Why buy from us?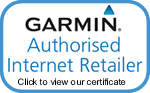 We are official Authorised Internet Retailers for Garmin. We sell genuine Garmin products, accessories and maps. We purchase from assigned Garmin UK distributors. We do not buy on the grey market and we do not sell counterfeit products. You can rest assured that by purchasing from ActiveGPS you will receive the full support of Garmin.
Page last updated: 11th June 2019