The Garmin DriveSmart 70LMT-D is a car satnav with European mapping and FREE Lifetime Digital Traffic. The satnav also includes dual orientation mode with a 7-inch screen.
Bluetooth phone calls are also possible as well as connectivity to a smartphone for weather forecasts and more. Digital Traffic is also included for FREE with the DriveLuxe 70LMT-D. Both of these features are voice activated.
A BC 30 Wireless Reversing Camera is also available separately.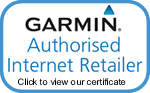 The Garmin DriveSmart 70LMT-D is a car satnav with FREE lifetime European maps and FREE lifetime digital traffic. The screen size is 7-inches and it features hands-free calling and it will display calls, texts and app alerts.
You can use this Garmin satnav in dual orientation and the device knows when it has been rotated and adjusts to display horizontally or vertically.
The Garmin Drive Smart is voice activated so you do not need to take your hands off the driving wheel. This Garmin uses Real Directions whereby it uses landmarks (buildings, traffic lights, etc.) to guide you by voice instructions. The Digital Traffic is also voice activated and works on Motorways, A Roads and more minor roads also. The Garmin Digital Traffic will also calculate expected delays and possible detours and also learn if you are on the fastest route.
Foursquare Points of Interest are also included offering millions of POI's. Additional POI's include speed camera and red light cameras. Up Ahead feature also suggests places to visit along your route without leaving the map view. Real-time information includes weather via a mobile app.
Active Lane Guidance with voice prompts at every exit or junction helps you navigate busy junctions. Brightly coloured arrows on screen also help to show you the way. Birds Eye Junction View provides an overhead view of junctions and PhotoReal Junction View also provides photos of junctions along your route (and surrounding landscape) so you can recognise where you are.
You will also be alerted to sharp curves, speed changes, railway crossings, animal crossings, school zones and if you drive the wrong way up a one way street you will receive notification on screen.
The battery life is upto 1 hour.
Fatigue warning suggests break times and possible rest areas along your route.
The Garmin DriveSmart is compatible with the BC 30 wireless backup camera (sold separately) which allows you to see behind your vehicle so you will not miss vehicles, pedestrians and other obstacles as they will be displayed right on Garmin's display (as you are reversing).
Another useful optional extra accessory is the Garmin BabyCam which you can install to view a baby in rear of car direct on the Garmin sat nav screen.
Garmin Express enables you to update maps and software. You can also transfer favourites and install custom voices.
---
Garmin DriveSmart 70LMT-D Features
‣7-inch dual orientation TFT touchscreen display with white backlight
‣FREE lifetime street-level here mapping for the UK, Ireland, Western and Eastern Europe
‣Free digital traffic information subscription free
‣Turn-by-turn directions with spoken street names
‣Lane Assist/Junction View - indicates the correct lane choice for upcoming turns and exits
‣Alerts to sharp curves, speed changes, railway crossings, animal crossings and school zones
‣Garmin Real Directions and PhotoReal junction
‣Bluetooth wireless technology for hands-free calling through your Garmin sat-nav
‣Smartphone connectivity for weather forecasts and more
‣Look up addresses and FourSquare points of interest
‣Displays your route, speed limit, current speed, time of arrival, name of current street and it can also display points of interest such as food, fuel and cash machines.
‣Speed camera and Red Light Camera locations database available as optional extra
‣BC 30 Reversing camera compatible (sold separately). BabyCam compatible (sold separately)
‣1 hour battery life
‣1 year manufacturers guarantee
---
Installation
The Garmin DriveSmart 70LMT-D includes everything you need to mount and install it in your car. Included when you purchase from ActiveGPS is a Vehicle Suction Cup Mount which is used to mount the satnav on the windscreen - simple, quick and easy.
The most popular place to locate the satnav is at the bottom, middle of the windscreen where you can see the satnav easiest. Plus the satnavs dash cam will have a good view of the road ahead.
Map Coverage

Garmin DriveSmart 70LMT-D is preloaded with City Navigator NT for the UK, Ireland, Western and Eastern Europe provided by here maps.
These maps can be updated FREE for the life of the product, when you register your DriveSmart with Garmin UK.
here maps provide high quality detailed street level maps, which in addition to street information include features such as route calculation, Points of Interest (POI), Estimated Time of Arrival, and more.
Further Garmin DriveSmart maps are available on SD card which insert directly into the Garmin DriveSmart. Available Garmin DriveSmart maps include North America, Australia and New Zealand, Middle East and Southeast Asia.
What's in the box? (when purchased from ActiveGPS.co.uk)
‣Garmin DriveSmart 70LMT-D
‣Lifetime maps and digital traffic (indicated by "LMT-D" after model number on the box)
‣Lifetime traffic antenna/vehicle power cable
‣Vehicle suction cup mount
‣USB cable
‣Quick start manual
---

Garmin DriveSmart 70LMT-D Accessories
Looking for accessories and spares for the Garmin DriveSmart 70LMT-D? Accessories available to purchase include a 7-inch carrying case, vehcile power charger, a weighted dashboard mount and a vehicle reversing camera. Along with these accessories, it's also possible to buy replacement parts such as suction cup mount and vehicle charger.
View all of the DriveSmart 70LMT-D accessories
---
Garmin DriveSmart 70LMT-D Maps
The Garmin DriveSmart 70LMT-D is preloaded with street-level maps for all of Europe. If however, you want to take the DriveSmart 70LMT-D further afield, we may have the map that you need. Garmin zumo maps available include: USA, Canada and Mexico, Australia and New Zealand, India, Morocco and Southern Africa.
View all of the DriveSmart 70LMT-D maps
---
Garmin DriveSmart 70LMT-D Technical Specification
‣Technology: GPS / Bluetooth
‣Display: 7-inch touchscreen (800 x 480 pixels)
‣Battery: rechargeable lithium-ion
‣Battery Life: up to 1 hour depending on usage and settings
‣Installation: Plug and Play
‣Power: 12 volt, Vehicle Power Cable.
‣Dimensions: Width - 189mm, Height - 111mm, Depth - 20mm
‣Weight: 306g
‣Guarantee: 1-year
‣Garmin DriveSmart 70LMT-D manual

Manual requires Adobe Acrobat Reader
Download a free copy here
This product is a sophisticated electronic device which requires that you read, understand, and act upon the information given in the instruction manual (usually available via the above 'manual' link). You will need internet access and, in accordance with the manufacturers' recommendations, regularly seek out and accept all firmware or software updates offered by the manufacturer. All GPS devices need to 'see' the satellites in the sky. Therefore you will need to know that your vehicle does not have glass that will block or impede the GPS signal.
---
Do you have a question about the Garmin DriveSmart 70LMT-D? Submit your question via our contact page.
---
Why buy from us?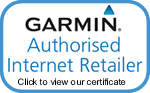 We are official Internet Retailers of Garmin products and we sell genuine Garmin accessories and maps. We purchase from the Garmin UK distributor. We do not buy on the grey market and we do not sell counterfeit products. You can rest assured that by purchasing from ActiveGPS you will receive the full support of Garmin.
Page updated: 18th October 2017