Garmin dezlCam LMT-D is a truck satellite navigation system and a dashboard camera (dash cam). Featuring a 6-inch touchscreen, lifetime maps for Full European coverage the dezlCam also includes free digital traffic information without subscription. You can also enter your trucks profile into this Garmin truck sat nav and it will route you along appropriate roads for your vehicles size, load type, weight limit, etc.
The dash cam will record in Full HD continuously capturing events in the road ahead. There is also a G-Sensor for automatic saving of video. Bluetooth connectivity also allows you to connect the satnav to a smartphone to make and receive handsfree calls using the dezlCams built-in speaker and microphone.
Garmin dezlCam LMT-D has been discontinued.
Accessories, spares and parts are still available for your dezlCam LMT-D as are street-level road maps.
The replacement model is the Garmin dezlCam 785LMT-D:
For the latest range of truck sat navs click here.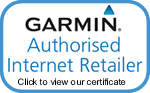 Garmin dezlCam LMT-D is a truck satnav and dash cam all-in-one. The 6 inch touchscreen on the dezl cam provides a large display for navigating plus you can instantly playback video recorded on the dezl dash cam.
Lifetime European maps and traffic are included with the dezlCam LMT-D. Simply enter your trucks dimensions, weight and type of load in to the dezl Cam LMT-D and you will be routed along appropriate roads for your truck. You can even swap trailer sizes at the touch of a button. Further information provided by the dezl cam is bridge heights, weight limits, sharp curves, steep gradients, high wind areas, grounding risks and road restrictions. The Digital Traffic service will tell you minutes of delay, possible detours and help to ensure you are driving along the fastest, shortest route for your journey.
On screen information includes the navigation screen, your speed, the speed limit for almost every major road, current street being travelled on and expected arrival time.
The dashboard camera provided with the dezlCam LMT-D will record in HD continuously capturing events as they happen in the road ahead helping you to prove who was at fault if you are involved in an incident. Video is recorded in a loop, overwriting old video when the SD card becomes full. You can save video to protect it from being overwritten by manually pressing a button or the built-in G-Sensor will save video automatically if an G-force is detected from an impact. Furthermore the dezl Cam has a built-in battery so you can detach the dashboard camera and use it as a dash cam to take photos using the Snap shot camera feature.
The trip planner allows you to plan your route before you travel. You can also enter multiple stops within the same journey as well as save multiple journeys.
There are 2 ways to get speed cameras on the Garmin dezlCam which are:
1. Download speed camera database directly from Garmin for £16.99 for a year (UK and Ireland) or £25.99 for a year (Europe). Updates are available every 2 weeks to download from a PC computer to your dezlCam.
2. Use a smartphone to get speed camera database. There is a one-off charge of £16.95 for life and the app streams speed camera locations database to your Garmin dezlCam.
Bluetooth will syncronise the Garmin nuviCam with your smartphone then you can use the speaker and microphone on your Garmin nuviCam to make and receive handsfree calls. Furthermore, when connected to your smartphone, you can use premium data services and get additional real-time information such as such the weather radar and live-road-traffic-cameras images by using the Garmin Link App.
Voice activated navigation is included with the Garmin nuviCam LMT-D. Lane Guidance at each junction tells you on the screen which lane you should be in at each junction. The Garmin nuviCam will also displays actual real road signs on the nuviCam screen. Birds Eye junction view will also provide a view overhead of each junction. Points of Interest (POIs) include restaurants and shops plus the nuviCam will inform you of nearby POI's along your journey such as food, fuel and ATMs.
Up Ahead feature suggests POIs along your route and Easy Route Shaping allows you to choose particular roads and places to visit along you route which you can incorporate in to your journey.

Optional GPS capabilities can record location, speed, date and time when an incident occurs.
An 8GB microSD Card is included in the box with the dezl Cam LMT-D. The nuvi cam can accept SD Cards of size up to 64GB. An adjustable swivel lens is also included which will work with the windscreen or dashboard mount.
The Garmin clock will change the time zone automatically and sunrise and sunset times are included within the Garmin dezl. Country borders will also show up on the Garmin sat nav device.
---
Garmin dezlCam LMT-D Features
‣6-inch TFT touchscreen display with white backlight
‣FREE lifetime street-level here mapping for the UK, Ireland, Western and Eastern Europe
‣Garmin DIGITAL Traffic via DAB - includes free subscription for the UK and mainland Europe
‣Truck data including low bridges, narrow roads and weight restrictions - truck coverage may vary country to country*
‣Built-in dash cam records in HD quality
‣Turn-by-turn directions with spoken street names
‣Lane Assist/Junction View - indicates the correct lane choice for upcoming turns and exits
‣Garmin Real Directions and PhotoReal junction
‣Bluetooth wireless technology for hands-free calling through your Garmin sat-nav
‣Look up addresses and points of interest
‣Displays your route, speed limit, current speed, time of arrival, name of current street and it can also display points of interest such as food, fuel and cash machines.
‣Speed camera locations database available as optional extra
‣1 year manufacturers guarantee
*Not available in all areas. Garmin advise that entering your truck's profile e.g. height, weight, length, etc does not guarantee your truck's characteristics will be accounted for in all route suggestions. Always defer to posted road signs and road conditions.
---
Installation
The Garmin dezlCam LMT-D includes everything you need to mount and install it in your trucks cab. Included when you purchase from ActiveGPS is a windscreen suction cup mount which is magnetic to make installing and dismounting your dezlCam simple, quick and easy. The most popular place to locate the satnav is at the bottom, middle of the windscreen where you can see the satnav easiest. Plus the satnavs dash cam will have a good view of the road ahead.
Charging the internal battery
We do not recommend using a third party charger with this product. A mobile phone USB charger or a laptop may not be powerful enough to reliably charge the Garmin dezlCamLMT-D and may provide an incorrect voltage or insufficient power. An official genuine Garmin AC charger is available for indoor use with this product you can view and buy here.
Please bear in mind that the product on this page is designed to be used in a vehicle with power provided by the included vehicle charger. The battery is for short term back up only - not for regular use. For optimum performance we recommend that you use this product connected to cigarette lighter adapter via the vehicle charger. Because of potential power surges which may damage the product you should not start your vehicle with the product connected.
Map Coverage

Garmin dezlCam LMT-D is preloaded with City Navigator NT for the UK, Ireland, Western and Eastern Europe provided by here maps.
These maps can be updated FREE for the life of the product, when you register your dezlCam with Garmin UK.
here maps provide high quality detailed street level maps, which in addition to street information include features such as route calculation, Points of Interest (POI), Estimated Time of Arrival, and more.
Further Garmin dezlCam maps are available on SD card which insert directly into the Garmin dezlCam. Available Garmin dezlCam maps include North America, Australia and New Zealand, Middle East and Southeast Asia. Click here.
What's in the box? (when purchased from ActiveGPS.co.uk)
‣dēzlCam LMT-D
‣Lifetime maps and digital traffic (indicated by "LMT-D" after model number on the box)
‣Vehicle suction cup mount and magnetic mount
‣Lifetime traffic receiver / 10-24 volt vehicle power cable
‣USB cable
‣microSD card
‣Quick start manual
---

Garmin dezlCam LMT-D Accessories
The Garmin dezlCam LMT-D includes all the accessories you need to get you up and running.
Many additional parts are also available including a carrying case, replacement magnetic mount, portable mount and vehicle reversing camera.
View all Garmin dezlCam accessories
Garmin dezlCam Maps
The Garmin dezlCam is preloaded with street-level road maps for all of Europe. If however, you want to take the dezl Cam further afield, we may have the map that you need. Garmin City Navigator maps available include: USA, Canada and Mexico, Australia and New Zealand, Morocco and Southern Africa.
---
Garmin dezlCam Questions and Answers
Question: I want to order a dezlcam lmt-d, can I just check is there any difference apart from the dash cam to the dezl 770 and is it as good as dezl 770 please?
Answer: To compare the Garmin dezlcam LMT-D and dezl 770LMT-D please see our online comparison table.
The main difference between the dezlcam LMT-D and dezl 770LMT-D besides the Dash Cam is the screen size:
dezlcam LMT-D: 6-inch screen
dezl 770LMT-D: 7-inch screen
Do you have a question about the Garmin dezlCam? Submit your question via our contact page.
---
Garmin dezlCam Technical Specification
‣Technology: GPS / Bluetooth
‣Display: 6-inch touchscreen (800 x 480 pixels)
‣Battery: rechargeable lithium-ion
‣Battery Life: up to 30 minutes depending on usage and settings
‣Installation: Plug and Play
‣Power: 12 volt, Vehicle Power Cable.
‣Dimensions: Width - 183mm, Height - 94mm, Depth - 15mm
‣Weight: 319.2g
‣Guarantee: 1-year
‣Garmin dezlCam manual

Manual requires Adobe Acrobat Reader
Download a free copy here
This product is a sophisticated electronic device which requires that you read, understand, and act upon the information given in the instruction manual (usually available via the above 'manual' link). You will need internet access and, in accordance with the manufacturers' recommendations, regularly seek out and accept all firmware or software updates offered by the manufacturer. All GPS devices need to 'see' the satellites in the sky. Therefore you will need to know that your vehicle does not have glass that will block or impede the GPS signal.
---
Why buy from us?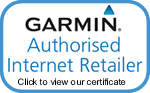 We are official Authorised Internet Retailers for Garmin. We sell genuine Garmin products, accessories and maps. We purchase from assigned Garmin UK distributors. We do not buy on the grey market and we do not sell counterfeit products. You can rest assured that by purchasing from ActiveGPS you will receive the full support of Garmin.
Page updated: 14th March 2019