Garmin dezl 780LMT-D truck sat nav is preloaded with UK and Full European maps and Digital Traffic Information. The maps are free to update for the lifetime of the product and the traffic information is subscription free. The dezl 780 features a large 7-inch screen and the speaker has been enhanced for louder, clearer voice instructions. The dezl 780 also features WiFi and Bluetooth technology for maps and software downloads and handsfree calling.
The Garmin dezl 780LMT-D allows you to enter the profile of your truck and then the satnav will only route you along suitable roads for your vehicle. Points of interest specific for truckers such as truck stops, weigh stations, parking, lodging, WiFi connection hotspots and more are included. Multi-stops can also be entered in to the Garmin dezl 780LMT-D plus you can enter roads and cities you would like to drive include along your journey.
Garmin dezl 780LMT-D - £419.99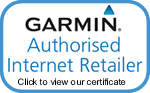 The Garmin dezl 780 is a truck satellite navigation system with an impressive 7-inch colour touch screen.
Lifetime UK and European mapping is provided for FREE for the lifetime of the product.
Looking to buy this product with a built-in dashboard camera? Click here to buy the dezlCam 785 which also includes a built-in dash cam.
You can enter your vehicles size, load and weight of your truck and you will then be routed avoiding low bridge heights, sharp curves, steep gradients, weight limits and more. You can also save different vehicle profiles and then change truck profiles at the touch of a button enabling quick change-overs between different vehicles.
Traffic information is available 24/7 FREE for the lifetime of the dezl 780LMT via cigarette lighter adaptor with embedded digital traffic receiver. Traffic information is provided by DAB (Digital Audio Broadcast) channel. Alternatively, you can use a smartphone link which provides live services via a compatible smartphone with app, charges apply for this service.
For delivery drivers using this Garmin truck sat nav there is a feature that allows dispatchers to easily text messages and addresses to their drivers and track driver routes from beginning to end of journey(s).
Points of interest appropriate for trucks are also provided in the Truck and Trailer Services Directory. Points of interest include food, fuel, rest areas, showers, ATMs, Wi-Fi and more.
Search and filter truck stops by preferred amenities - showers, fuel stations, WiFi, truck wash, etc. Service History Log can also be saved to the device to keep track of tyre milage, tyre pressure, oil changes, tyre changes and more.
Connection to a iPhone or Android smartphone provides you with real-time information such as traffic, safety cameras, weather information and more.
The dezl 780 features Bluetooth and WiFi. Bluetooth is for hands-free calling whereby there is an integrated speaker and microphone. You can also see smart notifications for calls, texts, app alerts and more all of which appear on the sat navs display. The built-in WiFi connectivity makes it easy to download maps and software without the use of a computer.
You can also control the dezl 780 by voice commands making it easy to use.
Optional Reversing Camera
As an optional dezl 780 accessory you can add a reversing camera as the dezl 780 is compatible with the Garmin BC 35 reversing camera to provide a view behind your truck. dezlCam shows footage on the navigation display to help when reversing your truck or lorry.
Garmin dezl 780LMT-D Car Sat Nav FAQs
Do you have a question about the Garmin dezl 780 that's not been answered on this webpage? Please see our sat nav FAQs for questions from other customers and visitors. Plus if the answer to your question isn't featured, use the online form to ask us for the answer. Alternatively please telephone 01733 777623 Monday to Friday (9:30am-5:00pm) to speak to one of our sales team.
---
Garmin dezl 780LMT-D Features
‣7-inch colour TFT touchscreen display
‣FREE lifetime street-level here mapping for the UK, Ireland, Western and Eastern Europe
‣Garmin DIGITAL Traffic via DAB - includes free subscription for the UK and mainland Europe
‣Truck data including low bridges, narrow roads and weight restrictions - truck coverage may vary country to country*
‣Turn-by-turn guidance with voice prompts
‣WiFi for downloading maps and software without a computer
‣Bluetooth connectivity for hands free calls
‣Trucker Points of Interest: Petrol stations, truck stops, weigh stations, WiFi connections and more.
‣Voice-activated navigation
‣Lifetime traffic updates via DAB network
‣Lane Assist
‣PhotoReal Junction View
‣Multiple truck profiles
‣Multiple routes (up to 15)
‣Auto sort multiple destinations (up to 30)
‣Speed limit indicator
‣Rechargeable Li-ion battery
‣Optional speed camera locations via Cyclops database
‣1 Year manufacturers guarantee
*Not available in all areas. Garmin advise that entering your truck's profile e.g. height, weight, length, etc does not guarantee your truck's characteristics will be accounted for in all route suggestions. Always defer to posted road signs and road conditions.
---
Installation
Garmin dezl 780LMT-D is powered via the supplied 12/24 volt vehicle power cable, the unit is then mounted on the windscreen via the supplied suction cup mount. Alternatively fix to the dashboard using the the supplied screw down mount for Fixed dashboard installation.
Charging the internal battery
We do not recommend using a third party charger with this product. A mobile phone USB charger or a laptop may not be powerful enough to reliably charge the Garmin dezl 780LMT-D and may provide an incorrect voltage or insufficient power. An official genuine Garmin AC charger is available for indoor use with this product you can view and buy here.
Please bear in mind that the product on this page is designed to be used in a vehicle with power provided by the included vehicle charger. The battery is for short term back up only - not for regular use. For optimum performance we recommend that you use this product connected to cigarette lighter adapter via the vehicle charger. Because of potential power surges which may damage the product you should not start your vehicle with the product connected.
---
Map Coverage

Garmin dezl 780LMT-D comes preloaded with detailed City Navigator street maps for Europe provided from map supplier 'here'. Rolling screen transition, accelerated map redraw and routing capabilities make screen zooming even smoother and ensure the navigation always matches your pace.
If you'd like to buy additonal maps for another region e.g. North America or Australia and New Zealand. These can be viewed and purchased via the dezl 780LMT map page.
---
What's in the box? (when purchased from ActiveGPS.co.uk)
‣Garmin dezl 780
‣Preloaded City Navigator NT for Europe
‣Lifetime maps and lifetime digital traffic (indicated by "LMT-D" after model number on the box)
‣Lifetime traffic receiver/vehicle power cable
‣Vehicle suction cup mount with powered magnetic mount
‣Micro USB cable
‣Quick start manual
---

Garmin dezl 780LMT-D Accessories
Looking for accessories and spares for the Garmin dezl 780? All parts are genuine Garmin product and specifically designed for use with the 7-inch dezl 780 truck sat nav. Parts include a vehicle reversing camera.
View all Garmin dezl 780LMT-D accessories
---
Garmin dezl 780LMT-D Maps
Looking for sat nav maps for the Garmin dezl 780LMT-D? All mapping comes on microSD card with SD card adaptor and is a genuine Garmin product. Areas available to buy include: Southern Africa and Middle East and Northern Africa.
View all Garmin dezl 780LMT-D maps
---
Do you have a question about the Garmin dezl 780? Submit your question via our contact page.
---
Garmin dezl 780LMT-D Technical Specification
‣Technology: GPS
‣Display: 7-inch colour TFT with white backlight
‣Power: 12-24 volt, cigarette lighter
‣Battery: Rechargeable lithium-ion
‣Installation: Plug and play
‣Dimensions: Width - 199mm, Height - 122mm, Depth - 24mm
‣Weight: 437g
‣Guarantee: 1-year
‣Garmin dezl 780LMT-D manual

Manual requires Adobe Acrobat Reader
Download a free copy here
This product is a sophisticated electronic device which requires that you read, understand, and act upon the information given in the instruction manual (usually available via the above 'manual' link). You will need internet access and, in accordance with the manufacturers' recommendations, regularly seek out and accept all firmware or software updates offered by the manufacturer. All GPS devices need to 'see' the satellites in the sky. Therefore you will need to know that your vehicle does not have glass that will block or impede the GPS signal.
---
Why buy from us?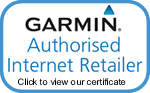 We are official Authorised Internet Retailers for Garmin. We sell genuine Garmin products, accessories and maps. We purchase from assigned Garmin UK distributors. We do not buy on the grey market and we do not sell counterfeit products. You can rest assured that by purchasing from ActiveGPS you will receive the full support of Garmin.
Page updated: 5th December 2018